Best time to visit Brazil

While some of Brazil's attractions can be visited year-round, others are rather more seasonal, the movements of wildlife and people halted by heat or floods.

The best time to visit Brazil is between December and March for most travelers. Although there are regional weather variations, this is the hot, sunny summer season in large parts of the country. The cooler winter months are June to September, with heat and humidity rising the further north you go. This time is popular with families on their school break. We'd also recommend September and October if you want to avoid major (busy) vacation periods, the chilly southern winter and soggy season in the Pantanal – and enjoy cheaper prices. The Amazon is sweltering year-round; the January-May floods just mean you'll travel by canoe rather than on foot.
When to visit Brazil & when not to
December and January in Brazil are midway through the summer season with Christmas vacations and warm weather pushing up prices. Crowds and prices peak for the Rio carnival, which takes place in February or early March. It tends to be hotter the further north you are and cities like Manaus, in the Amazon, maintain a fairly consistent 30 degree high all year round whereas temperatures in São Paulo, for example, will start to dip as you move into April and May. The warmer months of the year are also the wettest with wildlife watching in regions such as the Pantanal pretty much out of the question due to access routes suffering as a result of excessive rain. Visiting the Amazon is going to be a hot and sticky experience whenever you visit; the rainy season here floods the forest which means you'll just be exploring in a boat rather than on foot. Conversely, Brazil's winter season, which starts in June, experiences the least amount of rainfall and the higher up and the further south you get the chillier temperatures become with several resorts shutting up shop, despite of the July winter break for schools and universities. August can be exceptionally busy thanks to the influx of visitors from the Northern Hemisphere however, once traditional European vacations are over, September and October are usually seen as the best months to visit Brazil, especially for jaguar spotting in the Pantanal. November finds temperatures and rain levels creeping up across the country. August is one of the best times to visit Brazil due to the comfortable temperatures and lack of rain.
Rio de Janeiro Weather Chart
Our top Brazil Vacation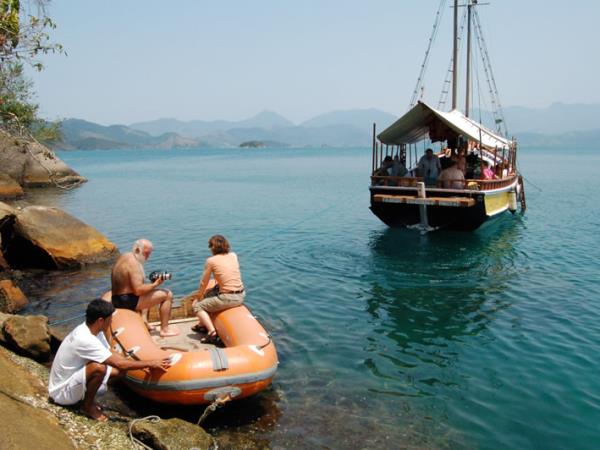 Wildlife & culture roundtrip through Brazil, all tailormade
From €4795 23 days ex flights
Tailor made:
This trip can be tailor made throughout the year to suit your requirements
If you'd like to chat about Brazil or need help finding a vacation to suit you we're very happy to help.

Best time to visit Brazil
Guy Marks, from our supplier Tribes Travel, shares his best time to see wildlife in Brazil:
"The Pantanal is seasonally flooded so there are islands of dry land where the wildlife concentrates. There's only one road down there so in the very wet season it's hard to access – it's certainly more difficult to see jaguars, you can't drive anywhere, and you've got to travel by canoe. You can do horse rides – canters through deep water are fantastic – but you want to go in the dry season really, from July until October.
If you want to go to the Amazon it doesn't really make much difference when you go; it's the rainforest so it rains all year. There is high water and low water, but there are advantages to both. In low water you get more walks through the forest, and at high water (Jan-May) as much as ten metres of water rise through the forest – which means you're ten metres higher into the canopy when you're in a boat. So the animals that live in the canopy are not absolutely miles away – you can see them much closer!"
Festivals & events in Brazil
Carnival
(February or early March)
Carnival – the 'Celebration of Life' – is of course Brazil's biggest annual event (unless the World Cup or Olympic Games are heading this way…) – but with high prices and heaving crowds, we suggest doing it with a twist. Salvador and Paraty also hold carnivals, complete with floats filled with costumed dancers, drummers and singers – but on a much more manageable scale, and with an atmospheric historical backdrop. Do be aware that you may get smothered in mud by revelers in Paraty though…
There are also many pre-carnival events so you can always enjoy the buildup in Rio before heading to a more tranquil spot once the party really kicks off.