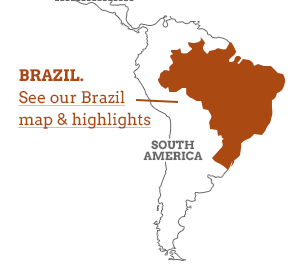 Our Brazil vacations are all about the 'awe factor' – visiting the torrential Iguazu Falls, discovering the irresistible rhythms of Rio de Janeiro, and spotting jaguars as they prowl the riverbanks of the Pantanal. Expert cowboy guides help you track down the shy big cats and explain their behaviours, as well as how your stay in locally owned lodges helps encourage ranchers to coexist with them. Whether you're touring the Pantanal by boat or on horseback or cruising the mighty Amazon in search of dolphins and monkeys, our vacations in Brazil boost vital animal conservation and reforestation efforts.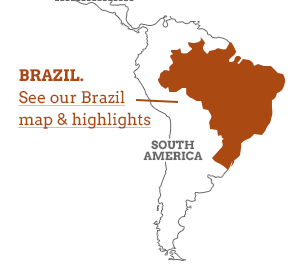 Our top Brazil vacations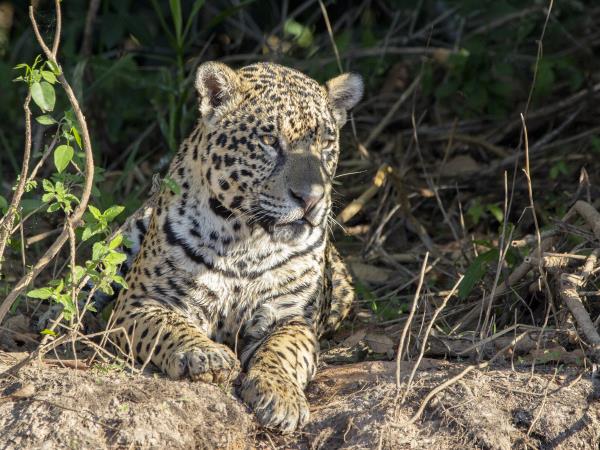 10 days
ex flights
Wildlife Safari in Brazil's stunning Northern Pantanal.
Small group
2022: 11 Jun, 7 Jul, 21 Jul, 4 Aug, 11 Aug, 18 Aug, 25 Aug, 1 Sep, 8 Sep, 15 Sep, 22 Sep, 29 Sep, 6 Oct, 13 Oct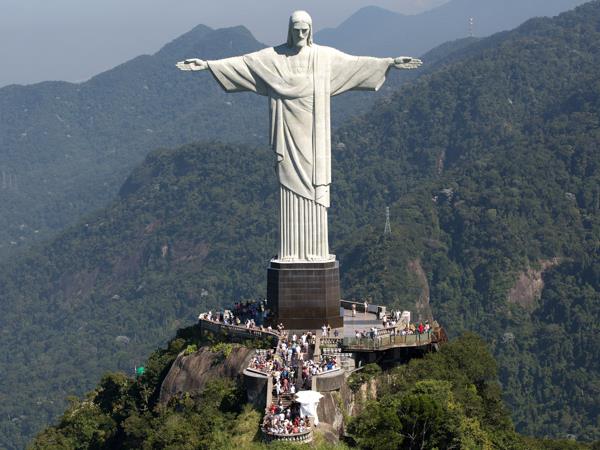 12 days
ex flights
Fully escorted group journey of natural southern Brazil
Small group
2022: 7 May, 30 Jul, 24 Sep, 19 Nov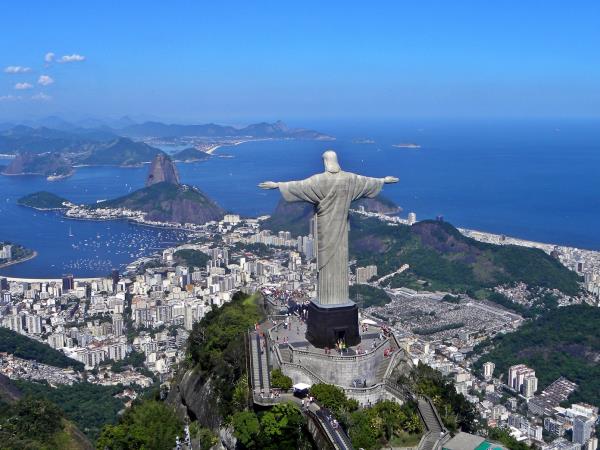 14 days
ex flights
14 Days: Sacred Valley, Machu Picchu, Iguazu, Rio
Map & highlights
Many trips fly into Rio de Janeiro, where you can join Christ the Redeemer on his rock overlooking the city, mountains and ocean. Southern Brazil also houses the Iguazu Falls, which spouts over the Argentinian border, and the watery wildlife of the Southern Amazon and Pantanal. The rainforest is vast, so the Northern Amazon is usually explored from Manau – you can cruise down rivers with pink river dolphins and learn how to tell whether a flash of colour is a toucan's beak or macaw's plumage. Over on the east coast, Salvador de Bahia is the Afro-Brazilian heart of the country.
1. Iguaçu Falls
Straddling the Argentina-Brazil border, the mighty Iguaçu Falls stretch 3km and tower higher than Niagara. There are actually over 270 falls, and you'll need to border-hop for the full experience. The Brazilian side has rainforest walks and catwalks above the cascades, while Argentina allows you to cruise upriver on a zodiac – navigating rapids to reach the Devil's Throat Canyon.
2. Northern Amazon
The vast Amazonian city of Manaus is the leaping off point for tours into the northern region of this rainforest, including the waterfall, wildlife and pristine jungle environment of Jaú National Park. Take a cruise past tropical archipelagos, see the meeting of the waters and look out for pink river dolphins and giant otters. Bruce Parry wannabes can canoe out to Yanomami and Tukano villages.
3. The Pantanal
The Pantanal is the world's largest seasonal wetland, and Brazil's wildlife capital. Almost 700 species of birds can be found here, along with 80 mammals – and the lack of jungle means they can be easily spotted. Take night treks, canoe rides and horseback hacks – and see capybaras, anacondas, monkeys and hyacinth macaws. Porto Jofre is also the best place in the world to see habituated jaguars.
4. Rio de Janeiro
Possibly the most dramatically-situated city on the planet, Rio offers pretty much everything you could want in one place – awesome views, white-sand bays, tropical islands, buzzing nightlife, dance and drumming classes – all to the intoxicating beat of samba and bossa nova, with the lilting melodies of Brazilian Portuguese. Aside from the famed sights, the Botanical Garden is also well worth a visit.
5. Salvador de Bahia
Brazil's first capital is now a UNESCO World Heritage Site, in recognition of its European, African and indigenous influences. An energetic city even by Brazilian standards, Salvador is the Afro-Brazilian heartland, with capoeira rhythms and Candomblé ceremonies harking back to the region's slave trade legacy. The nearby coastline is some of Brazil's most beautiful.
6. Southern Amazon
While many of the Amazon's thousands of species remain shyly concealed in the dense vegetation, a good guide will still be able to point out several of the 550 bird species and seven monkey species. Even if you don't see the howler monkeys, you're sure to hear them! Strange capybaras – giant rodents – graze on the riverbanks, and the crescendo of sounds of the world's largest jungle is utterly captivating.
Wildlife vacations in Brazil
The
wildlife in Brazil
is carnivalesque. Pale pink dolphins and anacondas smooth through the rivers, macaws flash their red and blue plumage, capybaras and giant otters bring spades of character, monkeys dance across the rainforest canopy, and jaguars wear speckled camo jackets. Grab your
pipoca;
it's quite a show. Brazil is a giant, and so are wildlife haunts like the Pantanal and Amazon, so you'll need to travel with a vacation company that'll match you up with expert guides to get the best out of a
wildlife vacation in Brazil
.
Pantanal
The Pantanal
is almost 17 million hectares of wild wetlands, rivers, lakes and forest that sink under floods every wet season. You'll follow in the footsteps of the wildlife and rise above the waters on canoe and boat trips skippered by a local guide. You'll need their expertise to seek out the crocs, tapirs, anacondas, capybaras and giant anteaters that hide away – and you've got a better chance of seeing wildlife here compared to the tangled Amazon Rainforest. It's not all sunken waterways, either. The dusty Transpantaneira Highway bumps through the northern Pantanal, where you're most likely to see jaguars.
Amazon Rainforest
The Amazon Rainforest is one of the most precious ecosystems on the planet. Its biodiversity is astounding, and includes over 16,000 tree species and two million insect species. However, seeing wildlife can be a challenge; the Amazon River is too wide and the rainforests too tangled for instant gratification. Instead, sail with a local skipper to explore skinnier tributaries and hike on the heels of a guide who can take you for dinner with indigenous communities, and count any wildlife sightings as a bonus. Read our
Amazon guide
to find out how your vacation can help the region's communities and wildlife.
Rio de Janeiro
Rio de Janeiro
is hard to pin down: it's a city where favelas wobble down hillsides overlooking million-dollar yachts and beaches. Even outside Carnival, a medley of samba, hip-hop, bossa nova and Carioca funk drifts out of houses and cafés. Gawp at the spectacular views from Christ the Redeemer, play volleyball and eat barbecue on the beach, explore Rio Botanical Garden, but also join a city tour by a resident who can reveal some of the truths of living in a city with such an astonishing gulf between the rich and poor.
Iguazu Falls
As if the Amazon and Rio weren't dramatic enough, most vacations to Brazil also include a detour to
Iguazu Falls
. Don't listen to those who say it's South America's Niagara Falls – it's far bigger than that. Over 250 cascades tip over the Brazil-Argentina border in a rush of white noise and mushrooming water vapour. Some tours take you to the Argentinian side so you can hop on a boat and crane your neck at the 25 storey-high falls. Back in Brazil, you can hike into Devil's Throat, the most deafening part of Iguazu Falls. You'll be so close that you can taste the perpetual rainbow.
Family vacations in Brazil
Traveling in Brazil with kids
is easy when you go with a vacation company that knows how to source just the right accommodation and activities, and tweak journey times to your brood's ability to sit still. Brazil doesn't have a boring bone in its body, so you might zipline through rainforests, track jaguars, monkeys and toucans by boat, stare wide-eyed at waterfalls, and join Brazilian families as they pile onto beaches made for barbecuing and snorkelling. Even cities are an adventure playground, with a cable car hoisting you up Sugarloaf Mountain in Rio de Janeiro and interactive science museums like the Museu Catavento in Sao Paulo.