Patagonia walking vacations guide
There's an old saying you'll often hear in this part of the world – 'Those that hurry in Patagonia waste time.' Which is exactly why there's no better way to explore this vast region than on foot, thoroughly immersing yourself in richly diverse landscapes from glacial lakes to arid steppe, Andean peaks to temperate rainforest. Walking through Patagonia also brings you a lot closer to the magnificent wildlife here. Chilean flamingo stalk elegantly through salt lagoons, mighty condor sail on thermal gusts above the Andes, and shadowy puma tread warily in the iconic Torres del Paine National Park.

It's not unknown to be humbled by the beauty of a natural landscape. But what's amazing about Patagonia is just how often it manages to leave you speechless.

Patagonia is the kind of place where it's easy to be overwhelmed. Maybe that's why those who live here at the end of the earth can sometimes take a while to open up to strangers. But get them talking, and you'll find warm and welcoming conversation, always worth slowing down to listen.

Find out more in our Patagonia walking vacations guide.
Our Patagonia walking Vacations
Is a Patagonia walking vacation for you?
Go on a Patagonia walking vacation if...
… you want dramatic mountain scenery, but would rather not have to deal with high altitude.
… you're searching for a family vacation that's suitable for older kids, with a good mix of exercise, relaxation and adventure.
… you like the opportunity for self guided hiking, or connecting with other travelers as part of a small group walking vacation.
… your ideal walking day is one that finishes with a glass, or more, of excellent wine.
Don't go on a Patagonia walking vacation if...
... you're on a tight budget. Patagonia is not a cheap destination, even without the long haul flight. ... you crave pampering on your vacations. While there are certainly luxury accommodations available in some areas, campsites and shared dorms in mountain refuges are very much the norm on a Patagonian walking vacation. ... you're after high culture. There's plenty to be found in cities such as Buenos Aires and Santiago of course, but in Patagonia itself the landscape is always the big ticket. ... you don't have at least some trekking experience. Many Patagonia walking trips will involve some long, strenuous hikes, often coupled with unpredictable weather.
Best time to go on a walking vacation in Patagonia

Packing for a Patagonia trip is no easy task. You'll often get four seasons in one day – and sometimes more.

Summer, Nov-Feb, is generally the best time to go walking in Patagonia, when days can reach a pleasant 22°C. The scenery is especially picturesque in spring and autumn though, so it's worth thinking about the shoulder months, which are usually less expensive too. Winter walking is possible, particularly in southern areas such as El Calafate, and the scenery is unarguably stunning, but long, self guided treks aren't advisable due to the biting cold, snowfall and shorter days. Puma sightings, however, are most common in winter, when the crowds are lower and these elusive animals break cover.
Our top Patagonia walking Vacation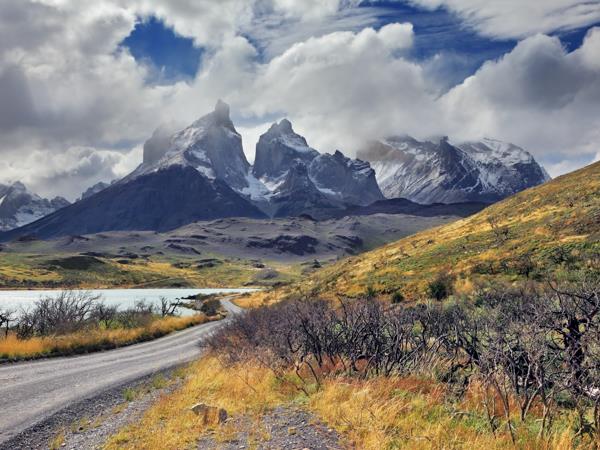 Explore the spectacular wilderness and mountains of Patagonia
From
£

4900
20 days
ex flights
Small group travel:
2023: 10 Dec
2024: 14 Jan, 11 Feb, 10 Mar, 27 Oct, 17 Nov, 8 Dec
If you'd like to chat about Patagonia walking or need help finding a vacation to suit you we're very happy to help.

Walking in Patagonia, month by month
Most Patagonia walking vacations take place in November, December, January or February. These summer months are reliably warm and sunny, and the most popular routes can get crowded in parts. Yet summer in Patagonia also sees powerful winds coming down from the mountains – in the south they call them 'willywaw'. In the spring months September, October and November instead, not only is the scenery wonderfully fresh and green, but there also tends to be a lot more wildlife around, with proud new parents introducing their offspring to the world. Rain showers can be expected in spring, and autumn too, but it is rarely heavy. Autumn, which spans March, April and May, is another very popular time for walking in Patagonia, especially with photographers who can capture the gorgeous foliage as it glows in the sunset. Spring and autumn are usually less expensive than summer, the trails nowhere near as busy, and there is more space available in accommodations. Despite the often bitter cold, and shorter daylight hours, June, July and August can still be very good for walking in Patagonia, so long as you're flexible. Some trails will be inaccessible due to snowfall, many accommodations are closed, and self guided walking is not a good idea, but beneath a blanket of snow the Patagonian scenery is utterly bewitching. What's more, there's no wind, and the wildlife is plentiful, especially around Torres del Paine.
More about Patagonia walking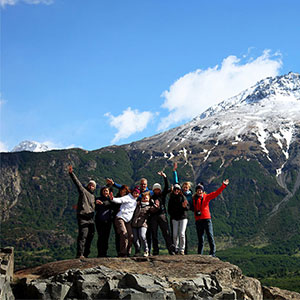 If you're planning a walking vacation in Patagonia, we recommend going for the heaviest boots you can find, because this scenery can blow you away.