Top Patagonia walking routes
The great beauty of Patagonia (well, besides the obvious), is the freedom to explore on your own terms. You might join others on a small group tour, with expert local guides leading you to big name highlights, or out to remote communities for an insight into authentic Patagonian life. Or, head out on your own with a tailor made vacation, following marked trails on self guided treks, and overnighting in hotels, mountain refuges and rustic campsites. Arrive into Santiago or Buenos Aires to savour their cultural attractions, before flying into Patagonia itself. Many Patagonia walking itineraries cross between Chile and Argentina at least once, with the steep Paso Dorotea from Calafate to Puerto Natales particularly spectacular.
1. Aysén
A hidden gem tucked into far southern Chile, the Aysén region is a true Patagonian wilderness formed of steppe, Andean peaks and coastal rainforest that sees relatively few visitors. The Carretera Austral scenic highway winds through the landscape, giving access to fjords and hanging glaciers, remote communities of skilled gaucho horsemen, and endless skies where condors soar.
2. El Chaltén
Ground zero for Argentina trekking, El Chaltén sits just off the trailhead, amid wild, rugged terrain that begs to be explored. Single and multi day hikes around the northern section of Los Glaciares National Park use marked and well maintained tracks, with classic walks taking in the rocky shards of Mount Fitzroy, and the outrageously beautiful Laguna Torre and Laguna de Los Tres.
Los Glaciares National Park
3. Los Glaciares National Park
Lakeside El Calafate is the gateway to the southern part of this national park and the majestic Perito Moreno Glacier. Scenic walking routes criss-cross the park, offering close up views of more than 200 huge glaciers. A guided trek on top of Perito Moreno itself requires crampons and an ice axe, and it can be quite unnerving, as thunderous creaks and groans announce blocks of ice the size of double decker buses calving into the water.
4. Lake District
Northern Patagonia's jaw droppingly beautiful Lake District is an immaculate canvas of ancient woodland, pretty villages and alpine lakes fed by tumbling waterfalls. The Argentine section has a Swiss feel to it, especially Bariloche with its chocolate shops and the heritage settlement of Colonia Suiza. On the Chilean side, there are six national parks to explore on foot, and an impressive collection of marked and unmarked trails.
Tierra Del Fuego National Park
5. Tierra Del Fuego National Park
Trails abound for all levels of ability here, amid glacial lakes, forest, plunging valleys, and streams full of otter and beaver. The main base is Ushuaia, the southernmost city in the world. This busy frontier town has a vivid history, where adventurers and explorers would rub shoulders with colonists, traders, missionaries and hardened prisoners, and is also a gateway for cruises to Antarctica and on the Beagle Channel.
W' Trail, Torres del Paine
6. W' Trail, Torres del Paine
The jewel in the crown of Chilean Patagonia, Torres del Paine National Park is dominated by the three jagged granite 'towers' that give the park its name. The W is the shortest among a handful of multi day walking routes here, formed of three intersecting trails that take you to the gigantic Grey Glacier, through the imposing French Valley, and eventually to the base of the towers themselves and an enchanting mirador.
If you'd like to chat about Patagonia walking or need help finding a vacation to suit you we're very happy to help.

Patagonia walking vacations advice
Challenging weather
Olivia Bohn from our supplier, Intrepid, on what conditions to expect when trekking:
"Paths are marked and usually easy to follow, and most of the time the walks are not too challenging if you're in good physical condition. The main difficulty is the weather. Very strong winds and frequent rain, plus very cold nights, make the weather in Patagonia hostile. It can change dramatically just in one day so careful preparation is essential."
Escaping the crowds
Kathy Jarvis from our supplier Andean Trails explains why it makes sense to get off the beaten track in Patagonia:
"Patagonia seems to get busier every year, and in summer, popular sections such as the French Valley can get pretty crowded. Consider lesser-known trails such as those around Aysén where relatively few walkers venture. It's the best way to get a real insight into Patagonian culture and lifestyles."
Tackling the language barrier
Olivia Bohn from our supplier Intrepid on why it's worth brushing up on your Spanish:
"In our experience people in Patagonia tend to be super friendly and approachable. But it´s not common for locals to speak English, so guides double up as interpreters. If you can learn even a few words in Spanish it will help break the ice."
Built up an appetite?
Kathy Jarvis from Andean Trails serves up some tasty tidbits about cuisine on the Patagonia trail:
"Cafeteria-style buffet meals are served in the bigger refuges, with hearty, meat heavy dishes common along with delicious, freshly baked bread. Because Patagonia is so remote, fresh fruit and veg is hard to come by, unless you count the grapes in the wine that accompanies every meal."
On the rocks
Olivia Bohn, from Intrepid:
"The Ice Trek on Perito Moreno Glacier is an optional activity for anyone under 65 (maximum age limit). You walk on the glacier with crampons, and many people say it's the highlight of their trip. If you opt for the longer trek option, which takes around 3.5 hours, then you may see lagoons and caves, and even step inside for a picture, depending on the conditions."
Background reading
Kathy Jarvis from our supplier Andean Trails recommends a few Patagonian page-turners to prepare for your trip:
"Luis Sepulveda's 'Patagonia Express' is a collection of short stories that brings the region to life very poetically. 'In Patagonia' by Bruce Chatwin is one of the all time great travel journals, and I also love Luis Sepulveda's 'Uttermost Part of the Earth', an absorbing story of survival in Tierra Del Fuego."
Tips from our vacation reviews
At Responsible Travel, we think the best people to advise our travelers are often... other travelers. They always return from our tours with packing tips, weather reports, ideas about what to do – and opinions about what not to.

We have selected some of the most useful Patagonia travel tips that our guests have provided over the years to help you make the very most of your vacation – and the space inside your suitcase.

Restaurants are expensive. Although there is an ATM now in El Chalten it can run out of money, so take cash

"An expensive trip, but it covered a lot of ground (mix of internal flights and bus rides) and offered plenty of opportunity to explore. A number of guided hikes and tours were included in the price. I particularly liked that it was mostly either 2 or 3 night stays, so it didn't mean constantly unpacking and packing. Make sure you have a bandana to keep your hair from flying around in the wind. Large denomination dollar notes ensure a better rate of exchange in Argentina. Break your hiking boots in before you go as it's not so much fun doing it on vacation!" – Ruth Edwards

"You need to fully understand what the weather can be like, the difficulty of some of the hikes and just how remote it is. It's all about the scenery, hiking and wildlife on this vacation." – Elizabeth Caldwell

"The group was mixed in age and those in their 30s like me enjoyed it as much as those in their 60s (you can do your own thing in the evenings if you want to). I could have stayed forever. And the best bit was when we saw a puma! Every day had a memorable event though, I can't believe how much was packed into two weeks." – Beth Barnes

"Restaurants are expensive. Although there is an ATM now in El Chalten it can run out of money, so take cash. More and more of the restaurants are taking credit cards, not sure about the Chilean side in Torres Del Paine." – Carly Miller

Please avoid Patagonia – I don't want you spoiling it for my next visit

More Patagonia walking articles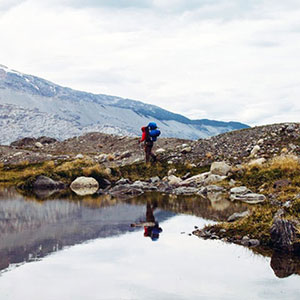 Let us introduce you to what is perhaps the most romantic stretch of Latin America.