Scotland by railway vacation
The West Highland line from Glasgow to Fort William is a magical start to any vacation, heading away from all roads and signs of life, across the wilds of Rannoch Moor and the mountains of Glencoe. You will feel as if you have entered a timeless landscape, where deserted mountains glisten with silvery threads of icy rivers, waterfalls tumbling from highlands to lowlands, small villages with stations where you need to put your hand out to request the train to stop and suddenly, out of nowhere, a gleaming great loch. From Fort William, at the foot of Ben Nevis, you continue on by Jacobite steam train from Fort William to Mallaig over the famous Glenfinnan viaduct and through more watery, wild landscapes to the coast, where you can take an optional trip to the Isle of Skye. The next link is 80 miles of magnificence, from Kyle of Lochalsh to Inverness. You won't want it to end. However, unless you want to stay forever, you need to head south again, this time through the heart of Perthshire's highlands to Pitlochry, where a hike in the hills is a must before crashing in comfort at a nearby country house hotel - as much a feature of this Scotland classic railway journey as a decanter of whisky beside the open fire.
Reunification Express vacation, Vietnam
Just as the name suggests, the restoration of this magnificent train line from Hanoi to Ho Chi Minh City in 1975 was part of the reunification of the Vietnamese people after years of war, which had led to closure of the line. Not to be confused with the Orient Express, as there is nothing luxurious about this rail journey, except for the total immersion in cultural highlights, which will stay with you for much longer than the taste of champagne. This is a train for people, not poncing about. For two weeks, you chug along the country's long slim coastal landscape, making it the perfect hop on, hop off experience. And one of the best ways to visit this fascinating country and meet its people too. Start in its 1,000-year-old elegant, almost European feeling capital, Hanoi. The water beckons at Halong Bay, a UNESCO World Heritage Site with stunning marine karst landscape. From here to Hue, the old capital of the Nguyen Dynasty, with emperors' tombs and the Thien Mu Pagoda – the tallest in Vietnam. Next stop is Hoi An where the car-free streets of the old town are lit by lanterns, and evidence of Spanish and Portuguese settlers is visible in the crumbling architecture. And every good rail journey should have a beach stop with Nha Trang a gateway to sand, islands and coral reefs. Last but not least, Ho Chi Minh City (formerly Saigon) a world of markets, temples and restaurants to lose yourself in.
Trans-Mongolian Express
Part of the Trans-Siberian Railway, the longest in the world, this is the part of its network that goes from St. Petersburg to Beijing, via Ulaanbaatar in Mongolia. Or, of course, vice versa. As opposed to the traditional Trans-Siberian route which goes from Moscow to Vladivosyok. Tour operators vary in the direction of their itineraries. But whichever way you do it, it's rail-y big. Even this section takes three weeks and is full of startling contrasts. Starting in St. Petersburg, for example, famously opulent not only in terms of boom time Russia, but also in rich in cultural heritage. Its location on the edge of the Baltic Sea is as dramatic a setting as any to start a great rail journey. In contrast, the next stop of Suzdal is a rural town where farm buildings and ancient churches seem to compete for architectural attention. From here to Moscow for another world completely, which you should immerse yourself in for a couple of days before heading into the interior on a three day stage of the journey to the magnificent Lake Baikal, the largest lake in the world. The gateway to the lake is Irkutsk, with 19th-century architecture, revived churches and its own fair share of modern Siberian sass. Next stop Ulaanbaatar, the capital of Mongolia, still with a strong Soviet feel, ie. drab and depressingly functional, but with Mongolian people who are far from drab. Or functional. This is also the opportunity to hop off and explore Mongolia's Terelj National Park and stay in a traditional ger camp. Before heading on to Beijing. As you do.
Trans-Siberian railway
Although the Trans-Siberian Railway is now in three parts, the traditional route from Moscow to Vladivostok is the classic railway journey. The other two are the ones most tourists take, heading to China on its other two branches: the Trans-Mongolian line or the Trans-Manchurian line. A train travels this route across Russia, however, every other day, and takes six nights to complete. Vacationmakers taking the Trans-Siberian like to hop on and hop off, so most trips take about 17 days, stopping in key places along this epic journey. Starting in Moscow, with all its historic highlights and contemporary culture, you then move on to Suzdal, a gem of a town where ancient churches are two a ruble. From here it's a 26 hour journey into the astounding wilderness of the Ural Mountains to Yekaterinburg, the fourth largest city in Russia. Part of its fascinating history includes the Church upon the Blood, the site where dominates this Tsar Nicholas II and his family were murdered by Bolsheviks in 1918. Moving on…as you do on the Trans-Siberian, Siberia itself is next, to the wonderful gateway town of Irkutsk, and time out on the magnificent Lake Baikal, the largest lake in the world. You can take a separate 7 hour train ride around it just to get the picture. And finally, from here to Vladivostok. With its full on marine and military history, as the Russia's main naval base. If that's your thing.
Our top Railway Vacation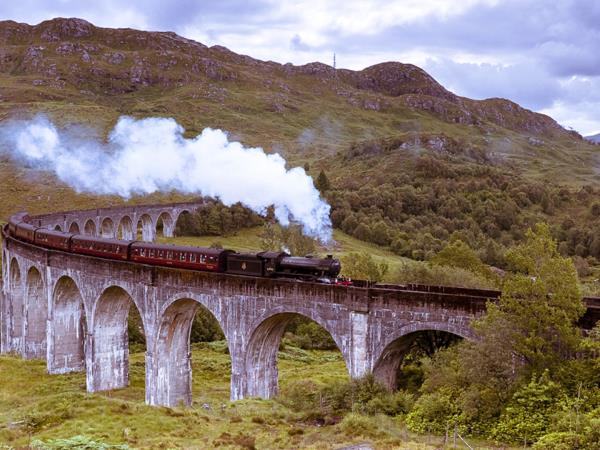 Experience authentic Scotland independently and car-free
From
£

1275

to

£

1345
8 days
ex flights
Tailor made:
This trip can be tailor made from April to the end of October.
If you'd like to chat about Railway or need help finding a vacation to suit you we're very happy to help.

South India by rail vacation
Indian railways might not be as slick as the Swiss, but they are almost as extensive and equally exhilarating. The times of people crammed into cattle class, hanging off the roof and all round manic mayhem have long gone, although mayhem does still kick in from time to time. You can book in advance, there is air con, they are great value, the views are priceless and the banter is brilliant. This route that goes through the southern most states of Kerala and Tamil Nadu is one of our favourites. On a 19-day trip, starting in Cochin, Kerala, and after a couple of days chilling on a houseboat on the backwaters, you head to Kanyakumari in Tamil Nadu by train, a busy seaside resort. Head out to its islands for a taste of what makes this coastal mecca so special. Ghandi loved it so much, his ashes were brought here. Heading north, inland, you get to Madurai by train, one of the oldest cities in the world. Famous for its Dravidian style temples, Madurai is a point of pilgrimage for India's Hindu population. Back on the train to Tiruchirappalli, or Trichy for short, for more temples and cultural gems. Another highlight is the train journey from Tanjore to Pondicherry where you can enjoy the much lesser known coastal areas of Tamil Nadu and then by car transfer to Mahabalipuram, where coastal cultural heritage glimmers gorgeously. One of the final flings of this railway extravaganza is from Chennai to Mettupalayam on the overnight Nilgiri Express into a whole other world of colonial India. With tea plantation towns and the mountain steam trains that linked them, known as toy trains, which you can take to Coonoor. Ending back in Cochin by train, this is one of the most spectacular ways to take in southern India.