Survival tips
Robert Kidd, director of our leading Scottish railway vacations supplier, McKinlay Kidd gives great rail vacation tips: "My top survival tip is to pack light, because you are getting on and off trains, and carrying your own luggage. We do meet guests at each station, of course, but you need to be able to get your bag off a train and onto the platform. So two huge suitcases can become stressful and take away from your enjoyment of the trip. It's only a week long, so you don't need lots anyway. Some people do this as part of a longer UK trip, and then they store their extra luggage in Edinburgh or somewhere".
Food tips
Robert Kidd: "Sadly the food and drink on the trains in Scotland are not great, so it is always good to bring your own snacks. Especially if you like fruit and healthy snacks. You can usually get tea, coffee and water, but extra snacks in your bag is a good idea. The food in Scotland itself, however, is superb".
Tips on fellow travelers
Rachel Wasser, Innovation Manager with our railway vacation expert supplier, G Adventures, offers great rail vacation tips: "My main piece of advice is to explore. Don't lock yourself in your cabin and just emerge at the next destination. Wander the train, hang out in the dining car – some of my best stories are from meeting friendly locals in the dining car. Mostly, just enjoy the ride!"
Packing tips
Rachel Wasser: "Pack a quick dry face towel for the trains as it helps to stay feeling fresh. A head torch is useful for finding your way around or reading in bed. Slip on sandals are great for wandering around. Earplugs and toilet paper are essential! Pack everything you will need for the journey in a day pack so you can stow your large luggage somewhere out of sight and you won't have to dig around for anything. Bring lots of books and playing cards. I also have an abundance of plastic bags I collected along the way for trash, tissue paper, etc. You'll be surprised at how quickly your cabin can fill up! A reusable mug and camping cutlery are also must-haves. Most trains provide boiled water so pick up some hot chocolate packets, instant mashed potatoes or pot noodles and you're good to go."
Overnight tips
Khanh Dinh is a group leader on our supplier Intrepid Travel's Reunification Express in Vietnam vacation: "We take overnight trains three times on this trip. So if you don't like that, this is not the trip for you. They give you clean bed sheets, pillows, blankets, and it's air conditioned as well. But it doesn't mean it's always clean, the toilets may be dirty. I also remind my group that they can buy sleeping sheets at the local market, it's easy to find. They can also bring their own big bottles of water so they can brush their teeth and use it during the night. I also remind them to bring toilet paper as well. And the train is quite noisy, so bring earplugs with you."
Our top Railway Vacation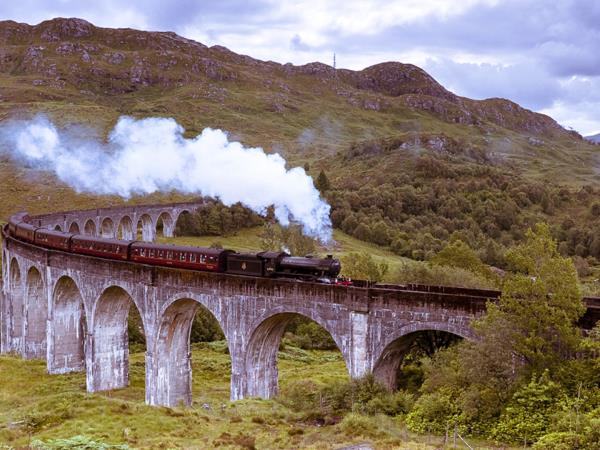 Experience authentic Scotland independently and car-free
From
£

1275

to

£

1345
8 days
ex flights
Tailor made:
This trip can be tailor made from April to the end of October.
If you'd like to chat about Railway or need help finding a vacation to suit you we're very happy to help.

Rail vacation tips from our travelers
At Responsible Travel, we think the best people to advise our travelers are often... other travelers. They always return from our tours with packing tips, weather reports, ideas about what to do - and opinions about what not to.

We have selected some of the most useful rail vacation tips that our guests have provided over the years to help you make the very most of your vacation - and the space inside your suitcase.

...Chat to as many people as you can! Don't be scared of buying food on the platform... it is so worth it!

"My most memorable experience was traveling by bike on Inis Mór. No real plans on the island. We just biked around and stopped at anything we found interesting. Great relaxing day. I'd recommend going to some of the local pubs, like Garavn's in Galway. Sit at the bar, and have a chat with some of the locals. Much of Ireland has rapidly changed in the last 10-15 years, and a great way to understand that is to hear how from the locals. Belfast has some of the best restaurants I've ever been to at such a reasonable price. Both the Barking Dog and the Ginger house do not disappoint." - Michael Worthley on our tailor made Ireland vacation by train

"Take warm clothes if you are going in the autumn and a mug and spoon for the train. Learn some Russian before you go and take maps of the train journey as these are a great way to start conversations." - Sally Foote on our Trans-Mongolian Express vacation

"Travel with elasticated waistbands, the food is plentiful and very good." - Anne Feeley on our Scotland Luxury Rail Vacation.

I'd recommend going to some of the local pubs, like Garavn's in Galway. Sit at the bar, and have a chat with some of the locals.

"Go with an open mind... chat to as many people as you can on the train! Take cards and make sure you buy some vodka before you get on as you won't have another chance. I think it is the people that make it, so chat to as many people as you can! Don't be scared of buying food on the platform... it is so worth it!" - Heidi Hosgood

"Take cleaning wipes, a sheet, sleeping bag, black out mask and earplugs for the overnight train between Hanoi and Hue. Not essential but does aid sleep!" - Hilary Sibley

"Read your guidebook in advance - sometimes it was hard keeping all the info from the guides straight and we got lots of different versions of what stuff was/ meant etc. Be prepared to carry luggage up and down steps a lot and lift it up and down from high racks on the trains. The hotels were very very basic. No hot water in Fez a lot of the time. Food can be pretty samey - especially the breakfasts - lots and lots and lots of bread!" - Miriam O'Keeffe on our Moorish Spain to Marrakech by rail vacation