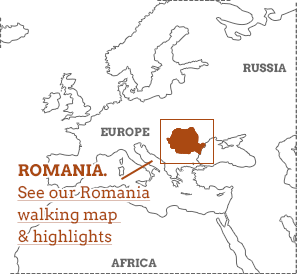 Most vacations in Romania focus either on the sprightly capital, Bucharest, or the legends associated with Bram Stoker's 'Dracula'. But away from the bars and the bats, Romania is quietly fostering a reputation as one of Europe's finest destinations for a walking vacation. Here you will find the continent's largest expanse of virgin forest, draped across chains of mountains that are carved through with plunging river valleys. Lush foothills are peppered with bubbling mineral springs and ancient Saxon villages.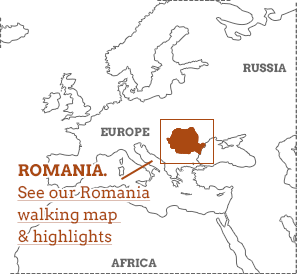 With its ancient villages, painted churches, and miles of virgin forest prowled by wild brown bear, Romania is a walker's paradise.

Here, life seems to go on much as it has for centuries, with horse and cart often the easiest way to travel along bumpy unpaved roads. Fortified castles look out across hillsides strewn with wildflowers, the faithful tend beautifully painted wooden churches, and everyone you meet appears to have a secret stash of homebrewed brandy. Tranquil as it all is, you have to break the silence occasionally. Brown bear roam this wilderness freely, and it's always best to let them know you're coming. Find out more in our Romania walking vacations guide.
What does walking in Romania entail?
What kind of trip is right for me?
Romania walking vacations can be center based, with a series of day hikes spoking out from one location such as Magura, or point to point. With the latter, you'll be carrying only the bare essentials in a day pack, with your main bag transported between accommodations by car or, just as likely, a horse drawn cart. Small group tours are led by professional local guides over set routes, while selfguided tours let you walk at your own pace, with flexibility in what you see every day and comprehensive directions.
Where will I be sleeping?
Outside the cities, you'll mostly be staying in small, locally owned guesthouses. You can expect comfortable, rustic accommodation, delicious home cooked meals for carnivores and herbivores alike, and host families with probably just a basic grasp of English. Evenings will likely be very quiet, so bringing along a few books, or a pack of cards to play with your fellow guests, is a good idea. Phone chargers are strictly optional.
How far will I be walking each day?
Distances and time spent walking vary day by day, and with the type of trip that you choose. A long day might see you cover around 20km over approximately six hours, but most walks are much shorter than that. Some of the gradients will require a bit of puff, but if you walk fairly regularly, and have a reasonable level of fitness, then hiking in Romania shouldn't present any major challenges.
Visiting Libearty Bear Sanctuary
A highlight of walking in Romania for many of our travelers, Libearty was started in 1998 by a Romanian woman, Cristina Lapis, who was appalled by the conditions caged bears were held in around the country. At the time, keeping captive bears was illegal, but the law was rarely enforced as police had nowhere to release the animals after confiscation. With a section of oak forest donated by the town of Zarnesti near Piatra Crialui National Park, Cristina and her organisation created a sanctuary that now houses 70 rescued bears. The animals can frequently be seen emerging from the trees to play and relax in open meadows and freshwater. Libearty is open to visitors every morning except Mondays, and depends in part on donations from the public.
If you'd like to chat about Romania walking or need help finding a vacation to suit you we're very happy to help.

Go on a Romania walking vacation if…
... you're wild about wildlife. Romania has thriving populations of brown bear, chamois, lynx and wolves, and it's a paradise for birdwatchers.
...you're happy with long silences. One of the first things people notice about walking in Romania is how peaceful it all is. The WiFi is excellent, but you'll barely look at your phone.
...you're the foodie type. Sheep's brain, a traditional delicacy, may not sound very palatable, but Romanian cuisine is excellent, from locally made cheeses to hearty stews and soups, and home brewed plum brandy.
...you don't mind changeable weather. In the mountains, it pays to be aware that even in the summer months sunny spells can cloud over and become a downpour at the drop of a hat.
Don't go on a Romania walking vacation if…
...you're nervous around dogs. Fiercely protective sheepdogs are common in the countryside, and you may also encounter packs of feral dogs. Walk confidently, giving them a wide berth, and you should be fine. ...you're looking for nightlife, any kind of nightlife. Typical evening entertainment on a Romanian walking vacation includes group card games, reading by candlelight or chatting with your hosts. ...you buy into the whole Dracula thing. Get your teeth into Romania as it really is, not the gory nonsense some marketers try to sell you. ...you're not used to long walks. Most routes are fairly unchallenging, but can involve full day treks which require stamina.
Best time to go walking in Romania

In the summer, the mountains are a refreshing alternative to the cities and coastal resorts. In the winter, wolves leave clear tracks across a sparkling blanket of snow.

Romania is a year round walking destination, but the Carpathian Mountains, where most vacations take place, are unquestionably at their most attractive during the spring and the autumn. If you're in the mountains and forests the summer heat is perfectly manageable. The days are longer, and bears are at their most active during these summer months too. From late spring through to summer you can expect showers, and the occasional thunderstorm. Winter walking is also popular, but in some regions such as the Ariesului Valley, chances are you'll be wearing snow shoes rather than boots.
Walking in Romania, month by month
In December, January and February, the white stuff lies thick on the ground. In rural areas, villagers adopt traditional winter dress, shaggy fur coats that make them look like abominable snowmen, and travel by horse-drawn sled. Winter temperatures in the mountains can drop as far as -8°C, but the odd nip of plum brandy will soon put some fire in your belly. March, April and May could well be the best time for walking in Romania. Meadows, pastures and hillsides are liberally sprinkled with pretty wildflowers, creating gorgeous backdrops for photographers. Rainfall gradually increases over the spring, peaking later in June, when walkers are well advised to bring raingear and waterproof boots. Showers can stop as quickly as they start though, so packing suncream is also highly recommended. The Romanian summer, which spans June, July and August, tends to be warm and sunny, with long days ideal for walking. In the mountains the temperature is a lot cooler, and rainfall is far more likely, especially earlier in the summer. Thunderstorms frequently shatter the silence – a mountain range lit up by forks of lightning is a real sight to behold. Bears are most active in these warmer months, and spending a few hours tucked into a hide with a pair of binoculars is bound to be a highlight of your vacation. You can often see bears meandering around in the autumn too, with food scarcer in September, October and November. Catching sight of one can be more difficult, their brown fur blending into the autumnal foliage. Autumn is another fantastic season to explore Romania, especially in rural Transylvania, which with its thick forest cover is the best place to really admire the rich colours of the foliage in all their glory.
More Romania walking articles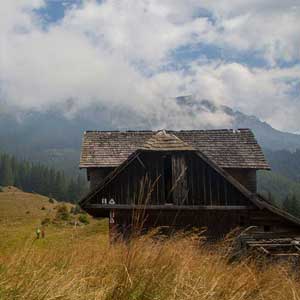 Need some inspiration - our top Romania walking routes covers everything from point-to-point treks to scenic day hikes.