Top Romania walking routes
Romania is well set up for walkers, whether you're joining a small group led by a professional local guide, or opting for a self guided trip. You might base yourself in one location, such as Magura, where there are abundant day hikes available, or travel from place to place with a small pack, your luggage traveling on ahead of you. The main walking regions are served by airlines into cities such as Bucharest, Sibiu and Cluj Napoca, though long transfers may well be involved; it's necessary though, if you want to really get into the middle of nowhere. You can expect rustic, homely accommodation where the food is good and plentiful, for carnivores and herbivores alike, and tasty regional wines flow freely.
1. Aries Valley
In his paean to the Romanian peasant, the poet Lucian Blaga said that "Eternity is born in the village." Some of his country's most attractive rural communities are found dotted around the Aries (Ariesului) Valley, in the Apuseni Mountains. This area is renowned for its gold production, prehistoric caves that are home to colonies of rare bat, and well preserved traditions such as spruce wood carving.
2. Bucegi Mountains
South of Brasov, in the Southern Carpathians, the Bucegi Mountains are known for their beautiful castles, old monasteries and several impressive rock formations such as the Sphinx and Babele (the Old Woman), shaped over the centuries by strong wind and rain. The highest peak in this region, Omu, affords stunning alpine vistas from its steep ridges.
3. Bukovina
Highlights of walking through the Bucovina region include the unique, UNESCO-protected Painted Monasteries, their exterior walls covered in religious frescoes; Ceahlau National Park, known as Romania's Olympus; and learning about the lovely tradition of painting eggs, which many families keep in special cabinets for generations.
4. Maramures
Creative wood art is on display in the Maramures region, particularly in its elaborate wooden gates, churches and the unusual headstones of the Merry Cemetery. The Iza Valley is known as Transylvania's cultural heartland, threaded with villages where people still make towering haystacks by hand, and dress just as they would have done hundreds of years ago.
Piatra Crialui National Park
5. Piatra Crialui National Park
Near Brasov, Piatra Crialui National Park is criss crossed with very satisfying hiking trails. Routes might take you along narrow limestone ridges, or through pretty meadows and pastures where farmers cut their hay with scythes and watchful sheepdogs eye hikers warily. It's worth taking half a day to see the quaint villages of Magura and Pestura, and the celebrated bear sanctuary above Zarnesti.
6. Zalan Valley
Walking through the Zalan Valley in the Carpathian foothills is a relaxed and interesting way to discover this unique cultural landscape. You can explore old farming communities, traditional Romanian industries such as glass blowing and charcoal burning, and see historic treasures such as Bran Castle. You can also meet a genuine Transylvanian count and, between May and June, see one of Europe's rarest orchids in bloom.
Our Romania walking Vacations
If you'd like to chat about Romania walking or need help finding a vacation to suit you we're very happy to help.

Romania walking vacations advice
Emily Lockwood from our supplier New Experience Vacations on when you should walk in Romania:
When to walk in Romania
"The best times for walking in Romania are between May and June, and from September to early October. Any earlier than late April and some trails may still be affected by snow, and July and August can be uncomfortably hot. In September and October the autumnal colours across the mountains are just stunning."
Bringing culture to life


Laura Doubleday from our supplier Tucan Travel on cultural highlights of rural Romania:
"You can visit a local woman's home and watch her decorate an egg. It's amazing how she can paint these intricate patterns with such care and dexterity. The designs have different meanings, and as the eggshells are such fragile surfaces, it's quite disarming. Coming into contact with these human traditions brings a nice change of dynamic after walking. The painted monasteries are popular, so you can expect to see other visitors. The paintings really are stunning and usually a monk or a nun will be showing people around which feels more intimate and authentic. Seeing the wooden churches in Maramures, not just photos, you realise how old they are. Also, they are surprisingly small. For anyone not familiar with Oriental Christianity, it's an eye opening experience."
Beyond Dracula


Emily Lockwood from our supplier New Experience Vacations on why Romanian culture offers so much to get your teeth into: "Many itineraries offer an immersive experience into Romanian tradition. The Carpathian Mountains encompass Transylvania, which is of course the most famous region in the country and a big tourism draw. A lot of the popular walks here will offer views of Bran Castle, which Bram Stoker used as his inspiration for Dracula's lair. But there are also many fascinating villages and churches that we would recommend visiting for more useful cultural insights."
Homestay advice


Laura Doubleday from our supplier Tucan Travel on what you can expect to eat in Romania:
"Most guesthouses have double rooms with private bathrooms. They are varied, each quite different to the other and respecting the characteristics of the area. Food-wise, you can expect local dishes and specialties most days. You might try sarmale, rolled cabbage leaves stuffed with minced meat, rice and spices. Food is usually all locally grown and prepared by the hosts. Hosts will also often prepare picnics or you can pack your own, it's flexible."

Emily Lockwood from our supplier New Experience Vacations on the benefits of staying with local families in Romania: "Another great way to learn about culture and traditions here is simply getting to know your hosts over a home cooked meal in the evenings. If you're staying a few nights or more in a family's company, you'll get to know each other pretty well."
How much walking will I do?


Laura Doubleday from our supplier Tucan Travel explains the territory:
"It's between 10 and 18km each day. Expect hilly terrain as you walk from village to village, a lot of open pastures and traditional agriculture; you're in a place that's in a rural bubble of sorts. This kind of walking would be suitable for people who are reasonably fit and active, but anyone who enjoys walking, even if they only do it from time to time, should be fine so long as they have a decent level of fitness. Bug spray in the high summer is definitely a good idea! Be sensible with what you pack, break in your hiking shoes beforehand if they are new – common sense stuff."
Tips from our vacation reviews
At Responsible Travel, we think the best people to advise our travelers are often... other travelers. They always return from our tours with packing tips, weather reports, ideas about what to do – and opinions about what not to.

We have selected some of the most useful Romania walking vacation tips that our guests have provided over the years to help you make the very most of your vacation – and the space inside your suitcase.

Don't be put off by the length of the longer 20km walk in Piatra Crialui. It's easy going and covers a range of beautiful scenery

"Don't be put off by the length of the longer 20km walk in Piatra Crialui. It's easy going and covers a range of beautiful scenery, from walking along a limestone river gorge, through a forest and out into alpine pasture. Udo, (the local guide) gives you plenty of rest breaks and leads at a leisurely stroll. Before you realise it you'll be back home in Magura. One of our group didn't go and later regretted it." – Stella Jales

"Some of the walks were challenging. My wife and are reasonably fit 55 and 63 year old but not regular 10K+ walkers. We did all the walks but I can see some people not being able too. Don't be misled by the easy label if you are not a regular walker." – Stuart White, on a walking, conservation and culture vacation in the Carpathians



I got my first glimpse of the landscape of the Carpathian mountains - illuminated for a second by a huge flash of lightning. It felt like I'd arrived somewhere wild

"Take insect repellent as well, no-one else seemed much affected but my legs were eaten alive. Binoculars would be handy as you do spend some time animal watching. The evenings in Magura are spent in the guest house so bringing a few board games would help to pass the time." – Mary Devine

"As I was going to bed there was an incredible soundscape of dogs barking echoing through the mountains and valleys. I then woke up just past midnight to a very dramatic thunderstorm (the dogs must have known it was coming). I went to the window and looked out of it. That's when I got my first glimpse of the landscape of the Carpathian mountains - illuminated for a second by a huge flash of lightning. It felt like I'd arrived somewhere wild." – Blake Humphries

"Take a flower book, there were so many we could not recognise. We were a group of four vegetarians, the food was fantastic whether you were a meat eater or not. All thoughtfully prepared." – Linda Gould


More about Romania walking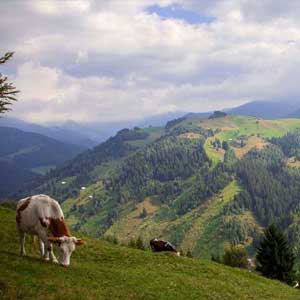 Bears, bats and mineral baths; our Romania walking vacations guide spills the beans on one of Europe's best kept secrets. A pristine, atmospheric landscape where it feels like time has stood still for generations – say "Buna" to Romania.