BEAR WATCHING HOLIDAYS IN ROMANIA
Historically, bears in Romania suffered horrifically at the hands of humans. Zoos, circuses, caged pets and 'dancing' bears on street corners were once commonplace. However, in 2007 Romania joined the European Union and that brought new laws including the EU Zoo Directive, which meant all zoos in Romania had to meet a certain standard of animal welfare. Many zoos could not comply and their bears faced euthanasia, but were saved by the Libearty Bear Sanctuary.

Here, Romania's mistreated bears were rescued and welcomed into vast natural enclosures where they were safe and looked after. Libearty Bear Sanctuary is not a zoo, you understand; it's for animals not for humans. Bears are cared for when they need it, and left to roam within the wooded slopes of the Carpathian Mountains. Rehabilitation projects allow some bears to be freed into the wild. For others, a life of peace and safety is the best way for them to end their days as naturally and happily as could be hoped for.

Wild bears are also a Romanian success story. There are an estimated 6,000 wild bears in the Carpathian Mountains, and ongoing conservation initiatives and responsible wildlife vacations mean these numbers are increasing. Volunteering at Libearty Bear Sanctuary or tracking bears with an expert guide are the best ways to have an unforgettable, up-close, experience. They'll also mean you are helping bears and remote Romanian communities.

Unfortunately, the more brown bears there are in the wilds of Romania the more chances there are that they'll come into contact with areas inhabited by humans. Livestock farmers living in remote villages are increasingly aware of bears and despite a national hunting ban on large carnivores there's a whiff of revolution in the air when it comes to dealing with 'problem animals'. The more income generated for people living in rural regions of Romania through bear watching holdiays, the more chances there are that bear populations will be protected.
Our Romania wildlife Vacations
HOW TO WATCH BEARS IN ROMANIA
Volunteering with captive bears
An ironic consequence of Romania's previously poor relationship with bears is that the country now boasts the largest and safest bear sanctuary in Eastern Europe. Since 2006, Libearty Bear Sanctuary has provided a secure, natural environment for rescued bears. Vast forested enclosures complete with swimming pools and climbing trees allow previously abused and caged bears to remember what it's like to be free. Some may never have experienced this sensation before. The younger the bear the more chances they'll have to be rehabilitated before being released into the wild. This is also the case for wild bears that have been injured or orphaned. Others are fed, cared for and left to live out the rest of their lives free from harm.

Volunteering at the sanctuary is an insightful experience and a brilliant way to watch bears in what is essentially their natural habitat. From preparing food and assisting full time staff to watching new bears adapt to their surroundings, this is the best way to get up close to the animals as well as contributing to ongoing conservation initiatives. While Romania's caged bears disappeared long ago, bears are still being brought to the sanctuary after being freed from captivity in areas outside the EU, including Armenia, so Liberaty is an ongoing project – and a vital one.

Volunteering vacations last a week, giving you time to learn the ropes. You'll volunteer for five days, with weekends free to explore, and these tailor made trips depart all through the year. Remember, this might be a vacation but hard work is required to ensure you and the bears get the most from your stay. You will get mucky so pack old clothes, decent rubber gloves and solid footwear so you can really get stuck in.
"The bear sanctuary is a beautiful, peaceful place and watching all the bears eating, splashing about in their pools, climbing trees and just enjoying their surroundings was a fantastic experience. Hearing about where all of the bears had come from and what they had been forced to endure in captivity made me feel very sad but the way they had been rescued and are now being so well cared for was truly moving and inspiring." – Libearty Bear Sanctuary volunteer, Rosemary Hindley
Tracking wild bears
Following an expert naturalist guide into the mountain foothills of Romania is the best way to catch a glimpse of bears in the wild. Although the bears won't appear on demand, they do have certain habits and habitats. An experienced guide will know the tell-tale signs of bear activity as well as the best trails to take travelers right into the heart of brown bear country. Early morning starts take you to observe bears in atmospheric settings amongst the limestone gorges and forested valleys of the Carpathians.

Although there are over 6,000 wild bears in Romania, as well as wolves and lynx, sightings are never guaranteed. And therein lies the thrill. Best advice is to bring binoculars for bee-eaters, black storks, eagles and Ural owls. Your guide will impart their expert knowledge on how to track and what to look out for. Bears are always the big hitters but when it comes to Transylvania, you never know what might turn up.

An evening in a bear hide is a particularly exciting way to watch bears in the wild. You'll be fully briefed as to what to expect and how to behave but nothing can prepare you for the actual event of seeing bears just a few metres away. Hides are created to observe wild bears safely. Food attracts bears to the site and chances are extremely high when it comes to bear sightings.
Our top Romania wildlife Vacation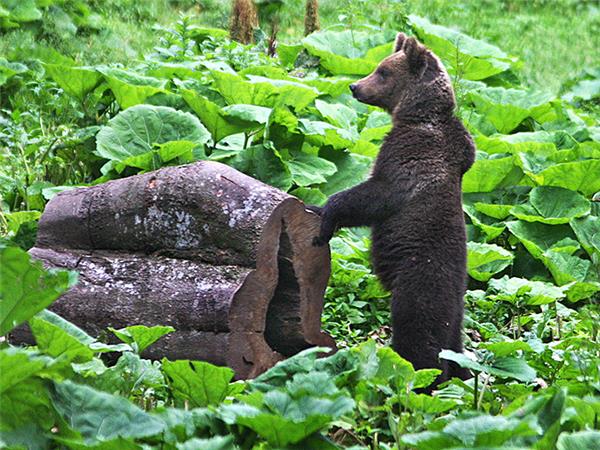 Wolves, bears & sightseeing
From
US $

1849

to

US $

2049
8 days
ex flights
Small group travel:
2024: 27 Apr, 11 May, 1 Jun, 15 Jun, 6 Jul, 17 Aug, 7 Sep, 5 Oct
2025: 26 Apr, 10 May, 31 May, 14 Jun, 5 Jul, 19 Jul, 16 Aug, 6 Sep, 20 Sep, 27 Sep, 4 Oct
If you'd like to chat about Romania wildlife or need help finding a vacation to suit you we're very happy to help.

Responsible bear watching
Leaving bait for bears is a controversial subject. This was once the practice of hunters but is now employed by wildlife watchers and animal researchers wishing to attract bears. On one hand it interferes with bears' natural behaviours and may lure them to areas inhabited by humans as the bears search for more food. On the other hand it decreases hunting and poaching as local people benefit from income from wildlife tourism.

Talk to your vacation company about the practice of leaving bait. Has it discouraged local poaching? Has it resulted in more bear-human conflict? Often it is only through discussion and engagement with people living and working in local areas that we can gain more understanding and improve our practices as responsible travelers.
One more thing: it's not scary or unsafe to watch wild bears in Romania. Guides know the movements and behaviours of the bears through years of experience and practical research. You're in safe hands. Also, it's worth mentioning that European brown bears are not overly interested in people. Food and rubbish bins, yes; humans, passé, no.
WHERE TO WATCH BEARS IN ROMANIA
Transylvania is the place to watch bears in Romania. The lower valleys of the Carpathian Mountains provide shelter for wildlife with limestone landscapes, such as Zarnesti Gorge, creating spectacular settings for tracking expeditions. Heading out with a guide is essential as they'll be able to take you into the dense Carpathian forests safely, and offer a greater chance of seeing the bears. In addition, bear hides can only be used with a guide.

Staying in a comfy rustic guesthouse in the Brasov area allows travelers to contribute to local economies, away from more popular tourist areas, as well as enabling easy access to Piatra Craiului National Park. Guesthouses are locally owned and tend to have no more than six guests at a time.

The Libearty Bear Sanctuary is based within the Carpathian foothills, close to Brasov. Here, volunteers have self-catering apartments close to the sanctuary and Brasov. This is an excellent option for solo travelers who want to make new friends – shared rooms are the norm – and discover daily life in central Romania. Surrounding areas feature mountain trails, medieval castles and Sighisoara – excellent for exploring at weekends.

Brasov is around three hours north of Bucharest, and there are regular trains. Some vacations will include transfers.
WHEN TO WATCH BEARS IN ROMANIA
Tailor made bear tracking vacations in Romania can be arranged from April to September, as bears hibernate during the harsh Romanian winter. May and September are the best months to watch bears in Romania as temperatures aren't too hot and Brasov isn't as busy.
Life at the Libearty Bear Sanctuary continues all year round, however. As the bears are fed, and many were previously conditioned not to hibernate, volunteer assistance is needed year round to ensure the sanctuary can function. Peak months, such as July and August, can get booked up months in advance.
If you're interested in watching bears in other parts of the world our
bear watching travel guide
has loads of advice and information to keep your paws full, all year round. From grizzlies and polar bears to advice on responsible tourism and when to go; Romania is just the start when it comes to making tracks.
More about Romania wildlife