RESPONSIBLE SAILING HOLIDAYS
---
TRAVEL RIGHT WHEN ON A SAILING HOLIDAY
The deep silence once the sails fill with wind and the boat pushes forward is one of the most intense experiences of a sailing vacation. It's also just one of the ways in which it's responsible. Small yachts, gulets and catamarans, powered by the wind and with perhaps just eight people on board, don't pollute like high-speed, oil-fuelled boats and are about as different from the colossal cruise ships that chug down the coasts of Greece, Italy and Croatia as you can imagine. As the world wakes up to the negative environmental and economic impact mega cruise ships are causing in sensitive destinations such as Dubrovnik and Venice, sailing vacations glide into view as a brilliant alternative. Not that sailing is anything new. Man's been taking to the seas in a vessel with a sail or two for millennia. But what's great about a sailing vacation today is that, with the right boat, skipper and crew, a 21st century sailing vacation can be almost as simple and responsible as the voyages of the past.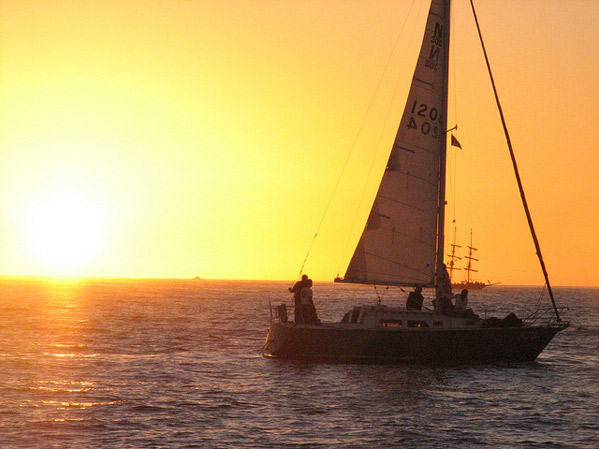 PEOPLE & CULTURE
---
ENJOY THE SEA & ENGAGE WITH THE LAND
Spreading the wealth
---
Small sailing ships can moor up at all sorts of remote places that huge cruise ships can't get close to, and their tiny numbers of passengers are welcomed into the nearest tavern or village like old friends. This is an experience that no cruise liner can offer its guests. These marine behemoths can't get close to most of the coastline they cruise by and when they do dock, disgorge thousands of passengers like a human tidal wave. These visitors may buy a few souvenirs and an ice cream, but typically that's it in terms of putting money into the community, before getting back onboard in time for dinner. Sailing vacations, by contrast, give passengers the chance to explore and understand the islands and coastline, and to support local communities. They tread lightly and put something back. So the message might seem to be 'cruise ships – bad', 'sailing – good', but of course, it's never that simple. To have a really responsible sailing vacation, there are a few things to keep in mind, in terms of environment, wildlife and the people who live onshore.
Sailing vacations are about, well, sailing – visiting islands and ports but not staying long. This means there is a risk of being divorced from local people and culture. A responsible sailing vacation, though, will emphasise getting to know the places you stop off at, encouraging contact with local communities and culture, for all round benefit. Experienced skippers can direct passengers to beautiful ruins, churches and squares, and shine a light on the area's social history. Disembarking to lie on a secluded beach is lovely, but shopping in local stores, enjoying a meal in a family-run restaurant or visiting an artisan workshop does more for your understanding of the country you're sailing past.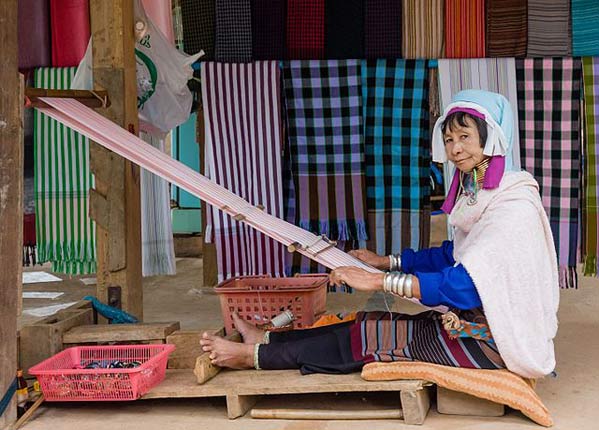 A greater level of engagement on land also directly benefits local people by putting money in their pockets. Some of the ports and villages you visit on a sailing vacation are off the tourist trail, making your presence even more welcome. In the Cyclades, for example, you can sail to remote or underdeveloped islands such as Kinaros (population: two) and Levitha (population: about three families), which is a unique experience for you, but also spreads the economic benefits of your vacation to those places that are inaccessible without a boat.
In addition, responsible sailing boats employ local crew and guides, use local taxis for transfers, and make use of local marinas and boat maintenance specialists. Produce served on board is sourced locally, sometimes from the crew's family members or even directly from the grower or fisherman, making this a sustainable and supportive style of travel.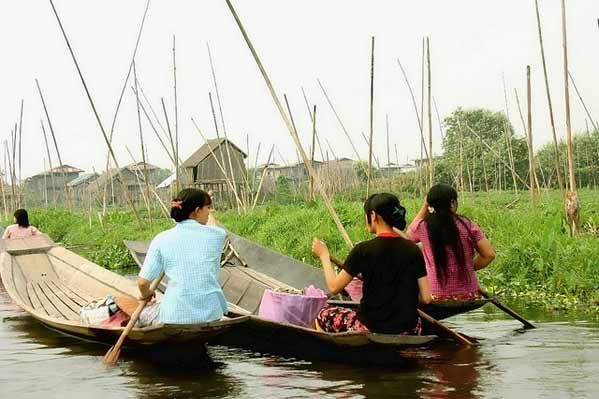 The Moken people of Myanmar
Sailing vacations to the Mergui Archipelago in Myanmar are a unique opportunity to visit islands only accessible by sea. This is the home of the Moken 'sea gypsies', a semi nomadic seafaring people who traditionally spend large portions of the year at sea on floating raft homes, diving for shellfish and only coming ashore during the monsoon. Their unique lifestyle is under threat, though, as they have been encouraged to live in island communities by the Myanmar government and have few rights. The fishing they have relied on for centuries is also threatened, due to pollution and boats from outside the area using dynamite to fish.
What you can do
Although very shy, the Moken people do approach the few catamarans that regularly sail these waters on organised sailing vacations, as they have come to know and trust the crews. Travelers on board might like to bring gifts for them, as the Moken generally benefit very little from tourism in Myanmar. Ask your tour operator which items are most needed (avoid sweets, plastic toys etc) and never hand out gifts directly to children. It it more appropriate to give items directly to an elder or community leader, or to give to your tour leader to distribute responsibly. You can visit Bo Cho Island, too, and the Moken village of Ma Kyone Galet, where you can learn about their life and contribute to the community by visiting the local school, Buddhist temple and small cafe. Don't take photographs of these reserved people unless you have express permission from them.
WILDLIFE & ENVIRONMENT
---
Leave no trace
Most vessels adopt a 'leave only a wake' approach to marine and coast, respecting the delicate eco-system of sky, sea and shore and leaving it as it was found. Skippers and crew on responsible sailing vacations are passionate about the local marine environment and wildlife and will be eager to share their knowledge, educate about current threats and give guidance on how to behave responsibly while sailing.
Sailing is naturally eco-friendly, vastly reducing the carbon used to travel and avoiding the pollution created by a diesel engine, but it's rare for a sailing vacation to rely solely on the wind. Sails can't be used all the time and in all conditions, and a motor is often needed to enter and leave port. When it comes to 'parking', responsible boats favour permanent moorings, too, as throwing the anchor down can harm meadows of sea grass or the fragile seabed.
The age of the vessel is important, too. Just as a battered old Cortina is going to belch out more exhaust than a brand new hybrid car, so a modern ship with a new engine tends to use less fuel and give off fewer emissions than an older vessel. Ask your vacation supplier about the age of the boat. Some modern boats have wind turbines to generate power for lighting, too.
Waste disposal is another important environmental issue on a sailing vacation – no one wants litter or, worse, human waste spilling into the water. Responsible vessels bring solid and liquid waste ashore for disposal, and most have a strict recycling policy of all non-organic waste. Space is always tight on a sailing boat, though, so respect any recommendations on baggage amounts, as any additional stuff you bring may jeopardise the skipper's ability to store recycling and take it back to the mainland.
What you can do
Travel light and leave the plastic behind. The less 'stuff' you bring on board, the less waste you will produce. Use a water bottle and a steriliser, rather than buying water in bottles that then need to be sailed back to shore and recycled.
Spend a few moments in each place you visit collecting rubbish and litter. Check your skipper can accommodate the litter you pick up first. Many responsible sailing trips encourage this, though, or run organised beach cleans during the trip.
Help out with any ongoing research into wildlife, such as whales and dolphins, in the area you're sailing through, by logging sightings and observations. Many trips contribute to larger research studies, even if the sailing break you're on doesn't have a specific conservation angle.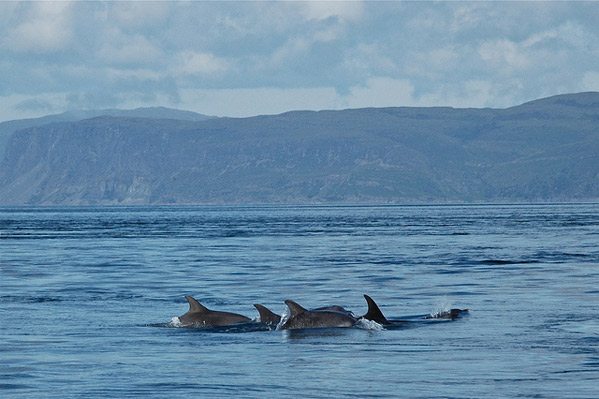 Responsible tourism tips
---
TRAVEL BETTER WHEN ON A SAILING HOLIDAY
Observe wild animals and birds from a distance, especially during nesting time. Do not feed any wildlife or birds.

When going ashore, you will meet local people. If you want to take photos, take your time to get to know them a little and always ask their permission first.

When walking or cycling, respect any signs, regulations, policies and special concerns for the area that you wish to visit. Stick to marked trails, too.

One of the advantages of a sailing vacation is that it not only allows you to moor in far flung places, but also to immerse yourself in local communities. Respect cultural traditions when you arrive. You may have literally 'just come in off the boat' but remember to behave in a way that is informed and sensitive to your hosts' lifestyles. It is worth learning just a couple of words in the local language. A smile takes you a long way in travel, but with a thank you in the local language, you will always get a smile back.

As well as practising 'Leave No Trace' when at sea, commit to no longer playing a part in the plastic takeover of the oceans. According to the Marine Conservation Society, there are nearly 2,500 items of rubbish for every kilometre on a beach, and it is killing wildlife from birds to turtles as they eat it. In many ways we are all guilty of contributing to this. So, try and change your ways when you get back home too and say pants to plastic.

It may seem obvious, but it is amazing how many people think it is fine to stick beach stones in their pockets as souvenirs. It isn't fine. Same goes for black coral, shells, volcanic rocks, animal parts, native wood or flora. And again, same goes for if you see them for sale anywhere else.

If you are swimming, snorkelling or diving while on your sailing vacation, remember that any products you wear on your body, such as sun cream and body lotion, get absorbed into the marine environment. Bring environmentally sound products with you to help keep the oceans clean.

Dress respectfully. If cycling through quiet rural villages when on shore, opt for clothes that cover legs to the knee and avoid full-on Lycra. Likewise, if visiting religious buildings while sailing in Croatia, Greece or Italy, cover your shoulders.