Self guided walking vacations in Scotland
"I found a beryl crystal on the Cairngorm plateau," says Andy Bateman, guide and co-founder of our partner Scot Mountain Vacations. Beryls are the jewels in the brooches and sgian-dubh daggers worn in traditional Highland dress. Queen Victoria was a keen collector of Cairngorm stones and in the 1800s many hikers climbed into the mountains, on the hunt for smoky quartz, topaz and beryl.

"I always keep my eye out for gemstones when I'm on the top there," says Andy. "It's taken 20 years to find seven, but this beryl was a real find."

Self guided walking vacations in Scotland really are like going on a treasure hunt. It's rare to find a glittering geological gem; the real treasures are more poetic. And like most hunts, you'll need a map drawn up by experts to lead the way – even on well-waymarked national trails like the West Highland Way and Great Glen Way. An organised, self guided hike will reveal the details of the region you're exploring – and they're what bring it to life.
Our Scotland walking Vacations

Here, the outdoors is a very, very broad church.

Nan Shepherd, a Highlands writer and author of The Living Mountain, was renowned for her passion for details. On her walks, she'd seek out secretive river sources, listen for gargling ptarmigan calls, and notice the changes in light that can signal the difference between encountering sunshine on the way, or a white-out. When you don't have to keep up with a group or guide, you can slow down and take in the finer details too.

"I'm very much in Nan Shepherd's school of thinking," says Andy. "You spot all these nooks and crannies where the heather's a wee bit deeper because it's more sheltered and you might find an unusual plant in there that you haven't discovered before. Here, the outdoors is a very, very broad church."

This attention to detail is what makes our self guided walking vacations in Scotland. Your guide will be in your pocket (or on your phone) in the form of routes and trip notes packed with tips and tricks written by local experts like Andy who know and love where they live.
Exploring the Highland, Great Glen & St. Cuthbert's Ways
Lots of self guided walking vacations in Scotland take a week to explore a long-distance footpath, guiding you to a different inn or hotel each night. They're tailor made, too, so our expert partners can tweak a recommended itinerary to your preferences – whether that's adding an extra night at a lochside B&B or adding a rest day.
The
West Highland Way
is the most famous walk in Scotland, starting outside of Glasgow and finishing up 154km away in Fort William, near Ben Nevis, Britain's highest mountain. Loch Lomond, Glencoe, Rannoch Moor – you'll hike through them all.
The
Great Glen Way
begins where the West Highland Way ends. It's another giant: 118km of mountain tracks and Caledonian Canal towpaths that follow the natural fault line between Fort William and north-easterly Inverness. Highlights include walking along the shores of Loch Lochy and Loch Oich, and through the forests above Loch Ness. (Watch out for Nessie.)
St Cuthbert's Way
is lesser-trod, ducking and diving between Scotland and England for 100km. It joins together Melrose Abbey in the Scottish Borders, where the 7th-century St Cuthbert became the bishop of Lindisfarne, with Northumberland's Holy Island, where the venerable saint is buried. Ever-changing scenery and easy to moderate paths make it great for less experienced walkers.
Connecting the Cairngorms
If you choose a self guided hike in the Cairngorms, you'll explore some of the most exciting conservation projects in Europe. There's lots of talk about big, controversial rewilding projects in Scotland: reintroducing wolves, bears and lynx that were hunted to extinction.
But beneath the headlines about wolves and deer culling, there are projects like the
Cairngorms Connect
, which is almost unheard of in its scale and ambition: a 200-year plan to get landowners working together to help restore habitats, species and ecological processes across 600km² of the Cairngorms National Park.
"You wander the hills for so many years, and you start to realise what's missing," says Andy. "You look at places on the west coast, and you look at the burns and the cliffs, and there the trees are because they're inaccessible to deer and sheep. And it's got to be about balance. You've got to have people living there and farmers too."

You wander the hills for so many years, and you start to realise what's missing.

Tree felling, grouse estates and unmanaged deer populations are the main culprits for the loss of forest in Scotland. Deer knock back new shoots and grouse estates burn the heather to encourage new shoots for the birds to eat.

"Very large areas of Scotland are still bare of their natural forest, and it's quite a bone of contention at the moment," says Andy. "But if you see old photos from Victorian times, there's not a tree in sight in some cases. It's completely bare rolling hills, and that's not natural. We've got a lot more of our woodland back."
The ongoing forest restoration isn't always pretty. Pulling down forest on RSPB reserves even seems pretty counterintuitive on the face of things. But they've got a plan. These were previously commercial pine forests, where Scots pines were replanted too densely, blocking out the light for other native species. More light means more biodiversity on the forest floor.

The RSPB also manage the Abernathy estate, which some of our self guided Cairngorms walking vacations introduce you to. There are no longer big animals like wild boar and ox to disturb the ground and break up thick moss and heather growing over boggy ground, so the RSPB have introduced cattle to gently turf up the land so that plants can reseed easily.

"To the untrained eye it doesn't look particularly pleasant," says Andy, "but the purpose is to increase the biodiversity…. You get to realise the connectivity there is in nature over time. You're up here, walking the hills all the time, and you start to realise what's happened and the processes that have been at work."

It was like switching a switch. Within two years, young trees were coming up.

With no natural predators, deer culls are a controversial but effective conservation measure. In 2004, the Deer Commission ruled that the landowners of Glen Feshie weren't protecting the rare flora and fauna there and forcibly culled 800 deer on the estate.

"And it was like switching a switch," says Andy. "Within two years, young trees were coming up. They must've been in the heather anyhow and continually knocked back by the deer… You walk down the base of the glen now, and it's just young pine trees coming up all over the place."

You don't just walk through these conservation projects. Our vacation partners will often directly support them, donating a percentage of profits to Cairngorms Connect and tree nurseries growing tree stock to regenerate native woodland.
Our top Scotland walking Vacation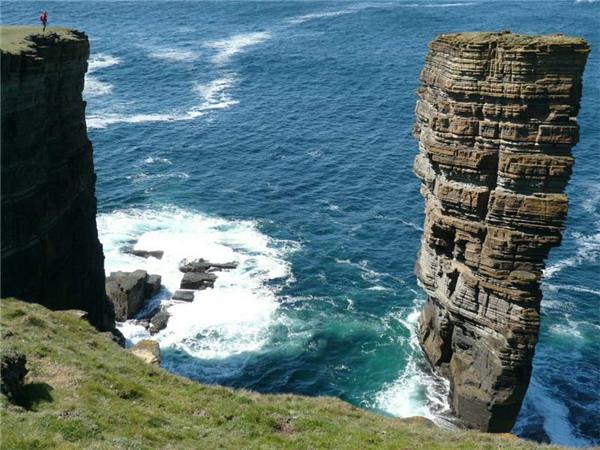 Discover the Orkney Islands on this wilderness walking trip
From
£

2245

to

£

2345
7 days
ex flights
Small group travel:
2023: 23 Sep, 7 Oct
2024: 6 Apr, 20 Apr, 4 May, 18 May, 6 Jun, 15 Jun, 29 Jun, 24 Jul, 4 Aug, 17 Aug, 14 Sep, 28 Sep, 12 Oct
If you'd like to chat about Scotland walking or need help finding a vacation to suit you we're very happy to help.

Walking the West Highlands & islands
Self guided walking trips are tailor made to your requirements, whether that's designing itineraries around your likes (adding a whisky distillery tour, let's say) or – vitally, in Scotland – adapting to the time of year you're there.

"The Scottish weather is often very moody," says Andy, "and that adds another layer of complexity and variety to everything. No day is the same and I thoroughly enjoy showing people this – and that it's not always wet."

The expectation of wet weather is a sticking point for Andy. "People say, 'Scotland's always wet!' But far from it. Yes, we do have some of the wettest places in the country because we've got the mountains pointing up into atmosphere, but we also have some of the driest… Where I live in the eastern Highlands is drier than anywhere in Cornwall."

The weather in Scotland makes people feel alive.

The "wet west" is largely responsible for that bad rep. It's the rainiest side of Scotland, and also the place people tend to go on their first visit to Scotland. When you visit Glencoe and the Isle of Skye, you're making a beeline for some of the wettest places in the UK. So if you're heading west, you'd better pack your mac and an open mind.

"The weather in Scotland makes people feel alive," says Andy. "It's invigorating weather – whether it's rain lashing down on your face or these lovely soft interactions with the sunlight and snow."

You'd better pack your camera and binoculars, too. North Harris in the Western Isles is your best chance of seeing golden eagles in the UK. Assynt, north of Ullapool, is a brilliantly mountainous landscape. And the Torridon Giants are some of the most remotely spectacular mountains in Europe. The Isle of Skye and the Black Cuillin, meanwhile, offer alpine ruggedness, plus seal and otter beaches.
Where to stay on a self guided walking vacation in Scotland
You might be guiding yourselves, but you'll be far from alone on a self guided hike in Scotland. The people who design your itinerary have lived in Scotland for years, and developed great relationships with the friendliest accommodation owners. You'll hike from inn to inn along long-distance paths like the West Highland Way and Great Glen Way – with each guest house offering a warm welcome after a day on the trail.

We felt a sense of community and acceptance for us and the other tourists coming to the town

– Patricia Gabris travelled on our Scotland self guided walking vacation
You can also base yourself in one place, such as the Cairngorms, giving you the chance to thoroughly explore the varied scenery and communities of the biggest national park in the UK. Out west, Knoydart
has a bunkhouse
by the bay that you can use as a social, communal base for self guided hikes.
Wherever you stay, vegetable patches and home-made food is practically a given. Accommodation owners will source ingredients from farmers like Lynn Cassells and Sandra Beer at Lynbreck Croft, who are passionate about working in sync with the land and promote biodiversity.
More about Scotland walking