Walking vacations in Scotland guide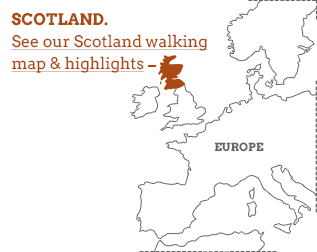 "However often I walk on them, these hills hold astonishment for me," wrote Nan Shepherd in her memoir The Living Mountain. Her book was an ode to walking in Scotland, and has inspired hikers to slow down and take in the details since it was published in 1977. Those details might be the golden eagle surveying its territory from a tall Scots pine, the purple saxifrages hiding between heather and moss, or the soothing white noise of waterfalls – all easily missed when you throw a motor into the mix.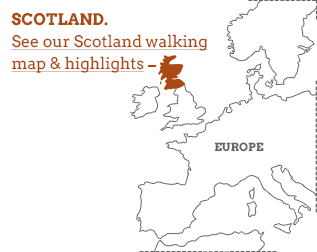 These are no marathon marches. You'll concentrate on a region – say, the West Highland Way or Cairngorms – and take a week to explore some of the most diverse, dramatic scenery in the UK.

The West Highland Way and Great Glen Way are long-distance legends that string together mountains, lochs and villages that welcome visitors with open arms (and a warming whisky). Hikes in the Cairngorms explore rare and biodiverse forest sheltering red deer, pine martens and wild cats. Other walks take you to the coast: Orkney, where skua colonies clamour on craggy coastlines, or the Inner Hebrides, where hikers island-hop by ferry.

Keep reading our guide to walking vacations in Scotland to discover more.
Is a walking vacation in Scotland for you?
Do go walking in Scotland if…
… you like your freedom to roam. The Land Reform Act 2003 opened up a huge swathe of Scotland to curious hikers.
… rewilding is your thing. Scotland has some of the most exciting conservation projects in Europe, rescuing white-tailed eagles from extinction and launching the ambitious Highlands restoration project Cairngorms Connect.
… you want to be surprised. You'll uncover less tartan and shortbread and more in the way of golden eagles and the lives of people who live in some of the remotest corners of the UK.
Don't go walking in Scotland if…
… changeable weather bothers you. Summer is the busiest (and midgiest) time for hiking in Scotland, so we recommend spring, autumn and winter. … you're only there for Munro b(r)agging. Our vacations reveal that there's much more to walking in Scotland than getting to the peaks. … you haven't got the right gear. Hiking boots and waterproofs are essential packing, as well as a Thermos flask for hot toddies.
Scotland & the freedom to roam
The
Land Reform Act 2003
is one of the most progressive bits of legislation in Europe. It gives adventurers the right to cycle, horse ride, canoe and camp across most of Scotland for leisure, from Orkney in the far north-east to the Borders south of Edinburgh. This freedom doesn't exist in the rest of the UK and Ireland.
It's an exciting but conditional freedom. There's one rule: walkers must behave responsibly, respecting land managers and the environment. Unless you're very familiar with the area, the sure-fire way of walking responsibly in Scotland is to access the amazing knowledge of local guides – whether that's on a guided or self guided walking vacation.
They'll tell you whether it's wise to walk on the heather (and that in some areas gently turfing up moorlands can help reseed native plants) and how to avoid the grouse shooting estates. It's worth swotting up on the
Scottish Outdoor Access Code
, too. Some advice is obvious (taking your drained cans of Irn Bru with you), but other advice might surprise you, such as
guidelines around picking wildflowers
.
Our top trip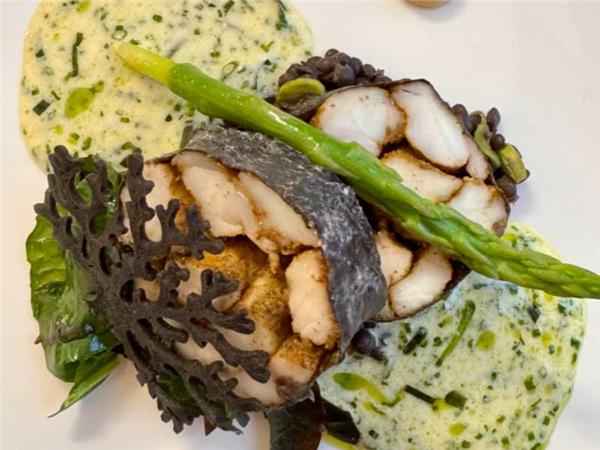 Walking adventure to the wild Hebrides, Skye, Harris and Lewis
From
£

2575
7 days
ex flights
Small group travel:
2024: 23 Mar, 25 May, 6 Jul, 3 Aug, 17 Aug, 21 Sep, 5 Oct
If you'd like to chat about Scotland walking or need help finding a vacation to suit you we're very happy to help.

What is a walking vacation in Scotland like?
Walking vacations focus on a region or route in Scotland: the
West Highland Way
, for instance, or
Orkney
. They include accommodation, transfers and most activities. There are some three-day adventures that concentrate on
winter trekking
or
wild camping
, but most vacations stretch things out over a week so you can explore the grand scenery and welcoming communities around you at a steady pace.
Guided or self guided?
Guided walking vacations tend to be small group trips led by local people. Your guide will teach you how to leave as light a bootprint as possible. And while you're watching your step, they'll also point out the purpling heather below and golden eagles above. Expert guides are especially important in winter, when their mountain guide training will keep you safe and happy on snowy, blustery mountaintops. Groups can be 8-20 strong – small enough to stay in locally run inns and B&Bs rather than multinational hotels.
Self guided walking vacations
are still guided by experts; their knowledge and notes are in paper form or in an app instead of in-person. You'll get detailed route notes designed by people who know the footpaths (and people, pubs and festivals) well. Most trips are tailor made, so the itinerary can be adapted to your likes and walking ability. Our partners can often hook you up with guides along the way if you fancy a day off from map reading, or will add extra rest days. You'll have complete support, too, with 24/7 help at the end of the phone.

To aim for the highest point is not the only way to climb a mountain.

– Nan Shepherd, The Living Mountain
How tough are the walks?
It depends on which part of Scotland you want to hike. The islands of Orkney are relatively flat, so walks are easy-going to moderate, whereas a long-distance hike along the mountainous West Highland Way is more challenging. Tailor made hikes offer easier shortcuts if you're not so sure of your mountain legs. You can take things at your own speed and add in rest days, or choose to hop on the train and skip the tough parts.

Winter walking vacations are for fit hikers, as walking on snow and ice is more challenging, especially wearing boots weighed down with crampons. You'll be in the hands of an expert mountain guide, however, so they'll ensure both safety and smiles. It is a vacation, after all.
What is accommodation like?
Big chain hotels are as elusive as wild cats on our Scotland walking vacations.
You'll stay in locally run guest houses, B&Bs and hotels that have been in the family for 50 years or so.
That means homemade marmalade and fresh eggs for breakfast, and soup cooked up using ingredients from the vegetable patch out back for lunch. Many trips don't include all meals, which gives you the chance to try the seafood restaurants and bakeries in town.
Gordon Steer looks after the Scotland walking trips at our partner World Expeditions. He says: "We use guest houses and B&Bs owned by local people wherever possible. In some places, they're pretty much the only option anyway. You get a sense of being at one with the area that you don't from staying in some big swanky hotel where you could be anywhere in the world."
You can also book accommodation only – including this
bunkhouse in Knoydart
for hikers after communal living on a shoestring. You get a mixed crowd of solos, families and friends here, promising good conversation in the shared kitchen and lounge.
Best time to go walking in Scotland

Summer on the high plateau can be delectable as honey; it can also be a roaring scourge.

– Nan Shepherd, The Living Mountain
That's Aberdeenshire writer Nan Shepherd's way of saying that the weather in Scotland is about as changeable as it gets. Thankfully, our hiking experts will adapt your itinerary to avoid the "roaring scourge" as much as possible.
Most small group walking vacations run from March to October. You can take a tailor made vacation at any time of the year.
If you can, it's good to travel either side of the high season:
heather moorlands and forests wake up in autumn; spring rain and snowmelt plumps the waterfalls and lochs; winter offers unusual activities like
snow-holing
. Traveling outside of summer is better for the local economy too, ensuring that guest house owners and restaurants have custom for a longer stretch of the year.
"For the first-time walker in the
Highlands
I would suggest coming in spring," says Andy Bateman, co-founder and guide at our partner Scot Mountain Vacations. "During normal summers it can be very busy, especially on the west coast… Spring also has fewer problems with midges, and you get some of the best weather in the Cairngorms in March, April and May. We actually have less rain than Cornwall here on this side of the Highlands."
June is an ideal time to be in the
Orkney archipelago
, in the far north-east of Scotland. The seas are calmer for ferry crossings, plus there's only two hours of darkness, leaving plenty of time to enjoy light evenings after a day's hiking.
David Kay, from our partner Ramblers Vacation, believes they've got navigating summer cruise schedules down to a fine art: "When the cruise ships are in, they can immediately double the population of Kirkwall. We have to coordinate closely with the bus company to ensure our groups can get where they need to, but that also gives us the advantage of knowing where the cruise groups are going and when so that we can avoid them. In truth, though, they stick to the honeypot sites, and within a short walk you're in a completely peaceful atmosphere again."
More Scotland walking articles