MULTI ACTIVITY HOLIDAYS IN SLOVENIA
There are some wonderful extremes in Slovenia that will appeal to anyone interested in enjoying outdoor life in sublime natural settings. The northwest, close to the borders with Austria and Italy, provides plenty of potential for hikers, bikers and white water rafters within Triglav, Slovenia's only national park. Here, you'll find the highest peak in the Julian Alps, Mount Triglav, and the emerald green waters of the Soča River that flows through Slovenia en-route to the Adriatic.
Close to Triglav National Park is the beautiful Lake Bled, onto which clifftop fortresses and the mighty Mount Vogel cast reflections from forested mountain slopes. The lakeside town of Bled is the perfect base for multi activity vacations. A week here gives you plenty of time to reach 1,500m-high hiking trails by cable car, Grade II and III rapids on the Sava Dolinka River, and the wonderful waterfalls along the Vintgar Gorge.
Joining a small group for a multi-activity vacation is a great way to make new friends and learn a few new skills or techniques. You don't have to be a complete and utter adrenaline junkie. Local instructors and group leaders are on hand to ensure safety, fun and respect for the environment are paramount. Top quality equipment is also provided to ensure comfort and safety at all times. Solo travelers are more than welcome, with no extra cost if you share a room (single supplements may be available). Couples, friends and families with older kids are welcome too – there is a minimum age of 15. With a maximum group size of 12, you'll be staying in small, family run guesthouses in Bled. Hearty breakfasts are included to set you up for the day and Bled boasts a wide range of locally owned restaurants for lunchtime and evening meals. Cream cakes and coffee are something of a specialty in Slovenia and there's no better reward on your return back to base.
Our top Slovenia Vacation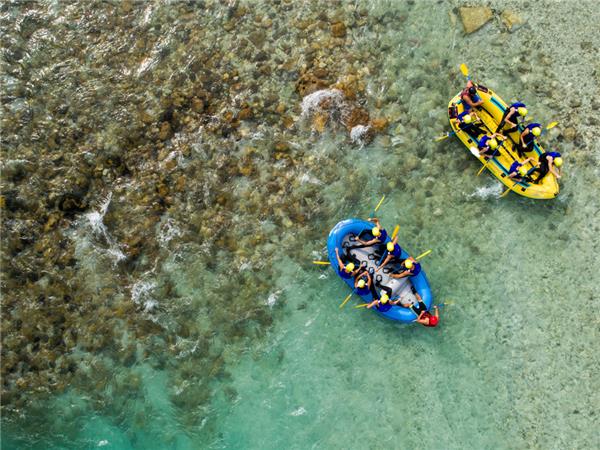 Up the adrenaline on this exhilarating tour of Slovenia
From
US $

1388
8 days
ex flights
Small group travel:
2023: 20 May, 3 Jun, 15 Jul, 12 Aug, 2 Sep
If you'd like to chat about Slovenia or need help finding a vacation to suit you we're very happy to help.

Hike, bike & raft in Slovenia
Hike it
Slovenia's cable cars make it easy for hikers to access a good network of high altitude hiking trails. A 30-minute bus ride from Bled to Lake Bohinj pops you out at the cable car station running up and down Mount Vogel. From the upper cable car station (1,500m) on Mount Vogel there's an excellent hiking trail leading back down to the lakeside village of Ribčev Laz some incredible alpine scenery along the Bukovska Valley. Hiking in Slovenia with a local guide is not only the safest way to enjoy the country's landscapes it's also an excellent opportunity to find out a little more about the local history, with impromptu language lessons and a whole host of folklore.
Bike it
You can't beat Triglav National Park for mountain biking and there are a couple of great routes that come highly recommended. First, there's a peaceful, easygoing 16km ride along the banks of the Radovna River. It's mainly on a gravel track through an ancient wooded valley with a slight incline before you reach the village of Zgornja Radovna, the only test on the calves. A more challenging ride in Triglav takes you on a road route to the villages of Srednja Vas, Leše, and Lipnica. Once at the top there are some terrific views over the Ore Valley including the inimitable form of Mount Viševnik. Alternatively, there's a lovely 6km scenic cycle route around Lake Bled that takes you past several early 19th century lakeside villas including that of the former Yugoslavian president, Tito.
Raft it
The Sava Dolinka River is just a short drive from Bled but a world away when it comes to white water rapids. Enter the water at Piskovca for a 90-minute rafting adventure downriver to Lancovo. Rapids are enjoyable and fun rather than rough and wild, with slippery, moss-coated boulders forming gates and eddies on rapids that range up to Grade III. The banks of the Sava Dolinka are extremely scenic and exude alpine beauty, with cypress trees and the occasional angler on the hunt for trout. Undertaking Slovenia's longest river with a professional rafting guide ensures you have fun – and are safe. Although the rapids aren't too fierce they can still be dangerous if you don't know what you're doing. Helmets and buoyancy aids are supplied, of course.
BEST TIME FOR A MULTI ACTIVITY HOLIDAY
IN SLOVENIA
The best time to go on a multi activity vacation in Slovenia is in summer. Rapids are at a fair to moderate grading from late May to early September, and wild swimming is far more appealing when the sun's out. Facilities around Lake Bled are open from May to September with boat rides out to St Mary's Church in the middle of the lake just one of hundreds of optional things to do on a free day.
The town of Piran on the Adriatic coast is also much more enticing during July and August, although it can get busy at weekends and during school vacations. Cable cars run throughout the summer but don't forget to pack waterproofs and dry layers if you're hiking or mountain biking at altitude, no matter what the weather's like down in the valley.