Slovenia tailor made tours
The beauty of a tailor made tour in Slovenia is that you can take it at any time of year you wish. You'll be able to stay overnight at locally-owned B&Bs in the countryside and smaller centrally-located city hotels, as well as undertaking a variety of seasonal activities to suit your interests.
It's up to you which locations you visit and how long you wish to stay. This decision making process can often be aided by chatting to a regional expert who can make recommendations based on their own first-hand knowledge and experiences. Local guides in Slovenia are also on hand to help you understand more about the medieval city sights of Ljubljana, just as readily as they can lead you underground into the Škocjan Caves or take you trekking in Triglav National Park.
It's this sort of two-way traveling experience that encourages local Slovenians to welcome travelers with open arms – especially those living in more remote areas, away from the capital or the coast.
Affordable and authentic experiences
Building activities into an itinerary, in advance, allows you to manage your budget without any unexpected surprises along the way. Alternatively, you can leave space for free time and take advantage of optional things to do when you're in Slovenia. This is a great way to listen to local recommendations and embark on organic adventures that make a lot more sense when you're actually in the local area. This is not always the case on a small group tour.

The more friends and family members you can take on a tailor made tour then the more affordable it's going to be. A minimum of two travelers and a maximum of eight is usually the norm. Keeping the size of your group down allows you to stay in much smaller guesthouses and visit traditional food and wine makers without descending en masse and interrupting the peaceful and authentic rural ambience. You can also meet and chat to local people on a personal level rather than feeling like you're at the back of a presentation conducted to a much larger crowd.

In its communist days, Slovenia was considered the most open of the former Yugoslavian regions, and its people remain keen to show off their English skills and talk about their country. Tailor made tours in Slovenia are for travelers who want to connect with local people and get a much more personalised experience.
Connect with Slovenians on a tailor made tour
Being on a tailor made tour gives you an opportunity to take things easy and linger longer over lunch rather than feeling like you've got to rush off. Slovenian specialities, such as kraški pršut (karst dried ham) and kranjska klobasa (spicy sausages), are always best enjoyed closer to a farmhouse kitchen, with homebrewed schnapps, like borovnica (blueberry) or viljamovka (pear), never in short supply.
Mojca Peterka works at our Slovenian tailor made vacation specialists Grand Cuvée Tours:
"The sellers of local specialties are local farmers or owners of their own small businesses who have a strong connection with their region and land. We found them during some of many visits of the region, when we were searching for genuine offer, typical for the region. All of producers are masters of their craft, and by visiting them you can learn a lot about local life and cuisine."
Although not as many Slovenians live off the land as they used to, the ones that do retain many of the traditional farming and food production methods that have been passed down through the ages. Visiting alpine dairy farmers, truffle hunters and bee keepers is a great way to get closer to the culture of the countryside and also puts you in places that are rarely visited by the tourist coach loads on whistle-stop tours.
Also, as Slovenia boasts more than 300 vineyards, many of which are in the northeast region of Podravje, adding at least one afternoon of wine tasting into a tailor made itinerary is always a wise move. Slovenian wine recommendations: Merlot and Pinela from Vipava; Malvazija and Refošk reds; and sparkling whites from Brda.
Slow down in Slovenia
Simply put: a tailor made tour allows you to slow down in Slovenia. You can find out more about the small businesses, eco-accommodation and local restaurants that promote 'slow tourism'. This style encourages travelers to meet local people and take part in traditional activities such as cheese making, truffle hunting and folk dancing. Traveler experiences cause minimal impact on local lifestyles and, when combined with guided hikes, cycle rides and river rafting, really help to connect Slovenians and travelers in cultural exchanges that are beneficial to everyone. Top tip for going slow: look out for the Slow Tourism logo on restaurant windows and guesthouse doors, especially if traveling in the regions of Gorenjska and Goriška, close to the Italian border.
Our top Slovenia Vacation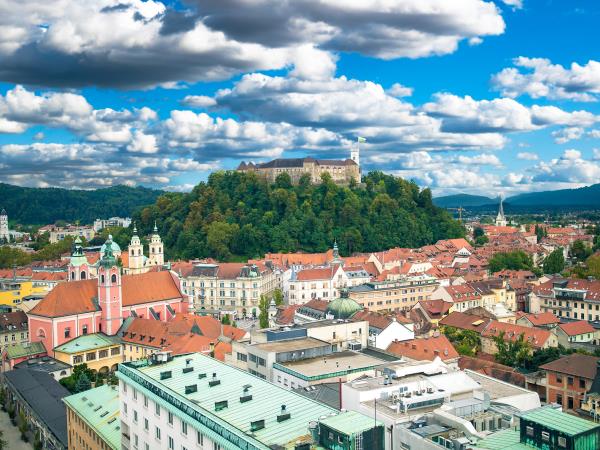 Independent exploration of Slovenia's natural wonders
From
Ł

635

to

Ł

795
8 days
ex flights
Tailor made:
This trip can be tailor made throughout the year to suit your requirements
If you'd like to chat about Slovenia or need help finding a vacation to suit you we're very happy to help.

Experience architecture in your own time
There's nothing worse than being rushed from one place to the next. Especially if you prefer to appreciate things and read information without just ticking it off with little more than a cursory glance. A tailor made tour gives you the opportunity to decide when you're ready to move on.
Slovenia's situated at the epicenter of Europe and, as such, holds an expansive arrangement of architectural treasures. It would be a shame not to make the most of medieval and baroque buildings just as it would also be a crime to cut out communist structures simply because the coach won't wait. Slovenia boasts caves and archaeological sites dating back to the Neanderthals. (One of which presented the world with the oldest known musical instrument. A Neanderthal flute that now sits in the National Museum in Ljubljana.) Elsewhere you'll discover 11th century castles and churches, WWI sites close to Kobarid and untold Roman ruins in Ljubljana, Celje and Ptuj.
Slovenia is small enough to easily get around on a self drive tour but its architectural heritage stretches back through the ages and implores you to take your time as you enjoy the ride.
Best time to tailor a tour to Slovenia
It's perfectly possible to ski in Slovenia's Julian Alps from December to April just as taking a boat out to the island in Lake Bled is a July/August essential. Either side of winter and summer, Slovenia is all but bereft of crowds which is why a tailor made tour in spring or autumn can provide much more authenticity for travelers looking to see the sights in the company of Slovenians rather than tourists. Harvest time, towards the end of August and into September, is definitely the best time to visit Slovenia for foodies with misty mornings spent truffle hunting after it has rained, certain to capture the imagination as you scamper off in pursuit of eager sniffer dogs.
Mojca Peterka, from our tailor made Slovenian tour specialists, Grand Cuvée Tours, explains the best time of year to go truffle hunting: "There is a possibility to go truffle hunting all year long, as truffles can be found after every rain. As one of the truffle hunters said the best truffle hunting tip is to have a truffle dog, strong feet and love walking in the nature. You need to be prepared for some forest walk, so proper footwear and clothing is required."