Slovenia photography vacations
"This is slipper camp, not boot camp," says a guide for our specialist operator Wild Photography Vacations, of touring Slovenia. "You're on vacation, after all, so while we're out in the field as much as possible, we take a relaxed approach, and aim to create a really pleasant, supportive environment throughout."

Slovenia is an ideal destination for the photographer that appreciates taking their time over a shot. Itineraries here focus on locations that are all within easy reach of the base, typically a family-run guesthouse close to the famous Lake Bohinj, and you'll return every evening to delicious home-cooked meals. It is tempting of course to scoot about a country when you're only there for a short time, to see as much as possible. But when it comes to photography, you're likely to find it more rewarding to concentrate on one place. Even when you do head out by car to a location, most places that you will visit are no more than an hour or so away.

Roaming around the jagged Julian Alps, you'll find inspiration in turquoise rivers rushing through valleys and gorges, historic churches that perch on islands and hilltops, autumnal foliage and medieval architecture full of intricate detail. Here are limestone peaks and waterfalls reflected in still lake waters, and dark skies perfect for capturing far-off galaxies and star trails. This area, around Triglav National Park in northwest Slovenia, has a fairy tale aspect to it that can result in striking imagery.

And because travel is kept to a minimum there's no rushing around. You can immerse yourself in these landscapes for hours at a time, discovering new vantage points and improving your technique. Groups of mixed abilities are assessed to establish the amount of support they need. If you're a beginner, you may appreciate more help in the field, building confidence and ability to get well-developed, sharp pictures. More advanced photographers aren't likely to need as much support, but will surely enjoy the evening review sessions immensely, because they can be really useful in developing ideas and progressing.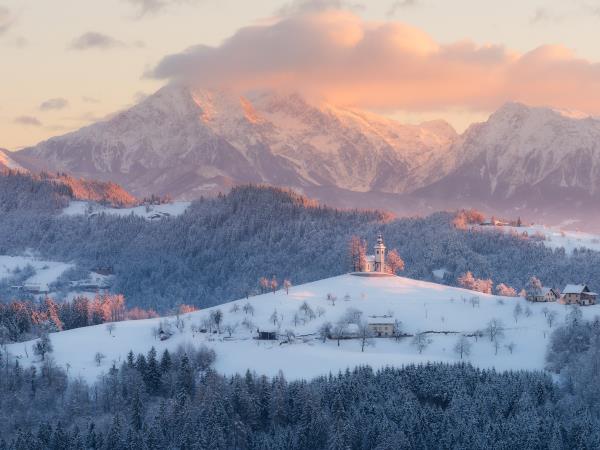 Photograph the most beautiful time in Julian Alps - Winter
From
€

1390
6 days
ex flights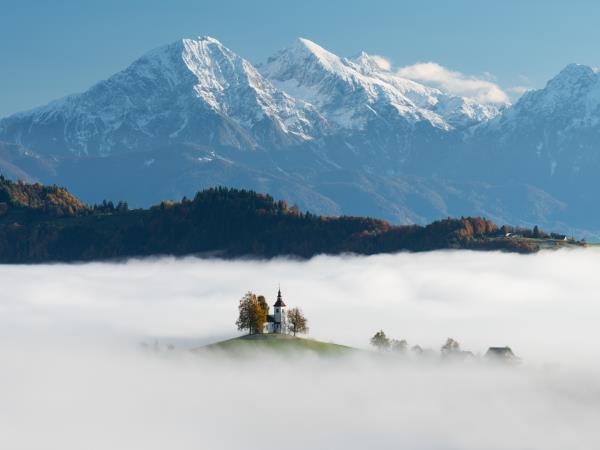 Small group photo tour led by expert local photographers
From
€

2150
7 days
ex flights
Photography subjects
You'll be exploring in and around Triglav National Park, a very scenic place with mountains forested from valley floor to their summits. Besides the obvious icons of lakes Bohinj and Bled, the limestone mountains and gorges with turquoise rivers running through them are magnificent to photograph for a day, and there are some lovely alpine meadows towards Blato. Lake Bohinj, set within a hilly amphitheatre, is well-known for its early morning mist that promises some atmospheric imagery, but the fog does have a tendency to linger too long into the morning. It's likely then that you'll head up into the hills after a while, where there are lots of small villages and a nice view over Jereka.

With the lake right on your doorstep you'll take advantage of numerous viewpoints from surrounding hills and beech forest. The lake is around 4km by 1km wide, and its blue-green waters offer some very attractive reflections. The most popular image here is of St John the Baptist Church, but a trail along the southern shore takes you to the Savica waterfall tumbling 80m down.
Just 30km away, Lake Bled attracts many more visitors than Bohinj, but is no less the beautiful for it. It's one of the most photographed places in Slovenia, with the Church of the Assumption of Mary on an island in the center making for romantic imagery. However there remains plenty of scope for individual interpretations of the church, as well as the 11th-century castle that clings to a rocky cliff on the lake, and the Julian Alps off in the distance. There will be no apologies for including Lake Bled on the itinerary; it's a stunner that frankly no photography tour of Slovenia could afford to miss.

You might spend a day in the Soca Valley that borders Italy, to capture the Vršic Pass, and magnificent limestone gorges. The Mostnica River also flows through a gorge, the water taking on a photogenic turquoise. Other likely destinations include Škofja Loka, a well-preserved medieval town with narrow cobbled streets and a lovely bridge over the river. There is Kropa, a historic iron-smelting village with no shortage of interesting architecture, and a church set into the forest. Then there is Primoz Church at Jamnik, looking down into valleys cloaked with forest that will be particularly dramatic in the autumn when photography vacations usually run.

Given that you'll likely pass through the Slovenian capital, Ljubljana, when arriving or departing, you might also want to allow some time to photograph its handsome baroque facades, the famous Triple Bridge, or the views from Castle Hill. Stari trg (the old square) and the riverside are the prettiest areas of the city.
If you'd like to chat about Slovenia or need help finding a vacation to suit you we're very happy to help.

Practicalities
These are small group photography vacations, with numbers capped at around 10 participants. Lower group numbers ensure that you can stay at independent, family-run guesthouses that might not be able to cope with larger groups, and also that everyone will be able to get the support they need from the tutor and tour leader, often on a one-to-one basis.

Another benefit of limiting the number of participants is that you can enjoy home-cooked meals every evening. Not traditional Slovenia cuisine, as a rule, but wherever possible using local food, sourced from markets or supermarkets in small towns. You may also visit a few local craft shops during the trip so that you can purchase unique artworks or other souvenirs, and they tend to be very good quality here.

Mealtimes are often planned around the best light, and a few dawn shoots are likely, in which case you'll take breakfasts (think fresh berries topped with yoghurt, and brioche rolls with apricot jam) out into the field with you.

Over the course of eight days or so a few evenings will be dedicated to review sessions, which are an integral part of the vacation: You will probably be asked to bring a few of your favourite images along so that the tutor can get a grasp of your interests and aptitudes. Then, analysing some of the images shot during the trip, participants discuss the technical, aesthetic and narrative qualities of each. Everyone benefits from participating no matter their experience level.

With the moody Lake Bohinj just a five-minute walk away, and most other locations close by, you'll naturally spend the majority of your time out in the field. But if the group is interested, or it's bucketing down with rain, then valuable tutorials in photo editing software such as Lightroom may be offered. No experience is needed for vacations of this type, and you're as welcome to use a smartphone as you are a DSLR. Your tutor will be happy to provide advice for either. Bringing along a laptop with editing software installed is highly recommended, too.
When to go on a photography vacation in Slovenia
October is the ideal time to be wandering around Slovenia's Triglav National Park, camera in hand. Activity vacations are winding down with the onset of autumn, the handful of bears found here are retreating into hibernation (chances of seeing one range from slim to none), and the stream of tourists dries to a trickle. You'll have the rich autumnal colours – and often pleasantly warm weather – pretty much to yourselves.