Picture perfect
Luka Esenko, from our photography vacation experts Esenko Workshops, highlights the joy of getting perfect vacation pictures: "Getting the best shots possible means we get to the right places at the right times. We dedicate enough time for photography and help with advice on getting the best shot. People get the advantage of our insider's view on local life, culture and history. We take people to areas that are a paradise for landscape and nature photographers. But also quaint villages and historical towns such as Radovljica that offer great photography."
Natural playgrounds
Simon Clifford, from our vacation partner Exodus, highlights unique natural splendour with a hefty dose of adrenaline in his Slovenia travel advice: "The Soca is one of Europe's most beautiful and unique rivers – it is also one of the cleanest and clearest on the continent. Enjoy white-water rafting, kayaking, canyoning and hydrospeeding. The area is also home to one of Europe's longest ziplines. You'll drop down five wires 3km long, 200m above the beautiful Soca Valley at speeds of up to 60kph – perfect for any adrenalin junkie! We also have mountain biking in the hills around the river."
The road less travelled...
Maria Vrgoc, from our partners at Green World Vacations, says Slovenia's green policies are working: "It is just so clean. It really is picture perfect everywhere you go. Our families always comment on how pretty and pristine everywhere is. Slovenia has fabulous ecotourism and responsible tourism policies; it is not over explored, and our customers feel and appreciate this."
HEALTH
If you are an EU citizen, you can apply for an EHIC card, which will cover any emergency medical treatment in Slovenia. This is not a replacement for travel insurance, however, which may also cover emergency medical evacuation and repatriation.
Good medical care is widely available here. The word for pharmacy in Slovene is lekarna (look for a green cross sign), and most larger towns have 24-hour options. If you do need to call an ambulance, dial 112.
Tap water is generally safe to drink in Slovenia – if in doubt, though, ask locals.
If hiking or climbing in the mountains, be alert to changing weather conditions and adjust your plans if conditions become unsafe. Let people know where you plan to hike. Be aware of the signs of altitude sickness if hiking in the mountains. Also be aware of the symptoms and necessary treatment of hypothermia in the Julian Alps or elsewhere the freezing cold winter months.
Ticks are a real problem in Slovenia, and hikers should take precautions to avoid being bitten, especially during the warmer months in rural or forested areas – wear long sleeves, long trousers and boots, with trousers tucked in. Lyme disease is a serious tick-borne infection which causes fever, headache, joint pains and body aches, often with a red rash. It is particularly prevalent in the north of Slovenia.
Another serious disease to be aware of is tick-borne encephalitis – a viral infection of the central nervous system transmitted by tick bites, usually after walking in rural or forested areas in spring or summer. Watch out for flu-like symptoms followed by neurological symptoms (headaches, confusion), and seek treatment urgently if necessary.
SAFETY
Slovenia is very safe. What crime there is mainly involves theft, so take the usual precautions with purses and wallets in busy places like bus and train stations, and don't leave valuables unattended in a hut while hiking or on the beach. Also secure any bikes with good locks. If climbing in the Julian Alps we highly recommend hiring a local guide, who will know the trails and conditions on difficult points such as Mount Triglav's rocky, knife-edge ridge in that climb's final hour. They'll also prove invaluable in helping to arrange sleeping space in mountain huts. A great tour operator will match you up with a great guide. Drink-driving laws are strictly enforced – the permitted blood-alcohol level for motorists is 0.05 percent. If you do need to call the police (policija) dial 113. Drivers should be aware that vehicles must be fitted with winter equipment – such as winter tyres or snow chains - from 15 November to 15 March.
Our top Slovenia Vacation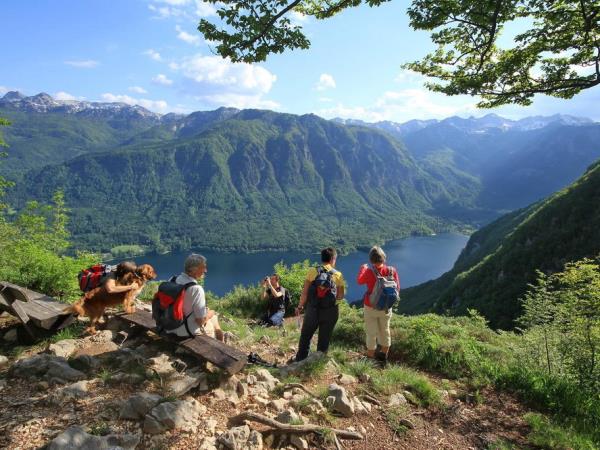 Mixture of Slovenian highlights through the eyes of locals
From
€

1350

to

€

2690
8 days
ex flights
Tailor made:
This trip can be tailor made throughout the year to suit your requirements
If you'd like to chat about Slovenia or need help finding a vacation to suit you we're very happy to help.

Tips from our travelers in Slovenia
At Responsible Travel, we think the best people to advise our travelers are often... other travelers. They always return from our tours with packing tips, weather reports, ideas about what to do - and opinions about what not to.

We have selected some of the most useful Slovenia travel tips that our guests have provided over the years to help you make the very most of your vacation - and the space inside your suitcase.

If you are not quite sure about doing the activities, don't worry just go for it as the guides will ensure that you stay safe... the canyoning day was so different that it takes 1st place.

"Take plenty of swimwear on activity breaks! The weather was not particularly good and there wasn't anywhere to dry the wet swimsuits." – Anne Lindsey

"On activity breaks, book activities into your free afternoons – we weren't quite prepared for the amount of free time we had." – Lizzie Munsey

"There are opportunities to book other activities in advance, I wish I had done this, as availability was booked when there. Although not in the itinerary, on the first evening our guides took us all to the nearby playing fields, where we enjoyed games. A cracking ice breaker, helping all the guests to get to know each other. A lot of laughter was shared and straight away I knew this had been the right decision". – Troy Morgan - Slovenia activity vacation for families with teenagers

Summer is a good time to go to Tolmin for all day entertainment as there are music festivals a walk from the hotel. We wont forget the knees up we had at the local festival to the marvellous Slovenian Brass band, there was lots of dancing fuelled by very reasonably priced Pivo's.

"If you are flexible to try new experiences and change plans you will get more from your vacation – be prepared to listen to local expertise." – Amanda Moon

"Mount Krn is steep and you will need proper walking boots and poles. You can buy these things there but Tolmin is a small place so if you've got them take them. Unfortunately my body fell apart on the trek, if yours also decides to betray you in front of your new friends then ask the office to book a massage at Modrina in Kobarid. It's only one man but he was the local football team's physiotherapist." – Jennifer Grainger - Slovenia activity vacation for families with teenagers

"We could buy a CD at the end… containing a good wealth of good snaps of us doing our activities and mucking about... and judging by those we had a very good time indeed." – Jennifer Grainger , activity vacation with teenagers