Winter walking & snowshoeing in Transylvania
It is easy to romanticise when depicting rural Romania: ramshackle fairy-tale houses, farmers on horse drawn sleighs, grassy slopes sounding to the swish and sway of a scythe. Transylvania, especially, has become synonymous with these sorts of scenes. And in winter, the still and silence of snow covered settings turn the Christmas card ambience levels right up to Rudolph.
However, while it's still possible to find that Transylvania, it's not fair to say the region hasn't moved with the times. The majority of farmers need cars to get around rather than horses and carts; large lawn mowers are cutting the hay instead of scythes; roads are being kept clear of snow when they would have once remained impassable for the whole winter. Although this might come as a shock to those seeking rustic photo opportunities it's a step in the right direction for local people living in the mountains. If you've ever tried to scythe you'd understand.
Visit Transylvania in the winter and you'll find it at its most authentic. Small (30 bed) guesthouses have become established in traditional farming villages such as Magura, locally grown produce is served to guests, and people from the village are finding employment on their doorstep. In communist times, according to one local guide, it would have been poorly paid shifts in the local ammunitions factory that offered the only chance of a job outside of farming. Rural tourism from activities like snowshoeing means that the region benefits from visitors all year round, not just in the summer.
Winter walking in Transylvania
Snow can fall as early as October in rural Transylvania, especially higher up and in remote regions. Climate change, however, has made it impossible to predict exactly at what time of year the first snow will fall. But usually by mid-December the slopes of the Carpathians will be covered in white.
But even if there is no snow towards the end of the season, in March, for example, you can still go winter walking without snowshoes. It's just as enjoyable and exhilarating to experience the blue skies and dry cold that makes the Carpathian landscapes so enticing. The promise of warming bowls of ciorba (soup) or a glass of pálinka or tuica upon your return to base also helps, obviously.
Traveling by snowshoe is purely for recreation in rural Romania. Roads are cleared of snow by ploughs these days so it's easy for people to get around, even in the cold of winter where temperatures can sometimes drop as low as -20.
Snowshoeing is easier than skiing
and requires hardly any training. Anyone can do it. Although you do have to be fairly fit.
Guides will take you on a number of different trails that vary in distance and challenge. Sometimes you'll be taken high up into alpine areas that aren't always easy to get to. Snowshoeing guides are well trained in this sort of experience, so you're always in safe hands. Just put in plenty of hill walking practise before you go and you're sure to start the trip off on the right foot, or snowshoe.
Snowshoeing gives you the freedom to explore in backwoods, away from sand gritted roads and sludgy city streets, into isolated areas where landscapes really do look like scenes from Christmas cards.
Winter walks as part of a small guided group
(max 15 people) can take you right up to alpine areas, just below the tree line between 800 and 1,500m. It's difficult to reach these areas on your own, especially during the winter, so a guide is essential. Guides are experts in social and natural history; they also know the places to find wolf, lynx and deer tracks.
Katharina Kurmes has been working in partnership with our small group winter walking specialists, Exodus Travels, since 1999: "winter walking guides are from the local area. They are usually university educated and often have experience working abroad. They have now got the opportunity to work in their own country. They like to talk to guests about the natural and social history of the area and how it has changed from communist-era times. Guides will commonly be able to speak German, Romanian and English. They will have gained certification from the Romanian tourist board and will often go abroad, to places like Austria, for training and to learn new winter activities skills and techniques."
Making tracks
One thing that always gets outdoor adventurers excited is the prospect of watching wildlife. Winter walking offers every chance of seeing tracks or scat in the snow. Just tread carefully and listen to your guide. They know that silence is golden and also where to look for tell-tale signs of life.

Although bears in the Carpathians hibernate in winter, sometimes they come out of their caves to have a look around before going back in again. Seeing bear tracks in the snow is quite amazing although very rare. Roe and red deer, wild cat, lynx and wolf tracks and scat, however, are more commonly seen. Sometimes though, be careful what you wish for. Katharina encountered tracks in the snow one winter's day only to be led on a wild adventure: "Once when I was walking with a small group led by a local forester we came across the tracks of roe deer in the snow. Then we also recognised wolf prints alongside. It was clear what had happened: the deer had been surprised by the wolves and made their escape. We followed the tracks as they led into the forest. Often the distance of the hoof prints would open up showing how the deer were getting faster and faster, developing their speed. But then, 3km later, the drama unfolded to its curtain close. We discovered the scene of the crime. The wolves had finally caught up."
Our top Snowshoeing Vacation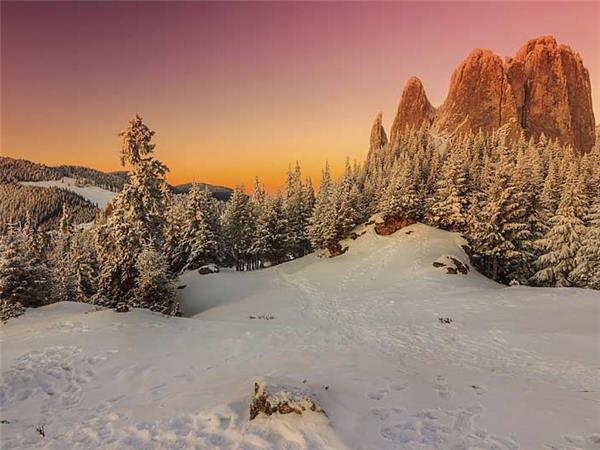 Wander through the mountains and forests of wintery Transylvania
From
US $

1849

to

US $

2049
8 days
ex flights
Small group travel:
2024: 6 Jan, 13 Jan, 10 Feb
2025: 4 Jan, 11 Jan, 18 Jan, 8 Feb
If you'd like to chat about Snowshoeing or need help finding a vacation to suit you we're very happy to help.

Supporting communities in Transylvania
Winter tourism in remote rural areas of Romania has improved living standards, for some local people, in one of Europe's most impoverished regions. The transition from state to privately owned land has led farmers to be able to subsidise their income, and not just in the summer. Katharina agrees: "Rural tourism is one area that is helping local people to make a living for themselves without having to look for work abroad or in the big cities. Cooks, cleaners and hosts are all needed at guesthouses. Farmers provide locally-grown, organic produce for guest meals. Milk, meat, eggs are all sourced locally. There is also a lady in the village that goes berry picking every year. She then sells the berries and we use them alongside the fruit grown in our own orchard. We also take tour groups to a local restaurant. This allows guests to have an authentic experience as well as providing income to a local farmer and restaurant staff."
People in Transylvania welcome roads being cleared in winter and enjoy opening up for guests even once the snow's set in. Sometimes we want to see those fairy-tale images of old fashioned dilapidated houses and farmers sliding over snowy slopes by horse drawn sleigh. Yes, they make great photos but just imagine how hard life can be when you're struggling to make ends meet in the middle of winter. Appreciating the need for change and visiting outside of summer are just a couple of ways that we can support communities and have an authentic experience at the same time.
"A lot of things have changed since I first came to the village of Magura in 1997. There used to be just three landline telephones and only three people in the village owned a car. Now the houses have been renovated, they look traditional but more stylish, perhaps. But still the type of houses that you can imagine coming straight out of the pages of a children's fairy tale book. Money is being invested here. And that's thanks, in part, to rural tourism."