Best places where to go snowshoeing
It's a bit like the difference between jet skiing and wild swimming. One gets you from A to B fast, with dubious environmental impact. The other gets you there slowly, serenely, with care for wildlife and the environment and way off the beaten track. So, although you might go snowshoeing in Chamonix, for example, you will access parts of the mountain that the downhill posse don't go near. You can combine the virtuosity of volcanoes with snowshoeing up Mount Etna or in Iceland. Discover parts of the Alps unknown to downhillers, such as the Écrins or Mercantour National Parks. Or discover countries such as Albania, Romania and Bosnia for a whole new cultural experience in mountain life.
1. Austria
Snowshoeing is an immensely popular winter activity in Austria, with over 1000 marked routes across the country. Among the best places to strap on a pair of snowshoes is Hohe Tauern National Park in East Tyrol, where you follow trails through the woods and between mountain huts in the shadow of the Großglockner, Austria's highest peak. Morning yoga sessions get you limbered up before setting off.
2. Finland
Finnish Lapland is a very popular spot for seeing the Northern Lights, and snowshoeing is often included in these trips, way up north in the designated wilderness Inari region, also home to many native Sámi. Even more remote, head up to Finland's Kainuu region, close to the border with Russia, snowshoeing through untouched heathland, across frozen lakes and deserted forests, where it all feels frozen in time.
3. French Alps
Popular spots include Chamonix in the shadow of Mont Blanc where hikers often return to savour the famous Tour de Mont Blanc long distance trail in the snow. The lesser known Écrins National Park is superb snowshoeing territory where expert high mountain guides help you explore untrodden tracks up to heights such as the Plateau of La Coche, around frozen lakes and through the St Leger Les Melezes larch forest.
4. French Pyrenees
On the border with Spain, this is the land of sunny, elevated, isolated valleys, albeit with a bit of a rougher beauty than the Alps. The old spa town of Bagnères-de-Luchon is a great place to base yourself, with thermal baths the perfect treat after a week walking through snow. Some trips also include a trip into Spain's Pyrenean Aigüestortes National Park, with full on hut to hut expeditions on offer.
5. Iceland
You don't get more glacially gorgeous than snowshoeing through Iceland's land and seascapes. Take in geological wonders such as the sea stacks at Reynisdrangar, icebergs at Jokulsarlon, or a bit of gentle glacier walking near Skaftafell. See geysers, geothermal pools, bubbling mud pools and 30m-wide frozen waterfalls. And, if you are lucky, the Northern Lights are the Icelandic icing on the cake.
6. Mercantour
Snowshoe around one of France's greatest secrets where you will find Alpine slopes almost devoid of skiers. These are the Alpes Maritimes, an hour north of Nice, with ancient shepherds' trails and waymarked hiking trails that allow you to conquer cols, track wolves, walk through mountain villages otherwise cut off from the outside world by snow and explore lakes such as Lacs Prals, a collection of five frozen fantasias.
7. Romania
The Carpathian Mountains are split into ranges such as the Apuseni or 'Mountains of the Sunset' – as they are in the west. Sunsets are the icing on an already very icy cake in these winter wildernesses. A karst limestone landscape, caves are a feature, some with underground glaciers, such as Scarisoara. Snowshoe through remote Tara Motilor villages, where the Moti people still live traditional, mountain lives.
8. The Dolomites, Italy
Italy's most stunning mountain range, the jagged, rose-tinted Dolomites, against a winter blue sky, are bella bella. The far north, around Alta Pusteria Valley, proffers different scenery every day, such Fanes-Senne Natural Park with snowshoeing trails through spruce woodlands and along the shoreline of Lake Braies. Or saunter in the shadow of peaks such as Tre Cime de Lavaredo, Strudelkopf and Durrakopf.
Snowshoeing travel advice
Technique tips
Tom Wilkinson, showshoeing expert at our supplier, Exodus Travels, shares his snowshoeing travel advice:

"If you can walk you can snowshoe. There are of course techniques/tips for going up and down, and through deeper snow, but really this is the winter sport anyone can do. With snowshoes a beginner can access places usually reserved for red hot off-piste skiers – and you're far less likely to crash into a tree on snowshoes! Aside from thinking you'll be using tennis racquets (modern snowshoes are sleek and light) people can forget that if you're walking in deep snow, walking in single file means the person at the front does all the work breaking the trail, though good etiquette is to take turns doing that!"
Packing tips
Tom Wilkinson, at our supplier, Exodus Travels:

"Gaiters can be good, there's nothing worse than getting snow down your boots. Also remember that bulky downhill skiing gear isn't great. Layers are the way forward."
Safety tips
Eric Lasserre, proMONT-BLANC, an organisation that seeks to protect the Mont Blanc massif, gives his advice on safety in the mountains:

"In the Chamonix valley alone there are 130 avalanches corridors. So, if you are going off piste snowshoeing or cross country skiing, or even hiking, you need to be aware of this, as it is likely you will cross one of them. Avalanches can often last up until the month of May with big springtime avalanches, so you need to be wary of avalanche warnings."
Our top trip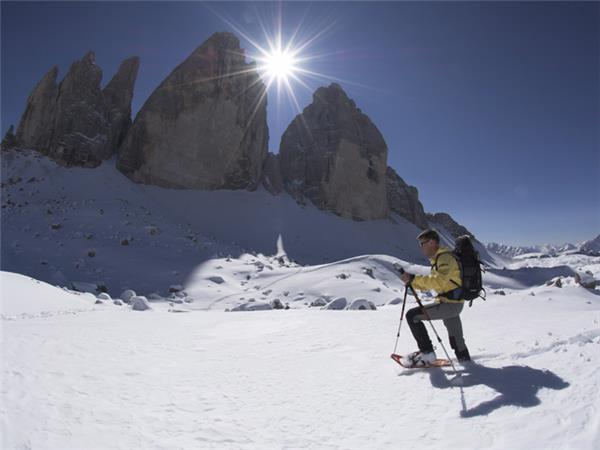 Michelin recommended cuisine & inspiring walks
From
US $

2475

to

US $

2925
8 days
ex flights
Small group travel:
2024: 20 Jan, 27 Jan, 10 Feb, 17 Feb, 24 Feb, 2 Mar, 9 Mar, 23 Mar
If you'd like to chat about Snowshoeing or need help finding a vacation to suit you we're very happy to help.

At Responsible Travel, we think the best people to advise our travelers are often... other travelers. They always return from our tours with packing tips, weather reports, ideas about what to do - and opinions about what not to.

We have selected some of the most useful snowshoeing travel advice that our guests have provided over the years to help you make the very most of your vacation.

Be fit and have the right equipment for 7-hour walks in the snow. Leave your angst behind and be ready to conquer peak after peak in each of the five walks.

– Gabriel Decio on a snowshoeing vacation in Chamonix
"Make sure you are fit and take a t shirt just in case there are some hot days. Can recommend the natural spa in Toulouse to revive the muscles." – David Knapper on a snowshoeing vacation in Chamonix

"I thought that "winter equipment provided" meant snowshoes, skis & boots etc but all clothing (plus thermos, head torch, rucksack) was also available to borrow, no need to pack anything other than a few baselayers & something comfortable for the evening. Having said that, it was nice to wear my own ski gear but don't buy things if you don't already have them....except maybe a balaclava/buff for the minus 30 days! – Pauline Hawes on a snowshoeing vacation in Finland

"Go if you want to spend time in amazing nature with few other distractions and get away from it all. If you want to hang out in cafes, walk out to shops etc, it is probably not for you!" – Adrian Porter on a snowshoeing vacation in the Mercantour National Park, France.

Traditional villages, small quiet ski centers, snow shoe walks up isolated valleys and friendlywelcoming local people. What more could you ask? And remember to take suntan cream and sunglasses.

"Start of March was ideal time with great sunny weather, no troubles with snow on the roads but still good amount for all the activities. Check the conditions if intend to go later as the snow was rapidly disappearing." – Matt Hannah, in the French Alps

"Make sure you've a reasonable level of fitness - don't worry, no need to be superfit, but if you are capable of a good day hillwalking, then you'll be fine!" – Angela Dennison

"If you look for a nice combination of being active during the day, relaxing in a sauna afterwards and meeting other open minded people just BOOK and GO!" – Kim Oosterveen, snowshoeing in Finland
More Snowshoeing articles