Donning a pair of snowshoes and making your way across pristine landscapes is the ideal way to experience Finland's winter season; the Finns themselves have been crossing the wilderness this way for centuries. In the old days snowshoes were used for survival, and to get places that would otherwise have been impassable due to snow. These days, it's winter recreation that inspires people to strap them on and head into the wild.
Snowshoeing has little to do with skiing. It is basically winter walking, so if you love to hike in summer and don't want to put your boots away in winter, it's an excellent solution. Not only that; snowshoeing is environmentally friendly and gives you a real insight into local life, with paths criss crossing incredible places that you couldn't access by road, from the remote wilderness of the Kainuu Region to the snow covered plains of Finnish Lapland.
What exactly are snow shoes?
What exactly are snow shoes?
Forget about shuffling along on a pair of wooden tennis rackets. While old fashioned snowshoes were made from wood and rawhide, most modern snowshoes are sleek, light, aluminium affairs, with crampons underneath to provide traction and straps on top to keep your boots in place. They work by spreading your weight evenly over a large, flat surface area to prevent you from sinking deep into the snow, instead letting you walk softly over it. If the snow is really deep, poles will come in handy.
What do snowshoeing vacations involve?
Our Finnish snowshoeing vacations involve both winter multi activity vacations and dedicated snowshoeing trips. On a
multi activity break
, you'll take part in a wide variety of activities, one of which will be snowshoeing. On our dedicated snowshoe breaks you'll be putting on the shoes every day and hitting the trails for up to seven hours at a time, with coffee stops and lunch breaks included, often around an open fire. At the end of the day, you'll likely have the opportunity to soak those aching limbs in a sauna, as well as to sample delicious fresh Finnish produce.
Some tours are center based, meaning that you'll return to the same bed every night, while others involve snowshoeing from point to point, with nights spent in wilderness huts and all your luggage transferred for you. All of our snowshoeing breaks are small group vacations, meaning that you'll have a small band of fellow travelers with whom to share the highs, lows and aches and pains along the way.
How hard is it?
You don't have to be a winter sports expert to get the most out of snowshoeing; if you can walk in your shoes, you can walk in snowshoes. There is a knack, but anyone should get the hang of it in a jiffy. Our trips provide full instruction on how to use your snowshoes, and, in some cases, a short introductory walk before the snowshoeing kicks off for real. There are of course techniques for going up and down, and through deeper snow, but really this is the winter sport anyone can do.
While the technique is easily mastered, you will need a good level of fitness, as snowshoeing is a pretty serious workout. You'll spend long days on your feet – up to seven hours a day, and you'll feel more fatigued after an hour of snowshoeing than after an hour of walking. Luckily, you'll often get the chance to soak your aching limbs in a hot tub or soothe them in a sauna come evening time.
Is there an age limit?
Given the long distances and cold conditions involved, snowshoeing vacations are not suitable for young children; on our Finland trips, the minimum age ranges from 14 to 18.
When to go?
The best time to go snowshoeing in Finland is in late winter to early spring – between mid January and the beginning of March. At this time the snow is soft, the landscape still fit for winter wonderland fantasies, and days are getting a little longer. December barely sees daylight.
Our Snowshoeing Vacations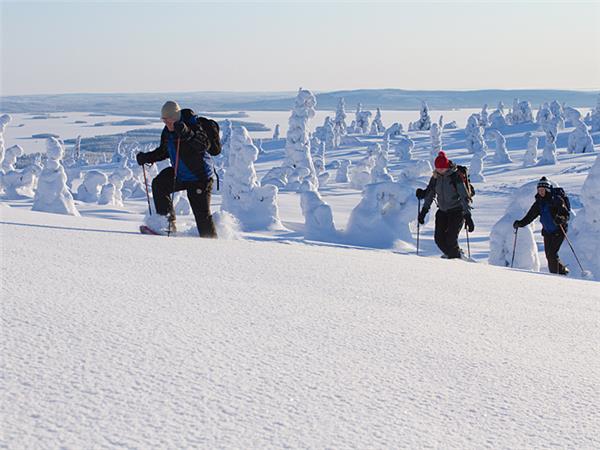 Explore this stunning setting of Oulanka National Park
From
US $

2799

to

US $

3249
8 days
ex flights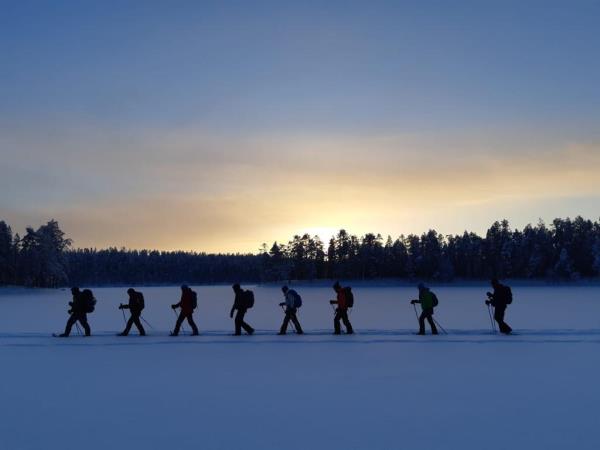 A hut-to-hut snowshoe tour in beautiful Hossa National Park.
From
€

1000
7 days
ex flights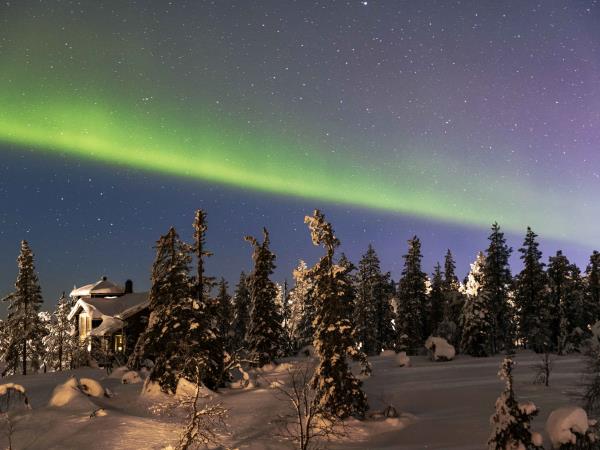 Winter wilderness adventure by snowshoe & back country skis.
From
£

2245

to

£

2455
7 days
ex flights
If you'd like to chat about Snowshoeing or need help finding a vacation to suit you we're very happy to help.

Where to go snowshoeing in Finland
Our Finnish snowshoeing breaks take place either in the Kainuu Region or in Finnish Lapland. Close to the Russian border, the ancient wilderness of the Kainuu Region feels remote and untouched. Here, highlights include trekking from one rustic hut to the next, across frozen wetlands and snow covered ancient forests in Hossa or Riisitunturi National Parks, or around the renowned Karhunkierros Hiking Trail in Oulanka National Park.
In Finnish Lapland, snowshoeing is all about exploring frozen lakes, forests and fells, taking time off for sleigh rides and snow mobiling, and, if you're there at the right time, going in search of the Northern Lights.
Where will I stay?
On point to point treks, you'll stay in simple cabins and wilderness huts. Fireplaces and plentiful firewood ensure that they're toasty warm, however, and you may be lucky enough to find a sauna in some of them. On center based trips you'll stay in one place, usually a comfortable lodge or guesthouse, where you'll have a private room with its own bathroom. There will also be facilities such a sauna, a hot tub and a restaurant serving fresh local produce. Salmon, berries and wild game such as elk, are usually on the menu.
Will it be all snowshoeing?
On our Finland multi activity vacations you'll be able to try a different winter activity every day, but even our dedicated snowshoeing breaks offer the chance to spend at least an afternoon away from the trails. Options include visiting a family owned reindeer farm, downhill skiing, snowmobile safaris, unguided cross country skiing and dog sledding.