Ecrins National Park, in the southern French Alps, is a spectacular location for a snowshoeing vacation. A harsh, fragile environment, it provides safe habitat for a dazzling array of wildlife including wild boar, chamois, ibex, and rare predators such as wolves and lynx. Led by highly qualified local mountain guides you'll explore wild winter wildernesses – larch forests, ice falls, frozen lakes and snow plains, traditional Alpine villages, perhaps venturing up to mountain summits for a memorable picnic, traversing cols or following rivers along valley floors.

Snowshoeing is an opportunity to escape the bustle of the ski slopes and enter pristine, deserted landscapes. You'll enjoy a deep sensation of peace and tranquility as you walk gently along the surface of the snow, pausing here and there to watch a golden eagle in flight, or to take in a magnificent mountain view.
"Slow down and enjoy your stay in what really is an 'undiscovered' part of the Alps. Traditional villages, small quiet ski centers, snowshoe walks up isolated valleys and friendly welcoming local people. What more could you ask?" – Norma Sheratt in a review of her snowshoeing vacation
Expert guides, drawn from surrounding communities, are well qualified to lead you safely to higher elevations, and can identify animals by their tracks in the snow. Daily routes can be adapted according to the weather conditions and what the group is in the mood for, and are aimed at immersing you in a stunning natural landscape while presenting just the right amount of challenge. On some days you might attempt a longer trail with a slight ascent; on others a shorter route but involving a mountain summit or pass. The pace is always easygoing however, and the guides attentive to the abilities of each member of the group.
Practicalities
Snowshoeing vacations in France are typically small group tours, lasting around eight days, with daily walks of around six to seven hours, setting off after breakfast. Regular breaks are factored in, as are picnics or lunch in remote villages. No experience is needed, just a decent level of fitness – if you're used to hill walking or regular dog walks then you'll be fine. And in a pair of snowshoes you can run, jump and slide too, making the gentle downhills a lot of fun.
"Make sure you've a reasonable level of fitness – don't worry, no need to be superfit, but if you are capable of a good day hillwalking, then you'll be fine! We stayed in a small auberge, owned by the local community, and run by the local community, with most food being sourced locally. While there, we very much felt part of the local scene!" – Angela Dennison in a review of her snowshoeing vacation in the French Alps
Of course like any activity in the fresh Alpine air, snowshoeing can be tiring, and for that reason some vacation itineraries build in a rest day, during which you might try optional activities such as zip lining, ice climbing, dog sledding or cross country skiing. Or perhaps relax in a swimming pool and spa with exceptional mountain views.
Where to snowshoe in France
Snowshoeing is immensely popular in France for its potential to help people explore more remote environments in winter. As well as walking in and around Ecrins National Park you might take to snowshoes in Mercantour National Park in the Alpes-Maritimes region, or in the French Pyrenees. Here around the Cirque de Gavarnie, Neouvielle Nature Reserve and the Grand Cascade, white hares and rare capercaillies dodge, as you make fresh tracks in the virgin snow.
Our Snowshoeing Vacations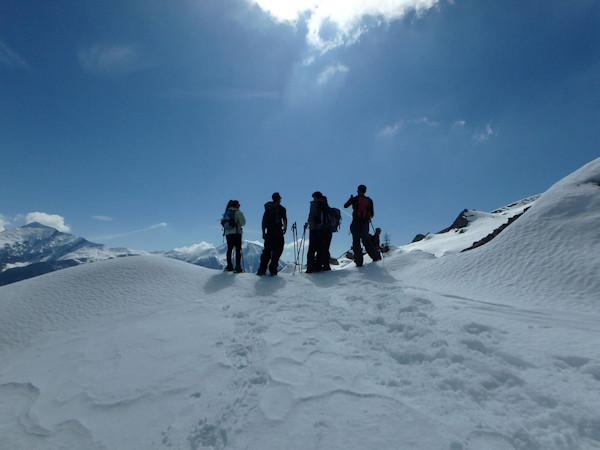 Guided snowshoeing in the Alps staying in luxury accom.
From
€

1396
8 days
ex flights
If you'd like to chat about Snowshoeing or need help finding a vacation to suit you we're very happy to help.

Susie Turnbull from our vacation specialists Undiscovered Mountains on snowshoeing in the French Alps:

UIAGM guides
"The guides we use are
UIAGM-qualified
, the highest qualifications in the mountains, meaning they are trained to a much higher level in mountain safety, avalanche risk assessment etc. They can access areas that guides with lower qualifications are not able to, giving us a huge amount of flexibility in choosing routes, and their knowledge of safety and security on mountains is very reassuring for visitors. Most lower qualifications such as mountain leaders are not allowed to go above certain altitudes and are mainly limited to large valley bottoms, whereas we can go to a summit or mountain pass."
What to expect from the terrain
"Snowshoes are not really suitable to very steep terrain so we adapt our walks so they are technically straightforward. We can have some fun sliding downhill but wouldn't do anything dangerous or difficult. The type of snow also affects the choice of walk as deep powder is much more physically challenging to walk on than a harder, compacted snow surface. Again this is where a high mountain guide's experience is key as they are much more aware of the different types of snow on different facing slopes, and how this can change over the course of a day, when they are choosing their walks."
Ecrins National Park
"Ecrins is a special place particularly because it's so rich in wildlife. Wolves and lynx live here which is testament to the amount of large mammals available as wild prey: chamois, roe deer, wild boar, ibex, mouflon, etc. Golden eagles can also be seen. The local culture in the surrounding villages is also still very traditional Alpine. It is much less commercialised than many other parts of the Alps giving a more authentic experience. Also we get great weather with 300 days of sunshine per year!"