South India map & highlights
---
MAKE THE MOST OF YOUR TIME
With lots of coast, an eclectic mix of culture from Tamil to colonial, and mountains and rainforest, South India sizzles with so many flavours it can almost be overpowering. Our South India highlights offer a bigger picture of this region that includes the states of Kerala, Tamil Nadu, Karnataka, Andaman Islands and Andhra Pradesh. And Goa which, on paper, is not considered South India, but combines well with visits to the region. It's the perfect beach reward at the end of a tour of, for example, the temples of Mysore or Madurai, or hiking in the Western Ghats. Although you are never far from the seaside in "Peninsular India", with the Bay of Bengal to the east, the Arabian Sea to the west and the Indian Ocean to the south.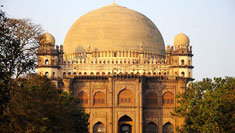 Bijapur, Karnataka
Ruled by the Adil Shahi dynasty between the 1400-1600s, Bijapur hosts lesser known gems of Islamic architecture, many of which are carved out of local basalt. And beautiful basalt it is too, as seen in various minarets, mausoleums and mosques. Gol Gumbaz, the domed tomb of the Shia Sultan, is second only in size to St Peter's in Rome. And the statue of Lord Shiva, at 24m, is the world's largest.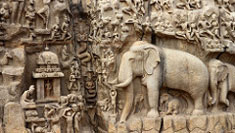 Chennai & Tamil Nadu coast
Chennai, formerly Madras, is the capital of Tamil Nadu state, boasting an exquisite mix of ancient Tamil culture, thriving contemporary culture and beach life. It has one of the longest urban beaches in the world. It is also gateway to other parts of the coast, with other littoral loveliness found at the likes of Mahabalipuram and Kanyakumari, India's southernmost point where three oceans meet.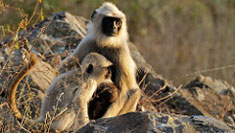 Ghat Mountains, Karnataka
There are a number of ways to enjoy this stunning mountain range in Karnataka. You can go on a wildlife tour of Bandipur National Park which links up with Nagarhole National Park, both of which are part of the Project Tiger and Nilgiri Biosphere Reserve. Or you can sit back and take it all in from an elevated ecolodge in the rainforest region of Coorg. No matter which way, the Ghats are gorgeous.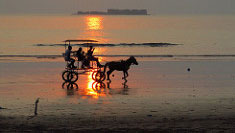 Goa
India's smallest state is proof that some of the most beautiful things come in tiny packages. Forget preconceptions of hippie trails and backpackers; there is truly tranquil beach bliss to be had here in spots like Kerim, Ashwem and Anjun. You can also cycle down the Konkan coast, kayak through the Sal backwaters or chill out at the inland beauty of Olaulim on the River Mandovi.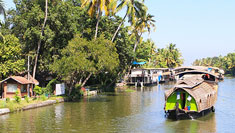 Kerala backwaters
The gateway town of Alleppey, aka Alapuzha, is known as the Venice of the East, and is where the coast opens up into a maze of waterways that weave their way through flat expanses of rich farmland. Villages line the waterfronts, homestays are aplenty and houseboats are the most popular way to discover them in depth. Although to get into even more beautiful backwaters, take a kayak.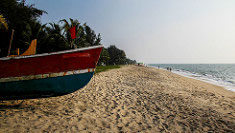 Kerala coast
Aside from a few overly touristy spots such as Kovalam, this coast not only exudes natural beauty but also fascinating heritage. This includes spice traders and European colonists, as well the fact that it remained a Princely State during colonial years – making this a cosmopolitan coast, if ever there was one. Enjoy the best of these Arabian Sea shores at Kasaragod, Neeleshwar or Marari.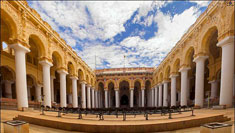 Madurai, Tamil Nadu
The Tamil cultural hub, its most iconic site is Meenakshi Temple, an outstanding example of Vijaynagar architecture. This place of pilgrimage has nine gopuram towers and multicoloured icons. Other highlights include Thirumalai Nayaka Palace and the vibrant bazaars, famous for silks and cottons. It is also a buzzing cosmopolitan city, also called Thoonga Nagaram, meaning 'the city that never sleeps.'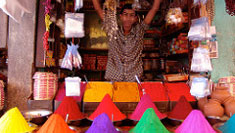 Mysore & Karnataka
This state is sometimes overlooked, but now is the time to open your eyes to its coast, rainforests and mountains. And Mysore, its cultural capital with Chamundeshwari Temple, palaces, artisan workshops and plenty of cultural leftovers from its time as capital of the Kingdom of Mysore from 1399-1947. Such as the crumbling and charismatic Devaraja Market, with spices and silks and many ancient stories.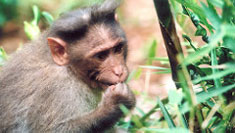 Periyar National Park
Also known as Periyar Tiger Reserve, tiger sightings are rare, but it's still a wildlife wonderland. You can only take a guided tour and, although it can get very crowded, time your visit well to enjoy a lake cruise watching elephants come out to play. Or stroll through forests which are home to monkeys, wild pigs, deer, Indian wild dogs and a bevy of birds. Check out less touristy bamboo rafting options.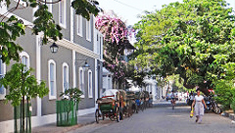 Puducherry (Pondicherry)
Given that it was India's largest French colony and is on the coast, Puducherry has an almost Riviera feel to it, with a gorgeous mix of colonial and traditional 'Pondy' cultural heritage. Travel by train from Chennai, and hire a bike to explore from the beaches or French Quarter to the iconic Sri Aurobindo Ashram. The nearby Auroville spiritual community is a place of pilgrimage for many.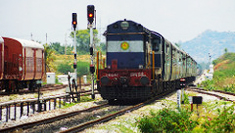 Rail travel
You are spoiled for train options in South India, and many vacation companies specialise in this. Take overnight sleepers between Mysore and Madurai, or a train from the ancient wonder of Thanjavur out to the coastal one at Puducherry. Take traditional 'toy trains' up into the hill stations in the Western Ghats, or a month-long rail epic from Kolkata down to Kochi in Kerala, popping into Goa along the way.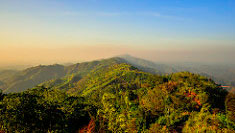 Western Ghats, Kerala
Few people associate Kerala with mountains, preferring to focus on the Himalayas up north, but this range is pure rapture for hikers and mountain bikers, as well as culture vultures exploring hill stations. You will find trips into Tamil Nadu's Nilgiri Hills, too, which are part of the Ghats range. A good starting point is Raj town of Munnar, with the backdrop of Anamudi, Kerala's highest peak at 2,695m.


Sample South India itineraries
---
Cycling in Kerala (10 days): Kochi ► Thattekkad ► Adimali ► Munnar ► Suryanelli ► Periyar National Park ► Vagamon ► Thodupuzha ► Kumarakom ► Alleppey ► Kochi
South India Rail tour (10 days): Goa ► Hampi ► Mysore ► Madikeri ► Kochi
South India tour (21 days): Cochin ► Niligiri Hills ► Ootacamund ► Mudumalai National Park ► Bandipur National Park ► Mysore ► Sravanabelagola ► Belur and Halebid temples ► Chennai and Tamil Nadu coast ► Vedantangal Bird Sanctuary ► Thanjavur ► Madurai ► Periyar National Park ► Kerala backwaters ► Kovalam
Sample travel times
---
Cochin – Coonoor, Niligiri Hills: 9hrs by car

Alleppey – Kozhikode: 5hrs by train

Periyar National Park – Madurai: 4hrs by bus

Madurai – Mysore: 7hrs by sleeper train

Bijapur, Karnataka – Panjim, Goa: 6hrs by car

Mumbai – Goa: 1hr by air