Best time to visit the Subantarctic Islands

The austral summer from Nov-March brings long daylight hours, beautiful light for photos and are much warmer than you might imagine.

The Subantarctic Islands are some of the world's most remote areas of land, so it should come as no surprise that they're not accessible year round. The expedition season is short and the austral summer – November to March is not only the best time, it is the only time to visit; outside of these months the temperature gets bitingly cold and the area inaccessible. During this time, days are long and bright, the temperature hovers around a comfortable 5oC, and the islands spring to life with seal pups being born, penguin chicks hatching and small seabirds taking flight for the first time.
Subantarctic islands Weather Chart
Our Subantarctic islands Vacations
Is a Subantarctic Islands cruise for you?
Go to the Subantarctic Islands if…
You have a passion for wildlife. Regardless of the stunning scenery, a trip to the Subantarctic Islands is all about the phenomenal wildlife. It's quite magical how anything can live in such extreme climatic conditions, so to see penguins and petrels positively thriving alongside sea lions, seals and albatrosses that soar across the bright, clear sky is a magnificent sight to behold.
You're happy to get your geek on. Though 'lecture' isn't the first word you may associate with an exciting, seafaring adventure, take our word for it: lectures about the wonder of the Subantarctic Islands are neither boring nor stuffy. Onboard, and sometimes on land too, you will be treated to talks from all manner of experts from geologists to historians and scientists who are keen to share their knowledge of the land and creatures around you. You'll learn to identify species, and a little insight means you will be even more amazed by the world passing you by on deck.
You're brave enough to leave your bigger boat. The unusual presence and extraordinary landscape of each individual Subantarctic Island are best explored by venturing out in a zippy zodiac boat. They're much smaller than your mighty expedition vessel, of course, and how far flung you explore will be dictated by the weather and the ocean, but this only makes the experience more thrilling. Subantarctic itineraries encourage as many zodiac trips as timing and conditions allow, getting you up close to seals and penguins and permitting you to step into their extraordinary world.
Don't go on a Subantarctic Islands vacation if…
You prefer your own company. After a day spent capturing real 'wow factor' photographs under crisp skies and encountering wildlife that you never dreamt you'd see in the flesh, there's only one thing left to do: share your excitement and swap stories with your fellow passengers. If you strongly disagree with this statement, then it's unlikely a trip to the Subantarctic Islands is your bag. It's a sociable vacation – from grabbing a drink in the lounge and quietly recounting your experiences, to joining a lively group dinner. A vacation like this rarely happens twice in a lifetime, so you already know you'll be traveling with people as enthusiastic as you are. Socialising isn't thrust upon you and there are ample opportunities for quiet time and reflection, but overall, you'll be much better suited if you're a sharing sort. You've booked for the polar bears. Sorry – your compass is out of whack; polar bears make their homes way up north in the Arctic. You want to cuddle a baby seal. Although they are exceptionally sweet, nobody should ever hug a pup. A safe distance should be kept from all wildlife, including seals, penguins and seabirds. However, the animals themselves are not aware of this, and neither are they wary of humans, so if you position yourself quietly, they may well approach you, which is absolutely fine. However, you must never touch, feed or obstruct them, or use flash photography. Noise should be kept to a minimum too, so if a penguin does approach you for a chat try and keep your excited squeals to giggling volume.
Our top Subantarctic islands Vacation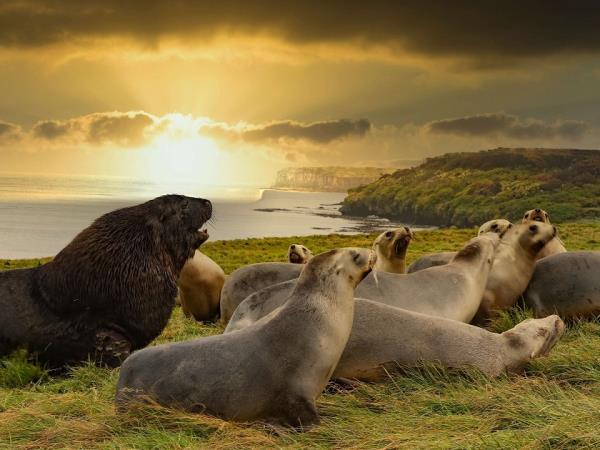 New Zealand's wildlife rich & remote Subantarctic wilderness
From
US $

5475

to

US $

5850
8 days
ex flights
Small group travel:
2023: 20 Dec
2024: 28 Dec
If you'd like to chat about Subantarctic islands or need help finding a vacation to suit you we're very happy to help.

Subantarctic Islands wildlife tips
On the Reischek's parakeet
On the Reischek's parakeet
Cassia Jackson, from our supplier, Heritage Expeditions, shares some interesting Subantarctic Islands wildlife facts:

"The Reischek's parakeet is a small green parrot confined to Antipodes Island. The common name commemorates pioneering naturalist and collector Andreas Reischek, who collected specimens in 1888. It feeds on tussock flowers, leaves, seeds, berries and invertebrates such as fly larvaein penguin guano and it also scavenges the carcasses of petrels and albatross. Though the population of Reischek's parakeet is healthy, its limited distribution makes it potentially vulnerable to events such as the accidental introduction of rodents to its island home and it is listed as 'range restricted' in the New Zealand Threatened Species classification."
On the abundance of fauna & flora
On the abundance of fauna & flora
"When you compare the total number of indigenous plants and the number of seabirds found across all six Subantarctic Islands with similar groups of islands in the Southern Ocean, for example the Indian Ocean and the South Atlantic, there is significantly more species on the Subantarctic Islands. Simply put, the islands of the South Pacific are tiny oceanic havens for an abundance of wildlife, the likes of which is seen in very few other places around the world."
On the New Zealand sea lion
On the New Zealand sea lion
"New Zealand (Hooker's) sea lions are the rarest and currently the most endangered of the five species of sea lion in the world. They have a very limited distribution and range, and can be found breeding at only a handful of sites in the Auckland Island group. They also breed in small numbers on Campbell Island and Stewart Island, but 95 percent of pup production occurs on the Auckland Islands. Mature males are blackish in colour with well-developed black manes reaching to the shoulders. Females are lighter, varying from buff to creamy grey with darker pigmentation around the muzzle and flippers. Pups of both sexes are chocolate brown with paler areas around the head."
More about Subantarctic islands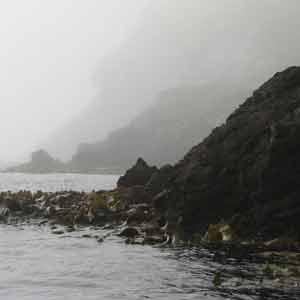 Our Subantarctic Islands travel guide takes you through the Antipodes to help you make the most of your time by way of our interactive map of Subantarctic Islands highlights that features everywhere from New Zealand to Macquarie Island.