While visiting Australia, I asked a friend of mine what I shouldn't miss while I was there. He said New Zealand. Now, in fairness he was a Kiwi himself, but it's this sort of casual confidence that has long persuaded travelers that the journey 1,500km east of Oz is well worth making.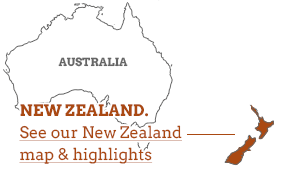 Both North (Te Ika-a-Maui) and South (Te Waipounamu) Islands hold myriad attractions, cultural and natural, with Wellington, Auckland, Christchurch and Queenstown superb bases from which to explore.

Cities aside and New Zealand really comes into her own with the Bay of Islands, Rotorua, Fiordland and Abel Tasman National Park all providing one unforgettable scene after the next.As my friend in Australia went on to demonstrate, the people of New Zealand also help to make the country such an enticing prospect with both indigenous traditions and a laid back lifestyle creating a unique cultural experience that definitely appeals much further than just across the Tasman Sea.
New Zealand is...
like Scotland only much further away.
New Zealand isn't...
a big country but it certainly casts a big impression.
Our New Zealand Vacations
What we rate & what we don't
Extreme Waitomo
Although the limestone caves in Waitomo are well known for their glow worms they also enable some exciting extreme activities with black water rafting, abseiling and caving just some of the subterranean sports to get your heart pumping. A reasonable level of fitness is required but expert instructions and equipment lets you descend safely into the abyss against cavern ceilings lit by glow worms – totally cosmic.
Wildlife
Whales, seals and dolphins off Kaikoura Peninsula or penguins on Otago Peninsula are just the tip of the iceberg when it comes to wildlife watching in New Zealand. This country presents an absolute treasure trove for anyone vaguely interested in wildlife watching, and if you think birds are boring then head to Hawke's Bay or Whirinaki Rainforest and put your preconceptions to the test.
Maori culture
The first Maori initiation for many will be the Haka and a visit to New Zealand offers a chance to delve a little deeper into a culture that's rich in korero purakau (myths and legends). The Waitangi Treaty Grounds in the Bay of Islands, the Maori Arts and Crafts Institute in Te Puia, and staying with a Maori family on the shores of Lake Rotorua will all add more meat to the cultural bones.
Lake Wanaka
New Zealand's fourth largest lake is one of the few in South Island with a natural shoreline and is protected to ensure it's kept that way. Lake Wanaka is surrounded by green foothills dotted with sheep and criss-crossed with tracks. Numerous local vineyards make for an altogether more relaxing alternative to adventure activities with autumn alive with colour and events to celebrate the harvest.
Tramping in Fiordland
NZ's southwestern tip features exceptional landscapes with deep grooves and sheer crevasses forming a coastline that's consistently rated amongst the world's most breathtaking. Tracks, such as the 32km Routeburn and the 60km Kepler, incorporate mountain and lakeside scenery with sections taking hikers through rainforest and over wetlands where huts, bunks and campsites provide shelter for weather-worn trampers.
Bay of Island Cruises
The Bay of Islands is a world within a world where you'll discover tiny, timeless towns and mile upon mile of rolling hillsides swooping down to deserted beaches or tracing a forest trail to a wine estate or waterfront café. Cruises reveal the maritime park from a whole new perspective with ferries, catamarans and smaller, more leisurely, craft enabling travelers to explore on land or dive right in depending on the weather.
Abel Tasman National Park
This park is considered significant for several reasons, probably the least relevant being as the site where the first European, Abel Tasman, anchored offshore. Although this is NZ's smallest national park it is still a fair size with lesser-walked inland tracks leading through forested valleys to the coast where sheltered coves, golden beaches and views over the Tasman Bay stretch all the way from Marahau to Nelson.
Spirit of Adventure
Although organised extreme sports, like bungee jumping, are often unforgettable, there's just something about New Zealand that inspires a much more organic spirit of adventure. Tramping trails, such as the 82km Heaphy Track, take you through an incredibly varied range of scenery where basic huts and wild swim spots offer all the adrenaline your body needs far, far away from the crazy crowds of Queenstown.
Lord of The Rings tour
Only Gollum would hunt for tours based around the Lord of the Rings films so do yourself a favour, precious, and save your money for something a tad more authentic. It's pretty easy to see why Kiwi film director Peter Jackson felt his native landscapes resembled Middle Earth so try to experience New Zealand as he once did by exploring this glorious scenery without the merch shops and the gimmicks.
Chasing Dolphins
Dolphins can be seen all year round with the Bay of Islands, Fiordland and the Hauraki Gulf offering the best chance of sightings. Unfortunately, according to the
NZ Whale & Dolphin Trust
, dolphin numbers are declining with irresponsible tours partly responsible. Approaching pods can really affect behaviour so make sure your skipper abides by the Marine Mammal Protection Regulations before you sign up.
Auckland
Auckland offers all the elements of an excellent urban space with a wonderful climate adding to the attraction. However, poor public transport and a growing population has made the city slightly congested so bear this in mind if you're driving. Best advice is to visit Albert Park or the winter gardens in the Auckland Domain or, better yet, enjoy the city from the top of the vehicle-free Maungawhau (Mount Eden).
City sightseeing
Although it's tempting to stay in one of New Zealand's cosmopolitan cities, there's only so much sightseeing you can do before getting itchy feet. Thankfully, there are loads of opportunities to get back to nature all within easy reach, including Lake Wakatipu (15mins from Queenstown), Otago Peninsula and the Royal Albatross Centre (30mins from Dunedin) and Rainbow Springs Kiwi Wildlife Park (7mins from Rotorua).
Eating & drinking
New Zealand lamb is just about as good as it gets.

A Maori hangi is meat, stuffing and veggies slow-cooked on hot stones covered with earth or sand.

Fish and chips (pronounced fush n' chups) should be enjoyed with a couple of Emerson brews overlooking the coast.

Put your arm in, and out, for a delicious scoop of hokey pokey ice cream, NZ's favourite flavour.

If renting a car, watch out for kea birds as they're well known for pulling off rubber window seals and wipers.

Our top New Zealand Vacation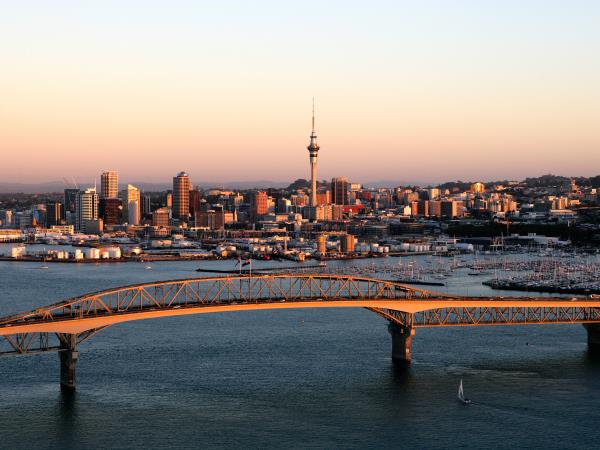 Small Group Tour - North and South Island of New Zealand
From
£

6090
23 days
ex flights
Small group travel:
2022: 12 Oct, 23 Nov
2023: 18 Jan, 8 Feb, 22 Feb, 22 Mar, 5 Apr, 10 May
If you'd like to chat about New Zealand or need help finding a vacation to suit you we're very happy to help.

People & language
New Zealand has around 70,000 native speakers of Maori and about double that figure who claim to be conversational. Although meeting someone of Maori heritage doesn't necessitate the need to say hello or thank you in Maori it's good to know a few words just so you get to understand what you might be seeing at a traditional event or ceremony.
"Karanga": the welcoming ceremony for guests entering a marae
"Nau mai": welcome

"Waiata": a song or a chant
"Haka": the dance and chant which takes place when a challenge is offered.
Gifts & shopping
Visit the Institute of Maori Arts & Crafts at Te Puia in Rotorua for decorative whakairo (carvings) or hand-woven kete (baskets) and whariki (mats).

Visit a jade factory in Hokitika where you can watch the process and chat to craftspeople.

Merino wool makes some relatively affordable lightweight jumpers and super soft slippers.

Whittaker's chocolate makes a great NZ souvenir to take home or scoff before you get on the plane.

New Zealand has the world's steepest residential street, Baldwin St in Dunedin, and the world's clearest lake, Blue Lake in Nelson Lakes National Park.

How much does it cost?
Mid range bottle of wine: £8.50
AJ Hackett bungee jump: £155
Dolphin watching tour: £50
North Island to South Island Flexi Sail return ferry ticket: £82
A brief history of New Zealand
According to legend, Aotearoa (the original Maori name for New Zealand) was first discovered by Kupe, the great chief of the Polynesian and Maori ancestral homeland, Hawaiki, around the beginning of the 11th century. It is believed by some tribes that 40 handcrafted canoes, led by Kupe, arrived close to modern day Wellington from Eastern Polynesia and went on to settle on the mainland as well as on the Chatham Islands (Moriori) about 680km southeast.
Read more