NEW ZEALAND HOLIDAYS ADVICE
Reading up on the Maori
Miles Clark, New Zealand expert at our supplier MoaTrek:
"Books that I'd recommend to accompany your journey include 'The Penguin History of New Zealand' by Michael King, 'The Luminairies' by Elanor Cotton and the Maori Wars Trilogy by Maurice Gee."
Linzi Bird at our supplier Audley Travel:
"If you're looking for reading material then check out The Bone People by Keri Hulme, a Booker prize winner that gets to the heart of New Zealand's Maori and European heritage."
Our New Zealand Vacations
Taste the difference
Caroline Stafford from our tour supplier Silver Fern Vacations shares her foodie favourites:
"Take a tour in Havelock North and dine at the Mussel Pot café for the very best green-lipped mussels. Stop at one of the home grown fruit and veg honesty stalls that are dotted on roadsides across New Zealand. Visit a farmers' market - Wellington has a great one and the Saturday morning market in Nelson is a bit of an institution. Finally, NZ has got cheese-making down to a specialist art form so visit a workshop and see how it's done before having a taste and buying a block to take home."
Accommodation advice
Linzi Bird, New Zealand specialist at our supplier Audley Travel shares her local knowledge:
"Kiwis are so kind and friendly that it's definitely worth staying in a B&B or homestay, especially outside of the cities, as you'll make friends for life as well as learning loads of local info such as the best places to eat or where to watch the sun set, which, for my mind, has to be the Coromandel Peninsula, simply stunning."
Mix up your travel options
Caroline Stafford from our tour supplier Silver Fern Vacations offers travel tips:
"Combine different methods of transport – driving is great, but the driver always has the short deal, keeping their eyes on the road when there's such stunning scenery to look at. We always advise swapping the car for some train travel with the TranzAlpine Express across the Southern Alps, highly recommended. Also, make the most of the NZcycle Trail cycle paths that zig-zag across the whole country."
Visit a wine estate
Caroline Stafford from our tour supplier Silver Fern Vacations offers a top tip for tippling:
"New Zealand has some amazing wineries and taking a tour of Mission Estate in Hawke's Bay or hiring a bike and cycling around the boutique estates in the Napier region is a wonderful excuse to watch the sun set with a glass of wine and plate of antipasti."
Health & safety in New Zealand
HEALTH
Take out comprehensive travel insurance, including emergency repatriation, and make sure you're up-to-date with standard jabs and vaccinations by visiting your GP at least six to eight weeks before departure.
Tap water is safe to drink in New Zealand so fill up reusable bottles before heading outdoors.
Black flies and sand flies are prevalent along the West Coast of South Island and although they struggle to keep up with a walking or paddling pace be prepared when you stop for a break.
Insect repellent can be bought over the counter and the most effective stuff does contain DEET so look out for your clothes when applying. Wear long sleeves and trousers wherever possible and if you do get bitten then don't scratch as this will only prolong the irritation and may cause infection.
Be aware that sunshine in NZ can be a lot stronger than in the northern hemisphere so cover up with sun block, long sleeves, shades and floppy hat wherever possible.
SAFETY
111 is the number to ring in the event of an emergency whilst traveling in New Zealand. Keep a fully charged mobile phone on you at all times with important local numbers added to your directory. Also, be aware that mobile phone coverage is sporadic at best in rural areas so make sure you know how to use a map or stick to a well-posted path rather than relying on GPS. Weather can change in an instant in New Zealand so be prepared for every eventuality if you're hiking, cycling or heading out onto the water. Layers are the key. Many of New Zealand's national parks and wilderness areas, particularly in the mountains, can be extremely challenging so make sure you're fully prepared if exploring independently or, better yet, go with an experienced local guide who will be able to navigate treacherous terrain. Only swim in the sea if lifeguards are present and in between the designated flags. Pay attention to signs relating to rip tides and learn what to do if you get caught in a rip. Basically: float with the flow of the rip, and never try and swim against the current. Most rip tide fatalities only occur when a swimmer fights the flow and becomes exhausted before going under.
Our top New Zealand Vacation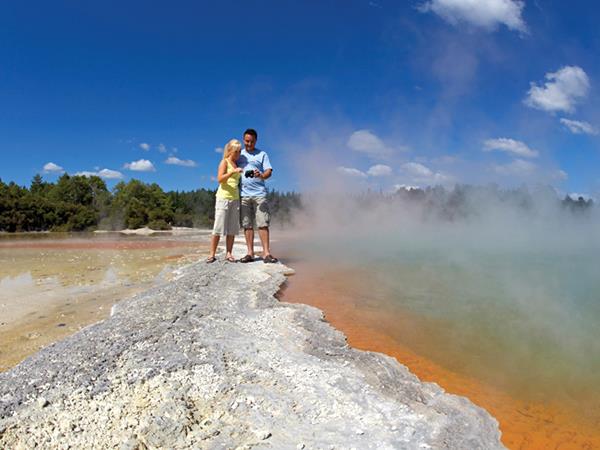 Kiwi 12 Day Small Group Tour of New Zealand
From
NZ $

6790
12 days
ex flights
Small group travel:
2022: 10 Oct, 22 Oct, 31 Oct, 7 Nov, 14 Nov, 21 Nov, 12 Dec, 19 Dec
2023: 2 Jan, 9 Jan, 16 Jan, 23 Jan, 30 Jan, 6 Feb, 17 Feb, 20 Feb, 24 Feb, 27 Feb, 6 Mar, 13 Mar, 20 Mar, 3 Apr, 10 Apr
If you'd like to chat about New Zealand or need help finding a vacation to suit you we're very happy to help.

WHAT TO DO IN THE EVENT OF AN EARTHQUAKE
The 2016 earthquake in Kaikoura on South Island was reported to be one of the most complex ever recorded on land with wildlife and breeding grounds devastated by landslides at Ohau Point. New Zealand's capital, Wellington, was also hit but didn't suffer anywhere near the loss of life experienced by Christchurch in 2011.

Although New Zealand has grown to expect several earthquakes a year rated at magnitude six, larger magnitudes only hit perhaps once or twice a decade. If you happen to be in New Zealand when an earthquake occurs then stay calm and follow the instructions below:

If inside: get under the cover of a table or sturdy piece of furniture. If nothing is close by then crouch in the corner of the room until the shaking has stopped. Stay away from glass or anything heavy that may topple over. Do not use a lift to escape the building even after the shaking has stopped. Always use the stairs when it's safe to do so.

If outside: move away from any buildings, glass, electricity pylons and telegraph poles. Don't go inside a building, stay outdoors and stay there until the shaking has stopped.

If trapped: don't move around and cause dust to become more of a problem than it already might be. Cover your mouth with a piece of light clothing or a handkerchief. Don't light a naked flame. Try not to shout but bring help to your attention by tapping or knocking on a pipe or anything similar.
Tips from our travelers in New Zealand
At Responsible Travel, we think the best people to advise our travelers are often... other travelers. They always return from our tours with packing tips, weather reports, ideas about what to do - and opinions about what not to.

We have selected some of the most useful wildlife vacations advice that our guests have provided over the years to help you make the very most of your vacation - and the space inside your suitcase.

Get what you need before the trip and have it with you. Good rain gear, broken in hiking boots.

"I would advise people doing this trip to pack lightly as advised by the operator because it is hard work carrying a heavy load up and down the hills." -Wendy Grace

"There is never enough time! We went for 19 days and needed another week. If you do not plan on another trip back then go longer. The company booked our trip and did an excellent job. Not hard to do yourself either but certainly was easy doing it through them." – Cathy Shiner

"Pay attention to the information about what to bring before coming on the trip. Get what you need before the trip and have it with you. Good rain gear, broken in hiking boots, and… extra batteries for digital cameras would be an excellent idea. Once you arrive in Motueka you may not have the time to sort out anything forgotten." – Allan Justus, on a Heaphy Track hiking trip

"I would advise people doing this trip to pack lightly as advised by the operator because it is hard work carrying a heavy load up and down the hills." – Wendy Grace, on a Heaphy Track hiking trip