New Zealand map & itineraries
New Zealand is reminiscent of an unmade single bed, covered in folds and peaks. South Island is divided lengthways by the snow-covered Southern Alps and contains a succession of glaciers the longest of which stretches for almost 30km. Although North Island is a little less undulating its geothermal nature provides a prime example of NZ's inclusion within the Pacific Ring of Fire with active volcanoes Tongariro, Ngauruhoe and Ruapehu providing a breathtaking panorama. Making the three-hour crossing over Cook Strait allows travelers to skip between both islands with remote rivers, vast farmsteads and stunning coastal scenery adding to an exciting and varied itinerary.
Our New Zealand Vacations
Abel Tasman National Park
1. Abel Tasman National Park
Although the smallest of New Zealand's national parks, Abel Tasman, doesn't pack any less of a punch with forest covered hillsides and the Takaka and Riwaka rivers leading to the sublime shallows of Golden Bay. The Coast Track, which can be walked and partially kayaked, is considered one of the world's best with beaches, such as Onetahuti, Kaiteriteri and Bark, totally deserve the leg and paddle work.
2. Bay of Islands
Head north of Auckland, about three hours, and you'll reach the historic towns of Paihia, Russell and Kerikeri all of which provide an ideal base from where to explore the Bay of Islands. Thanks to sub-tropical sea temperatures this area is heaven for divers with groupers, rays, kingfish and shipwrecks, including the Rainbow Warrior, providing some of New Zealand's best underwater experiences.
3. Christchurch
Browsing at the Re-Start, strolling through Hagley Park or punting on the River Avon, Christchurch will kind of remind you of England but then kind of not. Maybe it's due to the memories of the 2011 earthquake or just the distant backdrop of the Southern Alps, but whatever it is, forget about the old country - this is Christchurch so get out there and enjoy Garden City.
4. Coromandel peninsula
There's a semi-mysterious phenomenon happening on the Coromandel Peninsula so grab some Scooby snacks and head on over to Hot Water Beach in Mercury Bay for a day you'll never forget. Underground hot springs at low tide present a great chance to dig your own geothermal hot pool; however, be advised that the rip currents here are severe so stay beachside to stay safe.
5. Fiordland National Park
New Zealand's largest national park is the result of some glorious glacial grinding with fjords, such as Milford Sound, providing perfect panoramas to accompany hiking tracks, like Routeburn and Milford. The carving process has created offshore islands, glacial lakes and waterfalls – the tallest of which are Sutherland and Browne – and the chance to view via helicopter is just out of this world.
6. Mount Cook National Park
As New Zealand's longest glacier (the Tasman, 27km), and practically all of its tallest peaks (Aoraki/Cook, Hicks and Tasman - all well over 3,000m), are situated in Mount Cook National Park, this is South Island's mountaineering and hiking hot spot. Boat trips and scenic drives are ideal ways to get closer to the scenery with Hooker Valley providing a popular trekking trail to add to an infinite list.
7. Queenstown
3, 2, 1... Queenstown! Boasting well over 200 adventure activities, including white water rafting, mountain biking and paragliding, Queenstown is New Zealand's undeniable extreme sports capital. Aside from jet-boating on the Dart River or bungee jumping off Kawarau Bridge, Lake Wakatipu and Bob's Peak also make perfect settings to take your breath away.
8. Rotorua
Throw aside the prescribed clothes peg on nose and embrace the eggy whiff of Rotorua as this is geothermal central and definitely worth investigating if you're into hiking around lakes and mountain biking through forests. The Whakarewarewa area, especially, is packed full of hot springs and geysers with Pohutu, aka 'Big Splash', erupting almost hourly to heights of 30 metres.
9. Rugby culture
One way English settlers found to 'bond' with local New Zealanders was through sport. Fortunately, indigenous Maoris were already playing something akin to rugby; however, if the English thought these chaps were going to be pushovers they had another thing coming. The Blues, the Hurricanes, the Chiefs, and the All Blacks, if you get the chance to watch a live match, grab it like the late, great Jonah Lomu.
10. Tongariro National Park
This is New Zealand's oldest national park and recognised by UNESCO for its unique mix of cultural and natural sites. Volcanoes Ruapehu, Ngauruhoe and Tongariro are of great significance to Maoris and Tongariro National Park was created, in part, to keep them safe. The park is also a haven for hikers with the 20km Tongariro Alpine Crossing considered one of the best in the business.
11. Waitomo caves
The glow worms of Waitomo can be found within a limestone cave system about two hours south of Auckland and are certainly worth investigating even if you're just heading down for the acoustics. Along with having your way lit by glowing bugs, the caves are also accessible for extreme sports enthusiasts and open up narrow crawl ways and cavernous holes to further invigorate the descent.
Whale watching in Kaikoura
12. Whale watching in Kaikoura
Alongside seals, dolphins and New Zealand's largest concentration of seabirds, including petrels, shearwaters and 12 different kinds of albatross, Kaikoura is all about the whales. Giant sperm whales, humpbacks, blues and minkes have all been seen off the Kaikoura coast and observing these creatures from land or sea makes their still threatened existence all the more unfathomable.
Our top New Zealand Vacation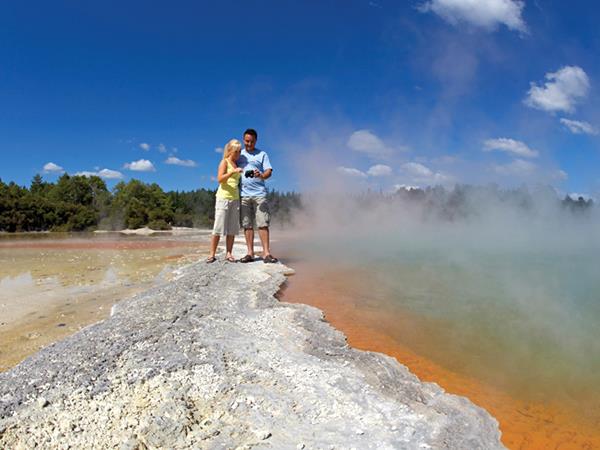 Kiwi 12 Day Small Group Tour of New Zealand
From
NZ $

6790
12 days
ex flights
Small group travel:
2022: 10 Oct, 22 Oct, 31 Oct, 7 Nov, 14 Nov, 21 Nov, 12 Dec, 19 Dec
2023: 2 Jan, 9 Jan, 16 Jan, 23 Jan, 30 Jan, 6 Feb, 17 Feb, 20 Feb, 24 Feb, 27 Feb, 6 Mar, 13 Mar, 20 Mar, 3 Apr, 10 Apr
If you'd like to chat about New Zealand or need help finding a vacation to suit you we're very happy to help.

new Zealand sample itineraries
New Zealand highlights (18 days):
Auckland > Coromandel Peninsula > Bay of Plenty > Rotorua > Wellington > Kaikoura >Aoraki/Mt Cook National Park > Lake Tekapo > Queenstown > Lake Wakatipu and Remarkables > Milford Sound > Franz Josef > Okarito Lagoon > Punakaiki > Arthur's Pass > Christchurch
South Island highlights (10 days):
Christchurch Aoraki/Mt Cook National Park > Queenstown > Milford Sound > Cardrona Valley > Lake Wanaka > Franz Josef > Punakaiki > Arthur's Pass > Christchurch
North Island highlights (10 days):
Auckland > Coromandel Peninsula > Bay of Plenty > Rotorua > Hawke Bay > Napier > Tongariro National Park > Lake Taupo > Waitomo Glowworm Caves > Auckland
travel times in new zealand
The following times give you a rough idea of the travel times between the main attractions in New Zealand.

Napier to Wellington: 5-7hrs by train Wellington to Picton: 3hrs 30mins by public ferry Wellington to Nelson: 6hrs 30 mins by ferry and bus, or 2hrs by plane Nelson to Arthur's Pass: 5hrs 15 mins by car Arthur's Pass to Christchurch: 2hrs by train Christchurch to Dunedin – 6hrs by bus Dunedin to Queenstown – 3hrs 30 mins by car Queenstown to Milford Sound – 6hrs by bus