New Zealand's landscapes are nothing short of epic, and they provide habitat for a vast number of species, many of which are to be found nowhere else in the world, such as the mischievous kea parrots – watch out for them especially on the South Island – Hector's dolphin, which can often be seen near Christchurch harbour, and of course nocturnal kiwis, the national bird.
Before humans turned up, there were no land mammals in New Zealand at all, and due to a lack of predators some birds lost the power of flight. Later, as invasive species such as Polynesian rats, stoats, cats and dogs arrived (brought over by humans, typical) many endemic species were either wiped out or left endangered. But while challenges remain for animals such as the kiwi, New Zealand goes pretty big on conservation nowadays. There are several success stories, such as the tui bird – increasing the availability of flowering and fruit plants, combined with effective pest control, has dramatically restored their numbers.
Wildlife encounters frequently provide some of the most memorable and rewarding experiences on a tour of New Zealand, with the exception of when a kea scarpers with your sandwiches. Here's what to keep an eye out for, and where you're likely to see it.
Our New Zealand Vacations
Whales, dolphins & seals
Incredibly, almost half of the planet's whale and dolphin species can be found in the waters off New Zealand, including sperm whales, orcas and even the mighty blue whale. Hardly surprising then that this is one of the world's most prestigious destinations for whale and dolphin watching tours. Whales, dolphins and seals can be seen in various locations on both islands, some species all year round, either from the shore or on boat trips.

Where to see them
Everywhere from the Bay of Islands on North Island, to the Marlborough and Milford Sounds at either end of South Island, but there is one place above all that is famed for its marine life, and that is Kaikoura. This small town on the northeast coast of South Island is home to sperm whales all year round, a large colony of fur seals, and is the go to place for dolphin swimming trips in New Zealand - you can swim year round in a wetsuit. The winter months are best for whale watching.
Kiwis
These chicken-sized, long-beaked ground dwellers are the reason why people from New Zealand are often referred to as Kiwis. Deforestation and invasive mammals have significantly reduced their numbers and there are now several bird sanctuaries around the country where they can be seen in a protected habitat.

Where to see them
North of Auckland, the city of Whangarei has a Native Bird Recovery Centre rehabilitating injured and sick birds including kiwis, owls and penguins. Your chances of seeing a kiwi in the wild are very slim: there aren't many of them about, they live in remote woodland and they're naturally very shy. But if you're really interested, you can join a kiwi spotting tour for a nighttime ramble.
Tuatara
Lizard-like reptiles, but not actually lizards, tuatara are 'living fossils' with a lineage going back to the dinosaur age. The Maori regard them as messengers of Whiro, god of death and disaster, and Maori women are forbidden from eating them – which probably isn't too much of a hardship. Weirdly, tuataras also have a third eye on their backs; a photoreceptive eye used to set their circadian cycles.

Where to see them
The Zealandia Sanctuary, just outside the capital, Wellington, is home to many species of amphibians, birds, plants and reptiles including tuatara and geckos. It's about as close to Jurassic Park as you can get.
Our top New Zealand Vacation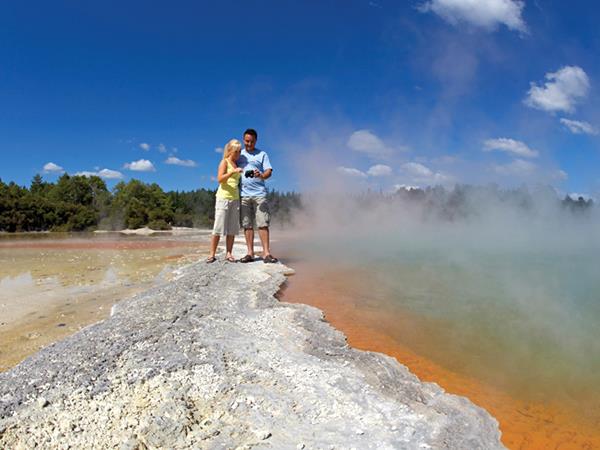 Kiwi 12 Day Small Group Tour of New Zealand
From
NZ $

6790
12 days
ex flights
Small group travel:
2022: 10 Oct, 22 Oct, 31 Oct, 7 Nov, 14 Nov, 21 Nov, 12 Dec, 19 Dec
2023: 2 Jan, 9 Jan, 16 Jan, 23 Jan, 30 Jan, 6 Feb, 17 Feb, 20 Feb, 24 Feb, 27 Feb, 6 Mar, 13 Mar, 20 Mar, 3 Apr, 10 Apr
If you'd like to chat about New Zealand or need help finding a vacation to suit you we're very happy to help.

Penguins
Among the three penguin species native to New Zealand are little blue penguins and yellow-eyed penguins, with colonies of these cute birds found all around both islands. Some time spent watching them waddling along the beaches and diving into the sea is often included on New Zealand tours.

Where to see them
Tonga Island Marine Reserve, next to the stunning Abel Tasman National Park, is a great place to encounter little blue penguins that will often swim alongside kayaks, as well as seals basking on rocks. If you take a boat cruise of the Milford Sound you may well see the Fiordland crested penguins that are found in this part of the country.
Glow worms
Glow worms thrive in New Zealand's damp caves and thick forests, and obviously are best observed by night, sometimes on guided kayaking or hiking trips. In large numbers they create a mesmerising and very beautiful spectacle.

Where to see them
You can see glow worms all over the country but the most well known place is the village of Waitomo on the North Island, which is situated above a vast underground cave system. Boat trips through the caves see them illuminated by millions of the little critters. Further north, you can also see them in the Kawiti Caves. Walking through ancient limestone caves on a guided tour with descendants of Maori chief Kawiti to see the thousands of twinkling glowworms is truly memorable.