Top 8 adventure activities in
New Zealand

Nowhere does adventure quite like New Zealand, and no-one seems to take as much pleasure in inventing new ones like the kiwis.

Often it's the scenery that gives you pause, rather than the enormity of what you're about to do. Whether you're perched at the door of a small plane over Lake Taupo waiting to jump, peeking warily over the edge of a platform with a bungee cord around your ankles, or approaching a set of white water rapids in a raft, in New Zealand the emphasis is on the 'outdoor' just as much as it is on the 'adventure'. Remove any of these activities from their sense of place and they wouldn't be quite so exhilarating. Peter Jackson was in no doubt that his home country was the best place to replicate Tolkien's mythical landscapes, and these activities are like stepping into the screen. They also introduce you to kiwi guides and instructors passionate about their environment, and a national character that delights in thinking up bizarre ideas such as zorbing or bungee jumping from a hot air balloon.
Our New Zealand Vacations
Black water rafting
Not as fast-paced as the white water version, black water rafting takes place on subterranean rivers, where you tackle waterfalls and perhaps gentle rapid. Besides your wetsuit and inner tube you'll be equipped with helmet and head-torch, as you're mostly in the dark whether in Waitomo on the North Island, or Greymouth on the South Island. Torches are switched off though, as you drift beneath canopies of glowworms.
Bungee jumps
Inspired by
Vanuatuan vine-jumping rituals
, commercial bungee jumping was pioneered by New Zealand legend A.J. Hackett. What's involved doesn't need much introduction, but safe to say if you've got the nerve to take this leap of faith, you'll enjoy it far more doing it over a beautiful lake, river or canyon in New Zealand than from a crane in a municipal car park.
Glacier walks
The Fox glacier and Franz Josef glacier are located close together on the South Island, and are among the most accessible glaciers in the world – guided walking on the ice, heli hikes, and climbing in crevasses are popular. Going up on your own, without a guide, is bonkers. Both glaciers also get crazy busy in high season, it's not unknown for several hundred of people to be on the ice at a time.
Jet boating
Up there in the 'leave you gasping' stakes with bungee jumps and skydives, jet boating is offered on rivers around New Zealand, with Queenstown being a popular spot. Jet boats don't have external propellers so they're ideal for navigating shallow water at speed. The pilots are incredibly skilled and spin the boats around narrow canyons, getting within touching distance of sheer rock walls.
Our top New Zealand Vacation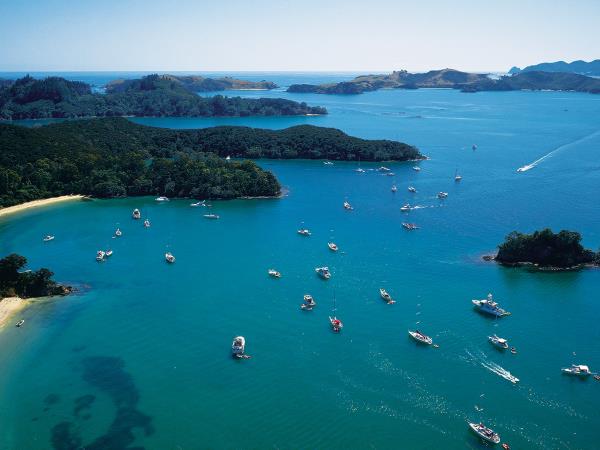 Spectacular scenery and dynamic culture
From
US $

7855
19 days
ex flights
Tailor made:
This trip can be tailor-made and departures can be arranged all year. The sample itinerary below can be modified to your personal wishes including departure date, duration, accommodation used & how long you spend in each destination.
If you'd like to chat about New Zealand or need help finding a vacation to suit you we're very happy to help.

Kayaking
Paddle among seals, penguins, dolphins and other wildlife in the Marlborough and Milford Sounds, to admire Maori rock carvings on Lake Taupo, or even around the coast if you're feeling more intrepid. This is 'soft' adventure as New Zealand goes, but no less enjoyable for it, and taking to the water is a wonderfully immersive, languid way to explore the country's most iconic landscapes.
Skydiving
Tandem skydives offer you a bird's eye view of some of New Zealand's most picturesque scenery, approaching very, very fast. A standard jump will involve around a minute or so of freefall before the 'chute pops open and very little in the way of training is required – you only need to know how to exit the plane safely and what to do on landing.
Trekking
New Zealand boasts some of the finest walking territory on the planet – fact. Many of its most famous routes: the Tongariro Alpine Crossing, the Milford Track, the Roys Peak Track in Wanaka, are all suffering from unsustainable crowds – also a fact. Trekking vacations will naturally feature a handful of classics, but will also try to get you into areas where you're not bottlenecked at viewpoints.
White water rafting
Another classic adventure activity that New Zealand does so well. White water rafting can be enjoyed in plenty of locations but many people make a beeline for Rotorua. Here, just out of town on the Katuna River, you can face down Grade V rapids and, at seven metres, the highest commercially rafted waterfall in the world. The ability to swim is the only necessary qualification, so you're dependent on the skill of your instructors.