The Dalai Lama, Buddhist spiritual leader

There is a saying in Tibetan, 'Tragedy should be utilized as a source of strength.' No matter what sort of difficulties, how painful experience is, if we lose our hope, that's our real disaster

The face of Tibet, head of Tibetan Buddhism, a 'living god' and utterer of many a feel-good fridge magnet quote, the Dalai Lama is one of the most recognised and respected political figures on earth. Tickets to his appearances around the world sell out in a matter of hours, and it is likely that without his benevolent presence on the global stage over the past six decades, Tibet's struggles may have been long since forgotten.
The man who describes himself as a simple monk is known for his charisma, compassion and intellect; has studied almost continuously since entering the monastery at age five. But these are not simply monastic studies; the Dalai Lama is well versed in neuroscience, subatomic physics and cosmology, amongst other things, and he constantly questions the relationship between science and religion, encountering both similarities and contrasts. It is no coincidence that 'Dalai Lama' translates as 'Ocean of Wisdom'.
What is the Dalai Lama?
The Dalai Lama is Tibet's spiritual leader, the head monk of Tibetan Buddhism and, traditionally, the person responsible for governing Tibet. There have been 14 Dalai Lamas in the history of Tibet, although this title was not recognised until the proclaiming of the third Dalai Lama in 1578, the first and second Dalai Lamas having been declared posthumously.
Dalai Lamas are believed to reincarnate. Following the Dalai Lama's death, a search will begin for a boy born around the same time – this may take three or four years. Guided by their dreams, the direction that the smoke wafts as the former Dalai Lama is cremated, and signs or visions appearing at the Oracle Lake, the High Lamas will begin to search for the boy.
Our top Tibet Vacation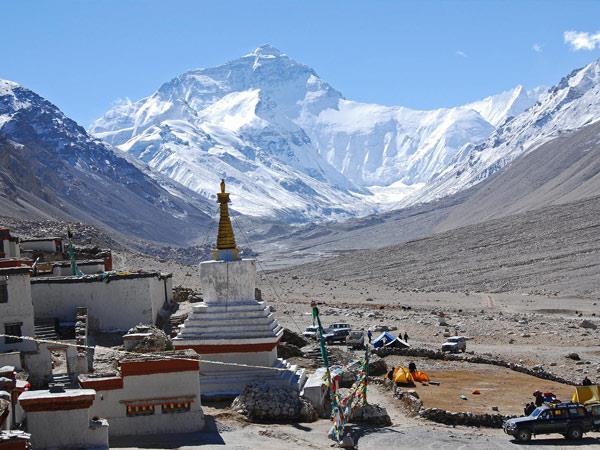 Surrealistic beauty of Mount Everest and Namtso Lake
From
US $

1200

to

US $

1400
10 days
ex flights
Small group travel:
2023: 11 Jun, 22 Jun, 9 Jul, 16 Jul, 1 Oct, 15 Oct, 24 Dec
2024: 30 Sep
If you'd like to chat about Tibet or need help finding a vacation to suit you we're very happy to help.

Who is the current Dalai Lama?
Tenzin Gyatso is the current – and 14th – Dalai Lama. He was born to farmers in 1935 in a remote part of northeastern Tibet, in a cowshed behind his house. He was discovered by the High Lamas when aged three; they believed him to be the reincarnation as he was able to recognise artifacts belonging to the 13th Dalai Lama, claiming "it's mine!" At the age of five, he joined the monastery and began the Buddhist education that would prepare him to take on the role of spiritual leader of Tibet.
In 1950 the young Gyatso took on full duties as the 14th Dalai Lama. The following year, Tibet was officially incorporated into the People's Republic of China, and in 1959, amid growing tensions and revolts, the Dalai Lama fled to India. He has not been able to return to Tibet since, and remains a refugee. As well as leading the Tibetan Government in Exile, based just outside Dharamshala in northern India, the Dalai Lama has travelled the world as a speaker, covering subjects as diverse as physics and astronomy, cognitive neuroscience, women's rights, sexuality and – of course – Buddhism. In 1989, following the protests in Tiananmen Square, he was awarded the Nobel Peace Prize, thanks in part to his commitment to non-violent resistance against China's occupation of Tibet. He remains one of the most popular world leaders around the globe.
The Dalai Lama promotes interfaith discussion, and has met with popes, archbishops, and Jewish, Muslim, Hindu and Sikh leaders, amongst others. He has described himself as a feminist, an environmentalist and a Marxist. He has yet to decide if he will reincarnate, or if he will be the last Dalai Lama.
Why won't you find the Dalai Lama in Tibet?
When the 14th Dalai Lama was enthroned in 1950, Tibet's troubles with China were just beginning, as steps were being taken to bring the autonomous province under Chinese control. In 1959, amid growing tensions, the Tibetan people revolted – and China responded with characteristic force. Many thousands of Tibetans were killed, and the Dalai Lama fled to India with thousands of followers. Jawaharlal Nehru, the Indian Prime Minister, granted them asylum, and the Dalai Lama was permitted to form the Tibetan Government in Exile. He remains there with his government to this day, in exile.

Since 1959, China's policy towards Tibet has only become stricter. Not only is the Dalai Lama himself banned from Tibet, but so are Tibetan national flags, images of the Dalai Lama and copies of his scriptures and teachings. Travelers carrying copies of the Lonely Planet – which contains sections on the Dalai Lama – have had them confiscated. Even Brad Pitt, who starred in the 1997 film Seven Years in Tibet, is forbidden from entering the country. He played Heinrich Harrer, a German mountaineer who escaped from a British PoW camp in India, and ended up in Lhasa where he tutored the young Dalai Lama. The two went on to become friends. Rumour has it that the film's director and Pitt's co-star are also banned, as are various celebrities who have spoken out in support of Tibet.