Why you should see Tibet, Nepal & Bhutan together
"Touring this region is obviously incredible, but nevertheless it tends to be the little moments that people remember the most," explains Gemma Wilson from our specialist tour operator Selective Asia. Tibet, Nepal and Bhutan – three mystical kingdoms at the roof of the world. The sightseeing here is spectacular of course, up among the mighty Himalayan peaks: mountain cities where spiritual rituals have gone on practically unchanged for centuries.

When you combine Nepal and Bhutan with Tibet, you'll encounter so many remote monasteries, palaces and stunning views from mountain passes that you could spend your entire flight back tweaking your camera roll. But you'll probably come home raving more than anything else about those little moments Gemma mentions: "Sleeping overnight in a Nepali homestay, joining the pilgrims on their daily kora, sharing a meal with a Bhutanese farming family, even something as simple as spinning the prayer wheel in a temple for good karma." And exploring Nepal and Bhutan at the same time as Tibet isn't just convenient and cost-effective, it's a superb way to discover the similarities and differences in their cultures, traditions and landscapes.
In Tibet and Bhutan the only way you can travel is with a recognised tourism operator – there is no way to organise a trip independently. Which, really, is not such a drawback, because the local guides in each country are so good at conveying their knowledge and enthusiasm and adept at ensuring your journey is perfectly paced between excitement and relaxation.
It also means that, by using responsible tour operators, tourism income can be ploughed back into local communities at every turn. That includes providing employment to guides and drivers, staying in independent, family-owned hotels, and inviting travelers to sample locally run cultural experiences such as archery practice in Bhutan, buy locally produced handicrafts, or make small donations when visiting monasteries to help with preservation.
Highlights of multi-country tours
Tibet
In Tibet the natural world and the spiritual are eternally linked. Working monasteries such as Tashi Lhunpo, Sera and Drepung, and Jokhang Temple in Lhasa all hold immense significance in Buddhism, and their architecture, largely eschewing any extravagance, fits neatly into the mountainous landscapes they inhabit. A typical itinerary will likely spend time at them all to explore behind their walls, perhaps watching the monks debate scripture in Sera, or joining the morning pilgrim circuit at Jokhang.
You may also make the steep but worthwhile climb to that spiritual symbol of Tibet, Potala Palace, for stunning panoramas across Lhasa, admire the multi-storied Kumbum at the Palcho Monastery, or stay a night in Rongbuk Monastery, up in time to see the sun rise over Everest. Just getting around is amazing – long scenic drives on roads that wind over mountain passes and take you past crystal-clear lakes and valleys swathed in forest; flights over Himalayan ranges dusted with snow and steepled with some of the tallest peaks on the planet.
Nepal
Mount Everest
can also be seen from
Nepal
, of course, and it is from
Base Camp
close to Lukla that most attempts on the summit begin. You may well visit Base Camp but it will be only one of many high points in Nepal from the chaotic, charismatic capital
Kathmandu
to the tangled backstreets of
Bhaktapur
, both still rebuilding after the devastating 2015 earthquake.
There is the staggeringly beautiful Pokhara, its lakeside setting framed by the Annapurna. There is Chitwan National Park, where you might take a jungle safari in search of rare one-horned rhinos and Bengal tigers. There is Lake Fewa, an idyllic spot for some boating, close to the attractive Devi's Falls, and a refugee camp hosting many Tibetans who fled following the 1959 exile of the Dalai Lama. Here you'll be able to purchase traditional Tibetan handicrafts including handwoven carpets and silverware, a vital source of income for many hundreds of people trapped in a desperate situation for decades.
Bhutan
The way
Bhutan
has limited the number of entry visas it grants means this tiny Himalayan kingdom has preserved its aura of mystery. Flights arrive into
Paro
, the descent over snowy peaks into a lush green valley a marvellous introduction. The cliff-side trek up to the
Tiger's Nest
temple is a stunner, as is the dzong of the
Punakha Valley
, which sits at the confluence of two sacred valleys.
Thimphu, the capital, is the best place in the country to explore Bhutanese heritage. That might be archery lessons by the river, a visit to the folklore museum, a paper factory or the Zorig Chusum Institute, where students learn the 13 traditional crafts including painting, carving and blacksmithing. Or it could simply be sitting down among local people at a buffet restaurant serving traditional food such as ema datshi (chili and cheese soup).
Our top Tibet Vacation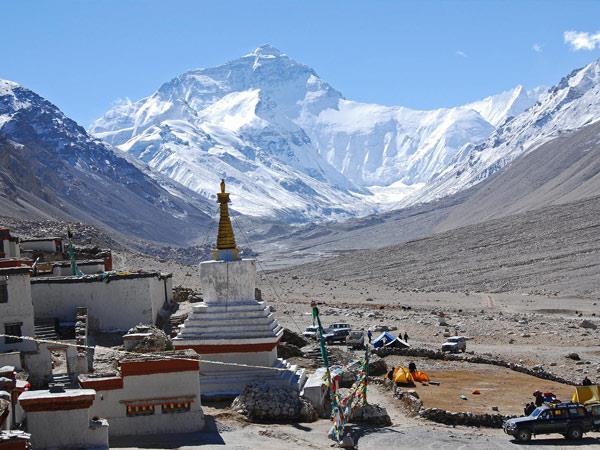 Surrealistic beauty of Mount Everest and Namtso Lake
From
US $

1200

to

US $

1400
10 days
ex flights
Small group travel:
2023: 11 Jun, 22 Jun, 9 Jul, 16 Jul, 1 Oct, 15 Oct, 24 Dec
2024: 30 Sep
If you'd like to chat about Tibet or need help finding a vacation to suit you we're very happy to help.

Practicalities
Precise itineraries vary but you will fly between Kathmandu, Lhasa and Paro, usually spending up to a week in each country. Tours are typically between 16 and 21 days in length, however there is a choice of small group vacations with fixed travel dates and tailor made vacations that you can extend depending on your interests and budget. Keshav Karki from our small group specialists Manakamana Treks and Expedition recommends in this instance visiting Lumbini in Nepal, reputed birthplace of Siddhartha Gautama, the founder of Buddhism, en-route to Chitwan National Park.

You'll get around in private vehicles. Depending on the trip you might have a tour leader accompanying you throughout, or you may be met by local guides on arrival at each airport, each bringing their own expertise. Entry visas are required for all three countries – your tour operator should be able to provide all the advice you need and perhaps help you acquire one of the highly sought-after visas for Bhutan. For Tibet an entry permit is also needed.

Itineraries focus predominantly on the cultural and spiritual. A few short, strenuous hikes may be involved, such as to the Tiger's Nest temple in Bhutan, which can take up to five hours. Such walks are entirely optional and anyone with a decent level of fitness should be fine. Tour operators account for the need to acclimatise when creating their itineraries, ensuring everyone takes it easy for the first day or so. These trips do tend to move quickly by necessity, as there is much to see in a limited time.

The best time to go on a multi-country tour of Tibet, Nepal and Bhutan is between February and December, as many areas are closed off due to snow in winter. Spring and autumn are recommended for the clearest views of the towering Himalayan peaks on all sides – in Nepal you'll also see many climbers making their way towards Base Camp, gearing up for their ascents on the tallest mountain in the world.