Things to see & do in Lhasa
There are some places that, even though on the surface they appear to be in a state of constant change, somehow manage to retain an air of timelessness. Such is the case with the Tibetan capital. The ancient temples and monasteries are outnumbered by modern structures such as apartment and office blocks whose glass frontages gleam in the sunshine, and vast shopping centers. But enter these religious institutions, watch as the devout make their daily circuit of the courtyard at the Jokhang Temple, or the shaven-headed, red-robed monks debate theology in the Sera Monastery, and you can sense the centuries dropping away.

Lhasa is where most Tibet vacations begin and, at 3,670m, an ideal place to acclimatise before moving on. Arriving into the airport you may be welcomed with a khata, a traditional prayer scarf, before the 100km drive into the city, the route offering plenty of dramatic Himalayan views. Despite its altitude, Lhasa can suffer from air pollution, much of it related to dust thrown up by construction activity – one of the most common justifications given for the Chinese occupation of Tibet since 1950 is the development of 'infrastructure'.

The monasteries here have been used for worshipping and teaching for centuries. The Chinese flag may fly at Potala Palace, but it is still the unassailable seat of Tibetan religion and politics. You won't find any photographs of the Dalai Lama in Lhasa, and attempting to discuss politics with your guide or any locals you meet in the Tibetan capital is discouraged unless they bring it up first, but he is far from forgotten. And the ritual of the Barkhor circuit around Jokhang Temple feels just as constant as Everest. If you want to explore Tibet's history, culture and resilient spirituality, there's nowhere better to start than Lhasa.
Potala Palace
The winter palace of the Dalai Lama for over 300 years, historically the seat of religious and political power, this vast mountainside complex is an architectural treasure and a renowned national symbol. Across 13 storeys and over 1,000 rooms, inside the fortress-like walls, can be found many of Tibet's greatest treasures: murals; thangkas (painted scrolls); sculptures; Buddhist frescoes; artworks of jade, porcelain, silver and gold; documents of immense historic significance.
Since the Dalai Lama's exile and the Chinese occupation of Tibet, this is now more museum than palace but no less impressive for being unoccupied. The Potala Palace is a UNESCO World Heritage Site, one of an amazing three in Lhasa. Perhaps only fitting, then, that getting to it requires some effort. The approach is via a series of steep, zigzagging stairways that may leave you out of puff but do, however, give plenty of excuses to stop regularly and take in some magnificent Himalayan views.
Jokhang Temple
The most sacred temple in Tibet, Jokhang Temple is at the heart not only of spirituality in Lhasa, but commerce too, surrounded by the teeming Barkhor market where you can buy everything from traditional Tibetan quilts to painted scrolls, butter lamps and bowls of yummy yak yoghurt. Every day pilgrims walk for 20 minutes around the temple, spinning prayer wheels as they go.

It's fun to join in, as Philippa Cawthorne, who took a trip to Tibet through Responsible Travel in 2017, found: "The most memorable part of the vacation was walking around Barkhor Square seeing people on pilgrimage from various regions of Tibet. The people were very friendly and even came to shake our hands and say hello. We were invited into a small temple to join the locals spinning their prayer wheels and chanting, which was a magical experience as we were the only foreigners there."

You'll also see many pilgrims prostrating themselves all the way round, some having travelled hundreds or even thousands of kilometres to get there, giving you some idea of the temple's significance.
Norbulingka
Summer residence of the Dalai Lama since the late 18th century, Norbulingka is located just west of the Potala Palace, the winter residence. Its name means 'Treasure Park' and the gardens that surround the park are regarded as the most beautiful in all Tibet. With the Potala Palace and the Jokhang Temple, Norbulingka is the third of Lhasa's UNESCO World Heritage Sites. The grounds are now a public park, and every August host the 'Yoghurt Festival', a time of great feasting when the monks emerge from a month of self-imposed isolation to avoid stepping on any summer insects.
Sera Monastery
Just north of Lhasa, at the base of a mountain and surrounded by hermitages and nunneries in the foothills, Sera Monastery is a superb example of Tibetan architecture and a venerated seat of Buddhist learning. Some Tibet tours will attempt to time their visit so as to watch crowds of monks vigorously debating scripture in the courtyard – you almost certainly won't have a clue what's being argued but it's fun to watch all the same.
Drepung Monastery
Along with Sera and Ganden, Drepung is one of the three educational monasteries in Tibet belonging to the Gelung strand of Buddhism – think of it as monk university. Ten thousand of them once studied here at any one time, in a series of white monastic buildings stacked up the hillside just outside Lhasa. The walk up the hill to explore these holy halls and chapels is as serene as it is beautiful, with views across the capital and off into the mountains.
Our top Tibet Vacation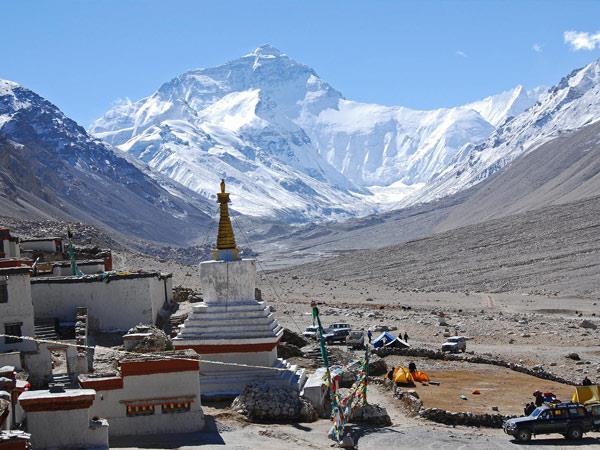 Surrealistic beauty of Mount Everest and Namtso Lake
From
US $

1200

to

US $

1400
10 days
ex flights
Small group travel:
2023: 11 Jun, 22 Jun, 9 Jul, 16 Jul, 1 Oct, 15 Oct, 24 Dec
2024: 30 Sep
If you'd like to chat about Tibet or need help finding a vacation to suit you we're very happy to help.

Ganden Monastery
One of the largest monasteries in Tibet – and at 50km from Lhasa a popular day-trip from the capital – Ganden has 95 holy stupas, nine courtyards for debating scripture, and several halls that can between them hold thousands of monks. It occupies a stunning vantage point in a hilly amphitheatre surrounded by valleys. The monastery was destroyed by the Red Army during the Tibetan Uprising in 1959, but since then rebuilding efforts have restored many of the structures.
Yamdrok Lake
Tibetan people view lakes as sacred as well as mountains, and Yamdrok Lake, four hours from the capital, is among the largest in the country. Considered by Keshav Karki, from our specialist Tibet vacation operator Manakamana Treks and Expedition, as one of the essential day trips from Lhasa, it is said to be guarded by a goddess, and is so revered that even historically the Dalai Lama would make a pilgrimage there.