Physical & mental preparation
Leon Zhang from our leading Tibet vacations partner, Tibet Vista:
"For newcomers, please never rush to visit any attractions immediately. Do allow ample time to get acclimatised to the high altitude on the plateau (spending at least two days in Lhasa is highly recommended). Dress properly, paying attention to the dramatic temperature change between day and night."
Cara Brown, from our partner Intrepid Travel, shares her top Tibet tips for travelers:
"Clients will be traveling within high altitude (mostly above 3,500m) and they should consult their doctors on what to take in terms of medication. There's almost no Western medication, especially related to AMS (acute mountain sickness) or other altitude related diseases, available in Tibet, so travelers should bring their own. Emergency services and hospitals are easily accessible in Lhasa and Shigatse, but not anywhere else, and no doctors speak English. Also, we travel in some remote areas in Tibet for long distances, so immediate medical help is not always available. Don't worry too much about this as our tour leaders are trained in dealing with emergencies and we carry oxygen as well for emergency use."
Food in Tibet
Leon Zhang from our leading Tibet vacations partner, Tibet Vista, has the following advice:
"Do enjoy the Tibetan noodles and sweet tea in one of numerous tea houses in Lhasa city. For foodies, dried Tibetan yak meat, Tsampa, Tibetan momo and barley wine are things you can't afford to miss."
Keshav Karki, from our partner Manakamana Treks and Expedition:
"Tourism in Tibet is still in its infancy so the quality of restaurants will not be as high as in other parts of China. There are no 5 star dining experiences. Of course, Tibetan/Nepalese food is the main fare with yak and mutton being the most favored meats. Curries and stews are common. Chinese and Western food are easily found and the standard is fine. The Chinese food is a more Westernised variety, and the eating houses are usually clean even if they are basic in some areas."
Clothing & equipment
Cara Brown, from our Tibet partner Intrepid Travel:
"Tibet is very dry at altitude and can be windy and dusty at times, so a wind proof jacket and scarf will be very useful. The temperature changes drastically during a day – the locals say 'four seasons in a day' – so layered clothes will come in handy when the temperature changes. Sunglasses, sun screen, and moisturiser will be your good friends too, especially moisturiser as Tibet can be very dry. Take your own water bottle for making tea or coffee as almost all hotels have a water boiler."
Traveling in Tibet with kids
Keshav Karki, from our Tibet travel partner Manakamana, has the following advice for family vacations in Tibet:
"The climate and generally harsh conditions in Tibet may not be ideal for young children. The sights and attractions are not those which children like to visit and facilities will be very primitive. If you do decide to bring your young child to Tibet please ensure that you bring all your child's daily needs with you."
HEALTH
Visit your GP or travel clinic at least 6-8 weeks before departure to ensure you are up to date with all necessary vaccinations.
Bring supplies of any prescription medicines with you. If you have very specific medication, you may want to check with the Chinese Embassy to ensure this is not prohibited in China. You may also want to bring medicine to treat a stomach upset or diarrhoea; your vacation company will know the safe places to eat, but Tibetan food and drink can still take some getting used to!
Take out comprehensive travel insurance that includes emergency/medical evacuation as well as any activities you are planning to undertake – such as high altitude trekking.
120 is the emergency number; ask for an ambulance.
Tibet's high altitude means that it is not prone to diseases such as dengue or bird flu that may exist elsewhere in China. However, the altitude presents health risks in itself. Lhasa is at 3,656m above sea level, so if you're flying straight in altitude sickness could kick in straight away, with headaches, breathlessness and general exhaustion. Eat light food, avoid alcohol, and keep activity to a minimum for the first couple of days; even walking can be tough.
SAFETY
Tibet is generally very safe, with low crime rates. However, given the tense political situation there may be demonstrations, protests and sporadic outbreaks of violence. These are not targeted at foreigners and your vacation company should be able to keep you well away from such events, but do be careful and leave an area if you notice any demonstrators gathering. Do not get involved in any protests or film or photograph them. In general, avoid any political discussions or criticising the government. Although autonomous, Tibet is part of China's one-party state, and visitors should be very sensitive to this. It is even considered 'illegal' to bring any book, video or speech made by the Dalai Lama into Tibet and travel guides, such as Lonely Planet, that mention the Dalai Lama, or reference China's occupation of Tibet will be confiscated too. The topic is deep-rooted and pretty serious as the military presence in towns and cities will attest. Never trek without an experienced guide. This is remote and treacherous terrain, with extreme weather conditions and temperature variations. In many regions of Tibet, you'll also be far from help or even a road, should you need it. Road conditions are poor, as are driving standards. Be very careful when crossing roads. You need to carry your passport on you at all times, or risk fines or detention.
Our top Tibet Vacation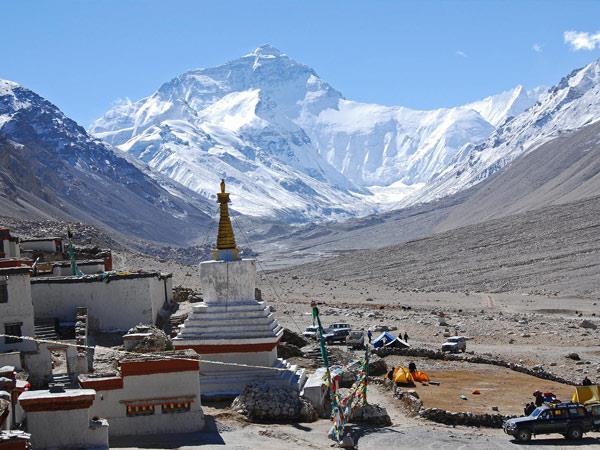 Surrealistic beauty of Mount Everest and Namtso Lake
From
US $

1200

to

US $

1400
10 days
ex flights
Small group travel:
2023: 11 Jun, 22 Jun, 9 Jul, 16 Jul, 1 Oct, 15 Oct, 24 Dec
2024: 30 Sep
If you'd like to chat about Tibet or need help finding a vacation to suit you we're very happy to help.

Tips from our travelers in Tibet
At Responsible Travel, we think the best people to advise our travelers are often... other travelers. They always return from our tours with packing tips, weather reports, ideas about what to do - and opinions about what not to.

We have selected some of the most useful Tibet travel advice that our guests have provided over the years to help you make the very most of your vacation - and the space inside your suitcase.

Find a very large boulder to hide behind when the Yaks suddenly panic and decide to run down the mountain side in your direction

"Enjoy the Tibetan adventure while it lasts. There are many changes taking places in the Tibetan landscape and in the Tibetan way of life. It is advisable to read up before this trip to experience the visit with an open mind." – Izabela Spero

"Familarise yourself with the Buddhist faith. In the colder months, a sleeping bag would be a very good idea as some of the rooms are unheated. Also, try the yak butter tea with an open mind - it's not that bad!" – Judith Grubb

"The first week in Lhasa is easy going and paced well to allow gradual acclimatisation. The second week is hard going and not for the faint hearted. Drink plenty of fluids, even in Lhasa, keep a sense of humour, and never forget how privileged you are to be visiting Tibet." – Victoria Hart

"Do not let the thought of altitude effect you too much - it is normal to be short of breathe and experience a few little headaches etc. Listen to your own body and to your team leader." – Sharon Oo

Tibet is a spectacularly poor country with very small towns and villages with limited infrastructure, so be well prepared for basic accommodation and facilities

"Don't take a Lonely Planet - it will be confiscated. I had my bags checked upon arrival and exit for books." – Alan Wall

"It is important for westerners to see for themselves conditions inside Tibet and the impact of Chinese rule (some good, some bad, some very very bad). Whilst there visitors can also set an example of keeping the environment clean such as putting waste into bins instead of on the street." – Victoria Hart

"Be absolutely aware of the restrictions the climate can have on traveling to Tibet during Winter… we thought we could have done some treks… but a lot of treks close down or require permits. I think we were under the impression that we could travel a bit more freely. It didn't affect our trip but that was our only frustration." – Christina Berthram Poulsen

"Make sure you have plenty of small denomination bills with you. Ask your guide where to shop as a lot of the craft stalls and shops are chinese owned." – Eleanor May Gilchrist

"Learn about the significance of Mt Kailash for the Hindu, Buddhist and Bon pilgrims you will be sharing your trek with. You are not going to have a quiet or solitary walk in beautiful mountains, you are going to be caught up in a devotional experience enjoyed by many fellow walkers… the overall experience is very rewarding." – Neil Small