Learn Spanish & walking in Spain
Learning a language on vacation is always going to reap rewards. Firstly, you'll be able to break the ice with local people by asking basic questions or by simply saying hello. Secondly, you'll be using your brain and perhaps unlocking new skills that you never knew you had. And finally, learning a language on vacation is fun! It adds to the travel experience by giving you a platform to try new things, open more doors and build up your confidence from one day to the next.

Northern Spain is one such location where learning the language is certain to be met with smiles from local folk. For way too long, Brits abroad, especially, have attempted little more than 'dos beer por favour' and expected to be met with beaming grins from thankful bar and restaurant staff.

It's a real shame that some people visit Spain and hear or read nothing other than English.
Of course, sometimes, it's not the fault of vacation makers that they're unable to progress beyond 'hola'. Spanish people, living in the tourist-heavy costas, are often fluent in English, and German. This can mean that any attempt at trying to practise Spanish will be met with an answer in English to save blushes and a whole heap of time. Menus and signs, too, are also often written in English.
On the flip side, of course, sometimes a casual 'cómo estás?' might be met with a flurry of Spanish in response; meaning linguists have to come clean and admit they can't actually 'speaka-da-lingo' quite as well as their opening gambit may have implied.
Talking the talk
Now, if you really want to learn Spanish, in Spain, your best bet is to book into a local language school that's way off the promenade of the bucket and spade brigade. A school located in the small town of Panes at the gateway to Picos de Europa National Park in Cantabria, northern Spain. You can stay in the town, too, either with other students, host families or your own choice of small hotel.
Entering a classroom, every day, with a teacher who can help you develop and improve, is bound to be a much more fruitful experience than buying a beer at Benidorm Barry's Bar & Grill. Not only will you be able to develop in a structured setting but, outside the classroom, you'll also be encouraged to practise with more frequency in and around the town and at your accommodation.
Picos de Europa is an area where there are hardly any English tourists; and some people in Panes (especially the older generation) will have no idea what you're talking about unless you speak to them in Spanish. It's much quieter, too, which gives you time to think and go over what you've learned.
You'll also be treated to some sublime mountain scenery where rural villages, such as Bulnes and Treviso, help you to see Spain from a Spanish perspective. Not as a tourist but as a Spanish speaker.
Ana Rodríguez García, from our Spanish language school Peak Me Languages shares advice on when to walk and talk in the Picos de Europa Mountains: "I think the best time of year to visit is June and September. The weather is really mild, the days long and the area is mainly empty of other visitors. This means all the classic walks, such as Ruta del Cares, which is not very nice to do in the summer months, will be almost empty. April, May and October are also great months if you're into birdwatching, wild flowers or nature photography. The summer months are busy and the pressure can be felt on the environment (and the people). Stay off these months if you can, it'll be more enjoyable for you, more sustainable for everyone else."
Our top trip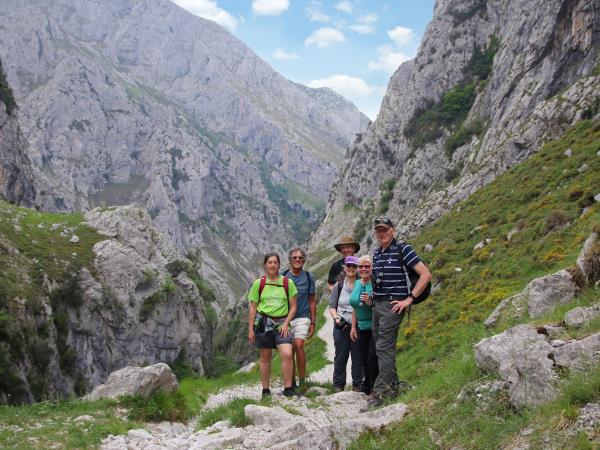 Spanish classes + stunning hikes in Picos de Europa
From
€

750

to

€

1500
7 days
ex flights
Small group travel:
Our team in Spain are on break from 6th Nov 2023 - 1st January 2024. All inquiries will be answered on their return from 1st January 2024.
If you'd like to chat about Unusual combinations or need help finding a vacation to suit you we're very happy to help.

Walking the walk
Mornings spent in the classroom with six fellow students followed by an afternoon of walking in the mountains with a native Spanish speaker, is a brilliant way to continue the conversation. There's just something about a hike that opens up lungs and larynx. You'll be really surprised how quickly you pick up sentence structure, vocabulary and easy-to-learn phraseology simply by strolling and chatting.
As language lessons and guided walking groups are kept to under six people, everyone has plenty of opportunities to ask questions and chat with fellow students and Spanish guides. You'll be invited to visit local cheese and cider producers which include tasting sessions at traditional working farms. Walking trails will be off the beaten track so you get to see the secret, hidden villages as well as eating regional food that's been cooked the old fashioned way using only fresh local ingredients.
Based around small towns and villages, you can be sure that the money you spend goes to local businesses and helps to encourage and support growth away from the cities. And due to the nature of the trip, and the climate, you can join this type of tour all year round, which extends the tourist season and the power of your Euro.
Ana Rodríguez García says:
"The area is quite steep, so most walks have quite a height gain. The terrain can be rocky, so good walking shoes or boots are a must. We do have easy access to some flatter walks, but they're probably not as impressive. We adapt the level of difficulty of the walks to the level of fitness and ability of the group, so as long as you are reasonable fit, you'll love the routes in the area."
More Unusual combinations articles