Elephant conservation volunteering in Thailand
The Asian elephant is Thailand's national animal, but sadly its survival in the wild, like so many large mammals, is threatened, principally by dwindling forest cover and poaching. Since the early 20th century numbers are estimated to have fallen from around 100,000 to 5,000 and many of these live in captivity. Among the reasons that elephants have been revered in Thailand for centuries is for their strength and longevity. Ironically these attributes made them perfect for the logging industry and until it was made illegal in 1989 (due to rampant deforestation causing flash floods) elephants would be put to work for years on end. Elephant training is one of the oldest jobs in the world, and was once viewed as a prestigious, hereditary profession. That's no longer the case.
Our Thailand volunteering Vacations
The ethics of elephant tourism
With logging now illegal – though it still goes on in many places and remains a major threat to wildlife habitats – many elephant mahouts, often trained since childhood and forming lifelong bonds with their charges, instead looked to tourism and entertainment for their earnings. An elephant can consume up to 130kg of food every day - they're not cheap to look after! Elephant and other wildlife shows are still very popular among visitors to Thailand, and they involve
painfully forcing the elephants to learn unnatural behaviours
and using chains to tie them up. This is not to say that the elephants had it any easier when they were used for logging, of course. They would be brutally 'crushed' in pens and tormented with poles tipped with spikes to break their will, worked hard and at constant risk of serious injury such as from falls or dropped logs. With illegal logging, there is also evidence that elephants are fed amphetamines to keep them working as much as possible.
Riding elephants is another big no-no, as it causes them physical harm. Remember, elephants are never domesticated, they are captive wild animals, even those born in captivity. This means they must be broken in and controlled in order for them to work, be around humans and give rides, a horrific process that involves breaking their spirit.
Practicalities
If you'd like to contribute to their conservation, then you can volunteer at an elephant sanctuary, a safe haven for these beautiful animals once they have been rescued from captivity. These places help the elephants recover so that they can hopefully one day be released back into Thailand's forests and jungles. In most cases however the animals remain there for the rest of their lives. Sanctuaries also provide employment for mahouts and encourage them to see the value in conserving elephants rather than exploiting them for tourism. Many of these sanctuaries are open to visitors, offering a much more ethical, wholesome tourism experience with no exploitative shows or experiences, just happy elephants exhibiting natural behaviours. The aim is to create as wild an environment as possible to encourage rehabilitation.

In some cases the elephant sanctuary will be situated within the grounds of a wider wildlife refuge where there may be dozens of other species being cared for, including sun bears, monkeys and gibbons. The sanctuaries tend to be off the regular tourist trail, in quiet rural communities. One is located a few hours' drive south of Bangkok, close to a national park and a typically sublime Thai beach.
Your tasks will vary from day to day but you can expect to be doing a substantial amount of food prep. Left to their own devices, elephants spend around three-quarters of their lives foraging for food, which explains why they are so dependent on good quality vegetation for their survival. You will regularly be harvesting and collecting food such as pineapples and bananas from local farms, chopping it up and placing it around enclosures to help with enrichment – essentially teaching the elephants the skills they will need if they are to survive in the wild. The enclosures will need regular maintenance too, especially cleaning to keep them hygienic.
On the subject of hygiene, the most fun aspect of volunteering with elephants is always bathtime. Watching them socialise naturally and spray each other with water in the river, while you watch on from the bank, is a joyful experience (we don't offer vacations that include elephant bathing experiences). You may also accompany them on grazing walks through the forests, and give tours of the sanctuary to visitors such as school groups.
At sanctuaries the food will be a mix of Thai and western staples, often vegetarian, and you can expect basic but comfortable facilities and western-style toilets. In more remote Karen communities near Chiang Mai however it will be far more rough-and-ready, with bucket showers and squat toilets, unless you opt for glamping, where you'll have a private bathroom, comfortable bed and electricity for charging devices.
Our top Thailand volunteering Vacation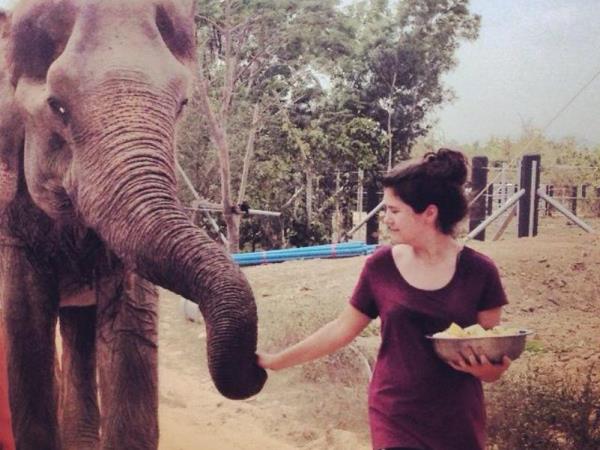 Volunteer with rescued elephants in an inspiring refuge
From
£

970
7 days
ex flights
Tailor made:
This trip can be tailor made throughout the year to suit your requirements
If you'd like to chat about Thailand volunteering or need help finding a vacation to suit you we're very happy to help.

Staying with hill tribes
Not all elephants are confined to wildlife sanctuaries. Others can be found living semi-wild in the mountainous forests near Chiang Mai, not entirely free but safe, protected and at liberty to wander around as they wish. You can spend a few days living and volunteering with a traditional Karen hill tribe community, either in homestays or wild camping (and glamping if you like a little more luxury), moving from place to place depending on where the animals are. After waking up in your hammock mahouts will teach you how to track wild elephants, about their natural behaviours and preferred foods. You will join local villagers with on-going conservation projects, engaging in a variety of physical tasks, such as planting vegetation and improving water sources – it's a deeply immersive and authentic experience.
Family volunteering with elephants
Does it even need saying that
volunteering with elephants
is absolutely magical for families? Bear in mind that some itineraries can involve quite physical, arduous work and due to the size of the elephants, the minimum age is 14 whereas trips volunteering with other wildlife usually require children to be at least 12 only. For families with teens, this is a deeply moving way to really get stuck into a vital conservation project.
"Spending time with my family and working for these magnificent animals was such a rewarding experience. Hand feeding these gentle giants is something I will never forget. When you look into their eyes and connect with them, it's as if they can see who you are. You can tell these are intelligent and kind animals."
– Joe Stern on a family volunteering vacation in Thailand
More about Thailand volunteering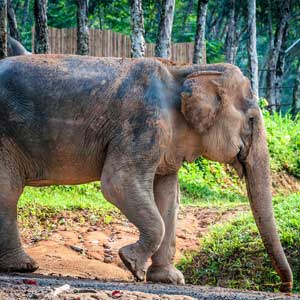 Our volunteering in Thailand guide shows you how you can make a positive difference on your travels.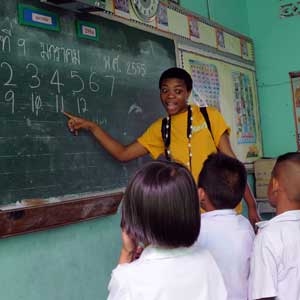 Learn the types of volunteering vacations in Thailand open to you and possibly your family too.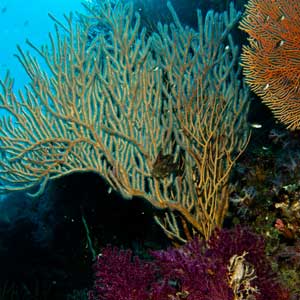 Marine conservation volunteering in Thailand focuses on depleted coral reefs.