TYPES OF VOLUNTEERING HOLIDAYS
IN THAILAND
Volunteering vacations in Thailand vary from conservation projects, where you might be helping to rehabilitate different species that have been rescued from captivity and abuse, or restoring fragile marine ecosystems, to teaching English to children. You don't need any specific experience or knowledge (though if you do have relevant skills, informing the organisers beforehand is useful) just a willingness to commit your time and labour, and a passion for conservation and helping others. Volunteering trips such as these lend purpose to gap years, family vacations and career breaks, but it's important to find an itinerary that is appropriate to your abilities and interests.
Our Thailand volunteering Vacations
Wildlife sanctuaries
Help care for a wide range of abused and orphaned animals from the exotic – elephants, sun bears and baboons – to more familiar creatures such as stray cats and dogs, who are no less deserving of help. Much of your time will be spent in feeding, enrichment work and cleaning enclosures, but you may also help out with tours for visiting schoolchildren and tourists. This is also a great option for families, with trips available to suit children as young as 10.
Elephant conservation
Thailand's Asian elephant population has been almost wiped out due to deforestation, and many of these elegant and powerful creatures are sadly kept captive, cruelly mistreated in the tourism and entertainment trade. You can volunteer at a sanctuary that aims to provide rescued elephants with a safe place they can remain for the rest of their lives. This often involves intensive physical labour, including cleaning enclosures and collecting food, but it flies by as you work alongside a wider team of volunteers, full-time staff and mahouts now committed to elephant rehabilitation.
Marine conservation
Joining a team of volunteers based either on Koh Tao or Koh Phangan, you'll help to gather useful data that will go towards developing environmental policies and laws aimed at protecting coral reefs at risk of depletion. Other tasks can include direct restoration, such as by constructing artificial reefs. You will need a diving qualification to join the project, which can be acquired on arrival for a supplement, and takes around a week to attain.
Teaching English
Stay in your own private beach hut on the paradise island of Koh Phangan, in return for helping children of primary school age to learn and practise English. You'll work alongside and to compliment the more formal lessons of local teachers, devising fun and interactive lesson plans that might cover arts and crafts, conversation skills, learning games and even karaoke.
Family volunteering
A volunteering vacation in Thailand is a wonderful way to bring your family together, create memories and also make a positive difference. These trips can be quite laborious but are always deeply meaningful experiences, suitable for children aged 12 upwards (14 to work with elephants). Plenty of time off is incorporated into itineraries during which you can explore the nearby community and national park, or get a ride to the nearby beach.
Our top Thailand volunteering Vacation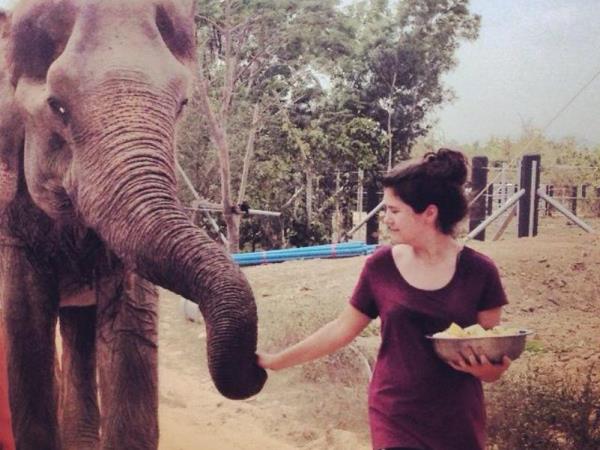 Volunteer with rescued elephants in an inspiring refuge
From
£

970
7 days
ex flights
Tailor made:
This trip can be tailor made throughout the year to suit your requirements
If you'd like to chat about Thailand volunteering or need help finding a vacation to suit you we're very happy to help.

VOLUNTEERING IN THAILAND TRAVEL ADVICE
Anne Smellie, from our vacation experts Oyster Worldwide, on what to expect at different projects:
Retired elephants
"Not all sanctuaries are as beneficial to elephants as you might think. Some continue to exploit the animals, for instance in getting them to perform tricks. The sanctuary we support takes in elephants that are usually old, and in poor physical condition. They may have been crippled by years in the logging industry, working in gruelling conditions for up to 12 hours a day. They may have been shot by poachers or farmers, or have lost their eyesight. It's essentially a comfortable, safe retirement home for them."
Daily tasks
"The working days are long, from around 6.30am to 5pm, but that's because the heat means you need to take regular breaks. You will be helping to harvest food for the elephants – sanctuaries are confined areas so they can't support a large population – with food prep, and ensuring they have enough water. You'll also be walking them with the mahouts, trying to replicate their natural grazing behaviour."
Marine conservation
"The minimum duration for this kind of trip is two weeks, and novice divers will spend their first week learning. Because the activities are also weather dependent – rough seas can prevent dives – we recommend staying at least four weeks. That way you learn more, you contribute more, you get to dive more. During the dives you'll be doing a lot of hands-on data collection: measuring water temperatures; surveying marine life; measuring coral. Also helping the reef to regenerate with plantings, visiting schools perhaps, and after schools maybe some beach clean-ups. It's very demand-driven."
Reefs in trouble
"Ko Phangan's reefs are suffering for several reasons. Rising water temperatures are causing depleted coral and species. Pesticides running into the water are also degrading the reefs, as are overfishing and irresponsible fishing – we see a lot of discarded nets on the coral. Bad diving practises are also damaging, but luckily growing awareness among dive schools is having an impact there."
At Responsible Travel, we think the best people to advise our travelers are often... other travelers. They always return from our tours with packing tips, weather reports, ideas about what to do – and opinions about what not to.

We have selected some of the most useful volunteering in Thailand travel advice that our guests have provided over the years to help you make the very most of your vacation – and the space inside your suitcase.

The pineapple picking was one of the best workouts I have ever had – be prepared to work to the point of physical exhaustion – saying that though I thoroughly enjoyed it...

– Penny Bell on an elephant conservation vacation in Thailand
"It was just a privilege to have the opportunity to work so closely with the elephants and their mahouts, who were also so much fun! The pineapple picking was one of the best workouts I have ever had – be prepared to work to the point of physical exhaustion – saying that though I thoroughly enjoyed it... Thick working gloves are a must for the pineapple picking and the dung collecting! Be prepared for lots of breaks during your working day which can sometimes be hard to fill as there is not a lot to do in the local vicinity. The living conditions are basic and sometimes dirty – no air con, hot showers or flushing loos here, so just be aware. You quickly get used to it though!... I met some great friends from all over the world whom I will never forget, and of course I cannot fail to mention the 3 mahouts, whom were so much fun and really made my trip complete." – Penny Bell on an elephant conservation vacation in Thailand

"The work can be messy and labourous at times, so prepare to be sweaty and dirty! I had a great time. The volunteer work could be tiring at times but if anything this added to the satifaction I took away from it. The fact that there were so many great volunteers and staff there with a similar mentality and motivation in life meant that, for me, there were always fun and interesting people to talk to. I'd love to be back there again – it was a wonderful experience." – Stuart Moncrieff on a Thailand wildlife sanctuary volunteering vacation

"Be prepared for early mornings, a full tiring day and to be in bed for 9pm. Physically exhausting the days you have to harvest the banana trees and you should be fairly strong and fairly fit. Be prepared for very basic accommodation and food... Wonderful unforgettable experience I feel privileged to have been on." – Anne Feltwell on an elephant conservation vacation in Thailand
More about Thailand volunteering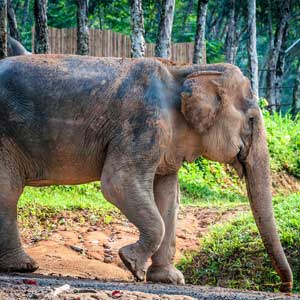 Our volunteering in Thailand guide shows you how you can make a positive difference on your travels.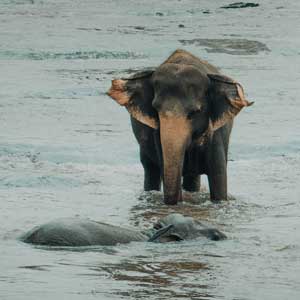 Elephant conservation volunteering in Thailand could be one of the most memorable vacations you ever take.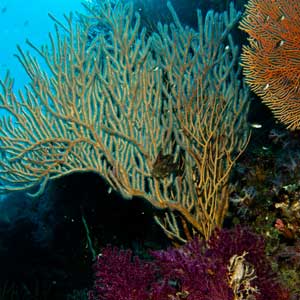 Marine conservation volunteering in Thailand focuses on depleted coral reefs.