Walking vacations in Wales guide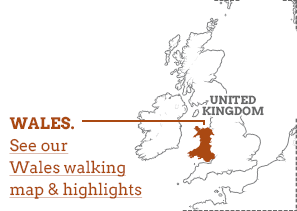 "Mountain leaders and walking guides typically live in the area, whether it's the Gower Coast, Brecon Beacons or Snowdonia, so they know the landscape like the back of their hands. They are local, they are passionate about what they do, and we think that knowledge, combined with the lovely accommodations you get around Wales, allows for some really unique experiences."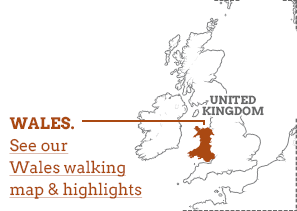 We often use a traditional old inn in the middle of nowhere. The chefs source lamb from over the road and they'll forage or grow their own veg when they can. – Claire Copeman, Adventure Tours UK

Claire Copeman, from our partner Adventure Tours UK, knows that when it comes to walking vacations in Wales, having local connections is all-important. Knowing the right trails for the weather is one thing. But it's another thing altogether to be able to identify what type of bird of prey is circling above you, where to find the ideal isolated spot for some meditation, and where to find fresh herbs to garnish your meal around the campfire.

Discover more in our walking vacations in Wales travel guide.
Our Wales Walking Vacations
Is a walking vacation in Wales for you?
Go on a walking vacation in Wales if…
… you want a marvellous mix of landscapes and challenges. There are walks here for all seasons and all abilities, including mountainous Snowdonia, sublime coast and rolling countryside.
… you're looking to reconnect with nature. Mindfulness and walking go hand in hand, and you can even walk with an expert mindfulness guide who will help you slow things right down and use your senses to fully immerse yourself in the landscape.
… you want a car-free vacation. Most of our Wales walking vacations can easily be reached by train, and once you're there you'll usually either have trails on your doorstep or be transported in a shared vehicle.
Don't  go on a walking vacation in Wales if…
… you're put off by the thought of a little wet weather. Wales is generally dry and sunny from late spring onwards, but you can never rule out a shower. Winter walking is usually wet and cold, though. …you're in a rush to get from A to B. The Welsh scenery is so lush it practically demands you take your time when walking – sandy beaches, ancient castles, beaches, lush green forest and snow-dusted peaks – pure bliss. … you don't want to dive into the local cuisine. These vacations will ensure you're fuelled by delicious Welsh food at every place you stay – in some cases sourced from the farm just across the road.
What do walking vacations in Wales entail?
For Claire Copeman, the great appeal of Wales is in its diversity. "I really think it's all about the huge variety of landscapes here. Wales lends itself brilliantly to exploring on foot. There are the epic mountains of Snowdonia, where you've got everything from gentle walks to technical challenges. There are the moorlands and heaths of North Wales where we're based. The Brecon Beacons are high but more accessible than Snowdonia, and you could walk for years on the coastal paths in Wales. There is walking for all abilities, all year round."
You will stay in small hotels and guest houses, sometimes several depending on the type of trip you book. And in the evenings you'll either be served homecooked meals, often with ingredients sourced from local suppliers, or be based close to nearby restaurants and pubs. Even before the Covid-19 pandemic, which has caused economic turmoil, around a quarter of people in Wales were
living in poverty
. Responsible walking vacations ensure that your stay supports locally owned businesses, and provides employment opportunities from hotel and restaurant staff, to guides.
You'll also find a variety of walking vacations in Wales. These aren't only guided or self guided trips, or center-based vacations or point-to-point routes. There are walking vacations where you'll gain a deeper appreciation for your surroundings
with a mindfulness coach accompanying you
. There are intense physical challenges like the
14 Peaks
in Snowdonia, long-distance walks along historic routes, and laid-back trips where you can take your time moseying along a clifftop path, always with one ear open for the telltale bark of a seal.
"There's so much wildlife here," says Claire. "Populations of red kites, the national bird, have stabilised with new breeding pairs and feeding stations. In Mid Wales you can't move for them, and they're now spreading further north; it's incredible to see them flying above you. Buzzards are all over the place too; all sorts of birds of prey.
"You might see meadow pippets on the moors darting in and out of heather. And black grouse, which are becoming quite rare, but one of the biggest breeding populations is not far from us in north-east Wales. Around spring, the males come out at dawn for their mating ritual (lekking). Snowdonia is famous for its mountain goats – you'll smell them before you see them – and there are wild ponies on the outskirts."
Small group or tailor made trips?
There's a great mix of guided small group walking vacations and tailor made self guided trips in Wales, as well as a scattering of accommodations where your hosts will be happy to suggest walks in the area.

A tailor made trip allows you to set your own dates, and although there will be daily walks, you'll have the flexibility to adjust them according to your fitness, so you can enjoy going at your own pace. In some cases, you may be able to upgrade to a higher standard of accommodation. Walking trails in Wales are typically well-marked, and you'll be provided with comprehensive maps and route notes.

Small group walking tours are on set dates, and group sizes will typically be limited to 12-15 participants so as not to overwhelm small communities. That also means groups can usually all be accommodated in the same hotel, making for sociable evenings. This kind of trip is popular with solo travelers looking for like-minded company, and means you'll never be short of motivation to get up that next hill.

The other clear benefit is the guide(s), who will usually live in the area and be a fount of knowledge on local culture, history and nature. If you're walking in Snowdonia, they may well be qualified mountain leaders, while in other parts of North Wales you might be accompanied by an expert in mindful walking.
Centre-based or long-distance routes?
Besides choosing whether you want to join a small group tour or tailor made trip, you can also select from either center-based or point-to-point walking vacations in Wales. If you're based in one place, such as the magnificent Pembrokeshire Coast or Snowdonia, then you'll head out for daily walks and return to the same accommodation every afternoon. It means less packing and unpacking, and there's nothing stopping you if you decide you'd prefer not to take part in one day's walk.

Point-to-point trips, such as the historic Offa's Dyke Path, see you tackling a different stage every day, and staying in a different accommodation every evening. However, your luggage will be transported ahead of you, so you can get by with a small daypack. Just don't forget your toothbrush.
How fit do I need to be?
You don't need crampons and calves like cricket balls for these vacations. Anyone with a reasonable degree of fitness, who walks on a fairly regular basis, should be fine. In Anglesey or the Gower Peninsula, you'll typically be on the trail for around five hours a day, going at a relaxed pace on generally flat terrain with a few steep bits.

Our Snowdonia walking vacations offer more challenge, but shouldn't scare off any active walkers. If you fancy tackling the 14 Peaks, though, you will want to put in a few weeks of practice beforehand even if it is slowed down from 24 hours to a much more manageable three days.
Getting there and getting around
Walking vacations tend to have a very small carbon footprint, especially when you consider that many of our partners work with accommodations that source their food as locally as possible. You can easily reach most of these trips by train, with pick-ups and drop-offs from stations often arranged. Where your walk starts some distance from your accommodation, you will normally be taken to the trailhead in a shared minibus to minimise the need for transfers. So there's every excuse to leave the car at home.
Pick your own adventure
As any regular walker knows, simply putting one foot in front of the other for a few hours among beautiful landscapes is a pleasure in itself. But our Wales walking vacations are as diverse as the scenery. You could scale the 14 (actually 15, but who's counting?) Peaks of Snowdonia, tick off the kilometres on a classic long-distance route, or pick up some handy foraging and bushcraft skills.

For those seeking a deeper connection with the landscapes they're walking through, you can join a mindfulness coach who will encourage you to use all of your senses to slow down and appreciate the sights, smells and sounds of nature.
Our top Wales Walking Vacation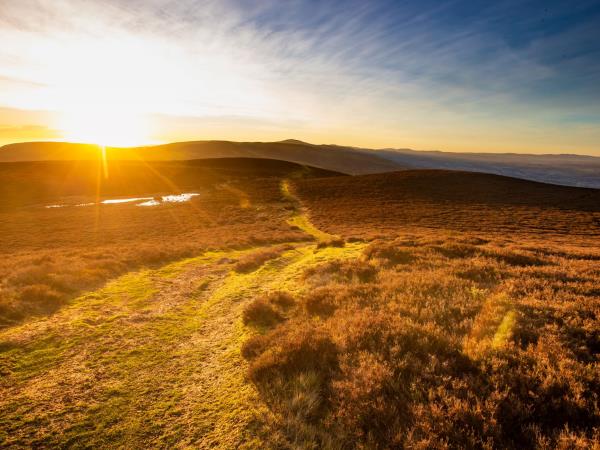 Guided winter walking weekend with a mindfulness coach
From
£

365
3 days
ex flights
Small group travel:
2023: 29 Sep, 20 Oct
2024: 23 Feb
If you'd like to chat about Wales Walking or need help finding a vacation to suit you we're very happy to help.

Best time to go on a Wales walking vacation
Although popular trails in locations such as Snowdonia, Pembrokeshire and Anglesey will be more crowded, the best time to go on a Wales walking vacation is certainly summer, as far as the weather goes. Our Wales walking vacations generally take place between March and October. You don't really want to hike during the winter as it's too cold, wet and windy to be truly enjoyable.

Spring and summer are the ideal months for wildlife watching, especially in coastal areas, and as the days are longer you can really enjoy taking your time. Later into autumn, Wales – Snowdonia particularly – see a lot of rainfall. But the fiery colours of the foliage are spectacular and the number of other walkers will be dropping off, so September onwards is worth considering if you're happy with the odd shower.

Many people in the hospitality sector rely on income from the main tourism season to see them through the rest of the year when visitor numbers are much sparser. So if you can travel slightly out of the main season, such as early spring or late autumn, then not only will you enjoy fewer crowds in the most popular locations, but you'll be helping sustain small businesses and employment in the area.
More about Wales Walking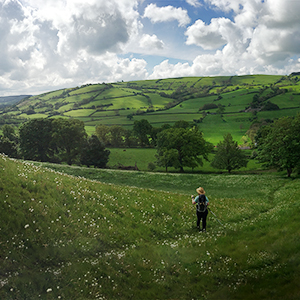 Our map and highlights show you where to go walking in Wales and what you can expect once you get there.
Snowdonia is not a walk in any old park - this is the realm of the country's highest peak after all.