If you enjoy early morning jogs, bike rides or regular swimming sessions, then a fitness vacation might well be for you. Fitness vacations are a way to feel good about yourself. This is not the type of vacation where you're going to be pushing yourself to the limits; there aren't any races. Rather, you'll be encouraged to try new activities or develop your technique in your chosen discipline. Trail running, lake swimming and training for a triathlon or marathon may be your focus. Experienced and qualified instructors are on hand to help you, not shout at you, and listening to their advice is as essential as listening to your own body. Yes, you'll be challenged and no, you won't be lazing by the pool all day – but that's what makes a fitness vacation such an enjoyable and immersive experience.
What do fitness vacations involve?
Fitness vacations can offer a mix of daily activities, or focus on just one discipline: trail running in the Spanish Pyrenees for instance, or lake swimming in Slovenia. Retreats range from converted farmhouses in the mountains to purpose built luxury retreats by the coast. You'll join a small group of likeminded guests in Spain or Slovenia, usually a maximum of 16 people. Facilities vary, with anything from swimming pools, gyms and saunas to communal lounges, dining areas and consultation suites. These vacations typically provide healthy meals on a full board basis. You're free to come and go as you please – and are definitely encouraged to go exploring in the gorgeous, surrounding countryside.

"Beautiful house, great location and hospitality. Our hosts Simon and Lucy went the extra mile to ensure the vacation lived up to expectations and more… Expert guiding by a real running enthusiast made the difference. Pacing the group meant we all got the most out of the experience." – Kate Evan-Jones in a review of her trail running vacation in the Spanish Pyrenees
Mixed groups & activities
Depending on guests' abilities and sometimes on the activities, groups might be split up to ensure no one gets left behind. Instructors and guides are experts in getting the best out of everyone without pushing them beyond their limits. These breaks are great for solo travelers too, as there is no extra charge if you share a twin room with a guest of the same sex. In luxury fitness retreats, everyone can look forward to sole occupancy in a spacious double suite. Couples or friends, with varying fitness abilities, can head off to enjoy different activities before meeting up for lunch and evening meals. For example, on a trail running vacation which also offers guided hiking, both runner and walker can enjoy the experience in their own time and at their own pace.

Some fitness vacations focus on just one particular activity, such as outdoor swimming, cycling or trail running. These have much more fixed itineraries, with a run or swim planned each day. Likewise, with yoga and Pilates retreats, your days will revolve around set sessions – although you are always free to skip classes if you'd prefer to explore, swim or indulge in a spa treatment, for example.
Multi activity fitness vacations are more flexible. Personal trainers will meet with you on arrival to discuss what you want from the break, and compile your own training plan, with everything from yoga to beach circuit training, meditation to hardcore HIIT sessions. Of course, free time can be factored in for sunbathing, reading by the pool or sweating it out in a sauna.

"Completing the Lake Bled swim was just amazing. I'm not the greatest swimmer and the youngsters finished almost half an hour before me but the feeling you get when you finish the swim is out of this world. I walked back to the rendezvous with the biggest smile ever on my face. Everyone is just so good and no one gets cross if you are slow. All everyone wants, vacationmakers and staff, is that you have a really enjoyable swim." – Craig Thomson in a review of his lake swimming vacation in Slovenia
Do I have to be super fit?
No way! Many of our fitness vacations are suitable for people of all levels and abilities; others are specifically tailored for absolute beginners. These are fitness vacations, not boot camps or athletes' retreats, so they have a more laid back approach to fitness. Nothing is compulsory, although it's always worth trying to push yourself out of your comfort zone, just a little, to really make the most of your break and the expert coaching. And multi activity fitness vacations are the perfect space to try out something you've never done before, from HIIT (high intensity interval training) and Pilates to surfing or lake swimming. If you don't enjoy it, there's no need to try again. And if you do, then you've found a healthy and fun new hobby.
Will there be a bar?
There might well be a small bar if you're staying at a locally owned hotel in Slovenia or at a cosy eco lodge in Wales for example, but try to refrain from too many late nights so you can make the most of early starts and all day activities.

Many fitness vacations include all meals to ensure a diet which is healthy, filling and nutritious. Food portions are more than generous to keep you going throughout fitness sessions. Some fitness retreats are vegetarian (with various dietary requirements catered for), and while some serve up wine with dinner, others do not provide caffeine or alcohol; if you're a coffee fiend consider cutting down a few days before departure to avoid going cold turkey once you arrive.
Our top Wellness Vacation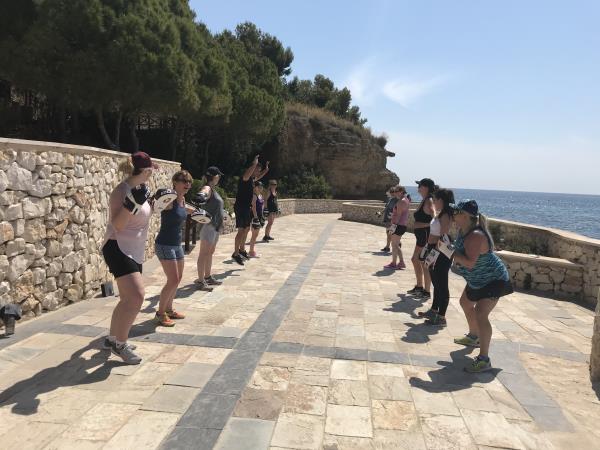 Luxury holistic health fitness & wellness retreat Spain
From
£

1295

to

£

1495
7 days
ex flights
Small group travel:
2023: 14 Jun, 21 Jun, 6 Sep, 20 Sep, 18 Oct, 25 Oct
If you'd like to chat about Wellness or need help finding a vacation to suit you we're very happy to help.

Where can I keep fit on vacation?
Spain
Spain is a fantastic location for a fitness vacation. The climate, the variety of landscapes and a Mediterranean mezze at mealtimes all make circuit training, yoga classes and high intensity workouts far easier. From the Costa Blanca to Pyrenean peaks and the Sierra Nevada, there's nowhere quite like Spain when it comes to keeping fit. Trail running, triathlon training, mountain biking and Pilates sessions are all on offer.
Slovenia
Tucked in between the Alps and the Mediterranean, Slovenia's glacial lakes are perfect for a swimming vacation surrounded by pure nature. Triglav National Park, in particular, offers clear lakes without motorised boats, suitable for swimmers of all abilities, including absolute beginners. Daily swims average 4km, with plenty of time to take in the nearby waterfalls, Julian Alps and clifftop castles.
Pembrokeshire, Wales
You don't always need to head to exotic destinations to take part in adventurous activities. A long weekend in north Pembrokeshire offers wild coastline, surfing, Atlantic swimming, coasteering and woodland running trails. Based in a cosy ecolodge, you can take dance fitness classes or try yoga on the beach, before a well earned massage and dinner.
Best time to go on a fitness vacation
The majority of fitness vacations have fixed departure dates and can be seasonal in order to avoid the temperature extremes. Spain, especially, sizzles in summer but in
May
and
June
or
September
and
October
you'll find perfect conditions for keeping fit outdoors. Wild swimming in Slovenia, on the other hand, is much more enjoyable in
July
and
August
. If you've ever been in a glacial lake or the Atlantic in
April
, you'll understand why. Find out more in our dedicated
fitness vacations travel guide
.