Luxury wellness vacations
The term 'luxury' can often be in the eye of the beholder. For some, it's silk sheets, five stars and champagne. For others it's finding those precious five minutes of peace and quiet for 'me time'. A luxury is something out of the ordinary; it can be slightly indulgent; it's that certain something that makes us feel special or ever so slightly spoilt. It's definitely not something that we'd do every day – unless we're on vacation, of course.

Luxury wellness vacations let you give your body the space, respect and personal attention that it deserves. They can place you in a yoga and mindfulness retreat in Morocco's High Atlas Mountains or an alkaline detox and wellness retreat close to the Spanish coast. You might find yourself somewhere even more exotic: Sri Lanka, Bali or the Maldives, for example. Wellbeing activities, healthy meals, learning, listening, relaxing, exercising, socialising, meditating; these are all indulgences that can be sorely missing from our day to day lives at home. On a luxury wellness vacation, these things are the norm, not the exception.
Most retreats bring together small groups of likeminded wellness seekers on fixed departure dates. Others offer tailor made options for anyone looking to escape and indulge whenever they can find the time. Guests might be recuperating from injury, illness or surgery, or simply looking to rest and revive in a luxury setting. Solo travelers are always welcome; one of our luxury wellness retreats in Spain offers sole occupancy of spacious double suites with a private balcony or terrace as standard.

Doctors, nutritionists, instructors and therapists are on hand throughout the experience, and one-to-one consultations at the start of the vacation create a personalised wellness programme that's right for you.

Some luxury wellness vacations can be tailor made for couples looking to relax and recharge together. Spa retreats and boutique hotels in Sri Lanka or modern beach bedrooms at a yoga retreat in the Maldives are just a couple of luxury locations to send spirits soaring.
What does a luxury wellness
vacation involve?
You'll be met at the airport and transferred to your luxury retreat for a welcome meeting. Here you'll meet other guests, your hosts and maybe some of the activity instructors. You'll find out more about daily exercise and wellbeing classes. Yoga, Pilates and meditation are usually amongst the activities on offer; mixed ability classes are the norm, so beginners are welcome.

Morning and evening classes allow your body to get used to positions and postures that it might never have encountered before; slow and steady is definitely the mindset. Instructors ensure that everyone from beginners to experienced practitioners get the most from each session. It's entirely up to you how much or how little you wish to do. Staying in child's pose for an entire 90min yoga class is always an option, as is having a lie in or watching the sunrise from the comfort of your private balcony. Yoga mats, Pilates equipment and meditation pillows are provided.

In addition to daily classes you'll also be invited to take part in guided walks in surrounding mountains or along the coast. Breathing in clean alpine air or salty sea breezes will energise tired minds and soothe a stressed out soul.
Three hearty and nutritious meals a day give your body all the fuel you need to join in or relax without feeling constantly hungry. Nutrition workshops are available at some retreats to help you learn how what you eat can affect your state of mind. Some retreats will offer beauty and holistic therapy classes, or neuro-linguistic sessions to unlock the connection between your conscious and unconscious mind.

It's up to you how much and how little you want to achieve during week away; this freedom of choice might even be considered a luxury in itself.

"Remember you can dip in and out of any activity; we did yoga pre-breakfast, Pilates pre-dinner and a range of "work out" sessions and walks in between. You can fill your time with treatments, I didn't book any and enjoyed reading by the pool and swimming in the sea. You can also have quiet time on your own or chat with the others in your group – we were 9 women, all independent travelers."
– Emily Prince in a review of her luxury alkaline detox and wellness retreat in Spain
Our top Wellness Vacation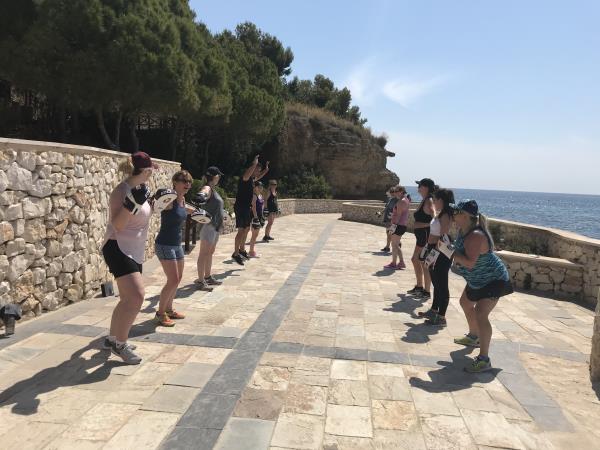 Luxury holistic health fitness & wellness retreat Spain
From
£

1295

to

£

1495
7 days
ex flights
Small group travel:
2023: 14 Jun, 21 Jun, 6 Sep, 20 Sep, 4 Oct, 18 Oct, 25 Oct
If you'd like to chat about Wellness or need help finding a vacation to suit you we're very happy to help.

Luxury wellness vacation ideas
Yoga in Morocco
Slip into a mountain mindset in Morocco, as you disappear for a week of yoga and meditation in the High Atlas. This small group vacation encourages guests to indulge in traditional Berber hospitality at a kasbah in the foothills of North Africa's highest mountain, Jebel Toubkal. Panoramic views, guided walks and indoor/outdoor space to practise yoga allow this luxury wellness vacation to ease your mind, body and soul in some superb natural settings.
Wellness retreat in Spain
The chance to have your own spacious suite and balcony/terrace is a luxury that few other wellness vacations are able to match. Mealtimes are another highlight of this vacation with delicious dishes helping you to feel happy and healthy. Daily yoga and Pilates sessions combine with wellbeing workshops, spa and gym facilities and swimming pools, to create a luxury retreat that'll send you home a different person.
Spa retreat in the Maldives
Staying on one of the local islands in the northern Maldives is a truly exotic luxury escape, with spa and wellness facilities and spacious ocean view rooms providing ample excuses to indulge in the Indian Ocean. A full range of yoga, massage and holistic therapies combined with conservation activities, spa treatments and diving lessons, ensure this tailor made treat has got luxury wellness running right through it.
Wildlife & spa vacation in Sri Lanka
From a boutique spa hotel in Colombo to a luxury safari lodge in Yala National Park, watching wildlife and feeling pampered is what a luxury wellness vacation in Sri Lanka is all about. With an English-speaking local driver you can explore the island from top to tail; these two-week trips begin with yoga classes at an award winning holistic retreat in Kandy, before finishing up at a luxury wellness break on the beach in Tangalle.