The trouble with doing a Pilates class at your gym is that once your class has finished, you're back in the real world and heading off to work, or back for household chores.

Now, imagine being able to practise Pilates every day with a professional instructor. How about somewhere nice and sunny like the Pelion Peninsula in Greece or Spain's Costa Blanca? What better way to perfect your postures and maintain those good vibrations, even after you've finished a session? On a Pilates vacation you can switch off from the real world and let your mind and body be transported into an inspirational environment where new friends, new activities and a new you can be found on a daily basis.
Healthy food, the freedom to roam and knowledgeable hosts help to turn a Pilates retreat into a haven, and these trips will appeal to those looking for a flexible approach to exercise and free time. Dip in and dip out of Pilates, meditation and restorative breathing classes as readily as you would do the ocean; read a book by the pool; visit local villages; stroll to the beach. This is your time to be free as you let Pilates peel back your outer layers and strengthen your inner core. Find out more in our
Pilates vacations guide
.
Tell me more about Pilates
Developed by German fitness instructor, Joseph Pilates, in the early 20th century, Pilates is a system of movements designed to strengthen core muscles for better balance, posture and muscle tone. Breathing techniques and focusing the mind allow muscles to gently stretch and strengthen. Classes are small – usually no more than 10 people – and each session generally lasts 60 or 90 minutes.

Pilates is performed on mats and may also incorporate equipment such as hand weights, foam rollers, gym balls, pulleys and stretch bands. On these vacations, yoga and meditation classes may also be on offer; all three complementary disciplines encourage you to take control of your mind in order to stretch your body and strengthen core muscles.

The Pilates teachers on these retreats are qualified to an internationally recognised, professional standard. They often live locally and lead daily group sessions and one-to-one classes. They will modify classes to meet the level of the group as well as developing individuals at a suitable pace. These are not women-only retreats, and there maybe male and female instructors, staff and therapists.
What does a Pilates vacation entail?
Pilates vacations emphasise healthy eating and exercise to keep you healthy, inside and out, with coastal settings offering sunshine and sea breezes to boost the natural sense of calm. Morning meditation followed by daily Pilates sessions let you embark on your own personal journey of physicality and inner peace with Tai-Chi, Qi-gong, yoga and core training classes also helping you explore the relationship between body and mind. Pilates vacations do not follow a rigid, boot camp-style agenda; they introduce you to a variety of optional disciplines in a relaxing setting for socialising or seclusion. Exercise classes are just as readily available as sunbathing, swimming and walking in surrounding scenery. Pilates classes, exercise workshops, meditation sessions, optional therapies and delicious healthy food are all included; it's up to you how much or how little effort you'd like to commit.
You can sign up for additional treatments in your own time, from therapies and massage treatments to exercise classes; and professional dieticians, coaches and healthcare experts ensure you progress at your own pace. Private luxury suites and shared twin rooms offer a balance between social interaction and privacy; some retreats offer solo travelers their own room at no extra cost, at others there is a single supplement if you don't wish to share with another guest of the same sex.

Pippa Dale-Harris is the owner of our Pilates vacation supplier, Dolphins Leap Wellness Retreat in Greece: "The Pilates component makes up a third of our wellness programme on our retreats and is tailored to all levels of ability. Guests receive early morning meditation on the beach followed by a morning gymnastic Pilates session and then evening Qi-gong and sound bowl therapy."
What will I be eating?
Veggies, pescatarians, vegans and conscientious carnivores (quality over quantity) will find nutritious meals created and presented to a very high standard. These trips are full board, and ensure you have plenty of energy for exercise as well as encouraging healthy eating habits. Wine is often served with evening meals.
Who will I meet on a Pilates vacation?
Our Pilates vacations are suitable for people new to Pilates, experienced practitioners, and anyone who would like to take a more holistic approach to wellness and relaxation. Groups are small – no more than 10 to 16 guests – and daily classes are adapted to meet the expectations and needs of individuals as well as the group as a whole.

Lorraine is head Pilates teacher for our supplier, the Ultimate Retreat Company, at their wellbeing retreat in Spain: "The type of people who attend the vacation is very mixed, from the high powered business executive who needs some down time to busy mums. It's for everyone really as we all need time to stop and breathe."
Our top Wellness Vacation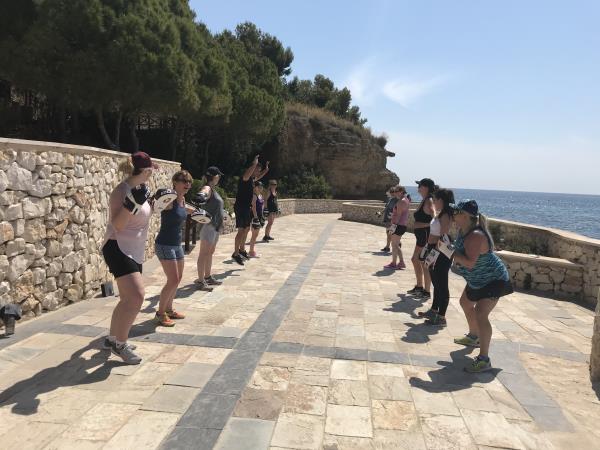 Luxury holistic health fitness & wellness retreat Spain
From
£

1295

to

£

1595
7 days
ex flights
Small group travel:
2023: 25 Oct
2024: 21 Feb, 13 Mar, 3 Apr, 17 Apr, 1 May, 22 May, 11 Sep, 16 Oct, 23 Oct, 6 Nov
If you'd like to chat about Wellness or need help finding a vacation to suit you we're very happy to help.

Where to go on a Pilates vacation
Pilates vacations take place in purpose built fitness and wellbeing retreats in Greece and Spain. Pilates, yoga and meditation classes are taught on sun terraces overlooking the ocean, under shaded pavilions, or in studios.
Costa Blanca, Spain
There's a wonderfully warm microclimate in the mountainous region of Spain's Costa Blanca which is why purpose built Pilates and wellbeing retreats, with outdoor pools and nearby beaches, work so well. An hour north of Alicante, you'll find all you need to rest and revive with hiking and biking tracks in the surrounding countryside just as accessible as on-site spa, gym, Jacuzzi, sauna and therapy facilities.
Pelion Peninsula, Greece
Allow the warm waters of the Aegean to open up your senses on a Pilates vacation on the Pelion Peninsula. Meditating, posturing and breathing in harmony with the ocean is like a serene serenade which is why booking into a boutique retreat, on the central-east coast of Greece, works on so many levels. Stretch at sunrise and sunset, just two minutes from the beach.