Our top 8 wildlife
photography destinations
Wildlife photography vacations are carefully designed so that you can develop your skills with a camera in the company of likeminded travelers. Itineraries are curated with the assistance of local guides to ensure that your time is well-spent and you have as many opportunities as possible to see the animals in their natural habitats. The one essential for wildlife photography trips is, of course, patience. Wildlife documentary makers can often spend months, even years, waiting for the perfect moment. You may need to spend several hours sitting silently in a hide for your chance to see wolverines in Finland, trek for several hours to find the mountain gorillas in Uganda, and endure very chilly temperatures out on deck in the Antarctic waiting for a whale to breach. But of course, if you do manage to get a fantastic shot, it's worth every single second.
Our Wildlife photography Vacations
Alaska
95 percent of brown bears in the United States live in Alaska. There is a substantial population in Lake Clark National Park, just southwest of the capital, Anchorage and so remote that it can only be reached by boat or small plane. A volcanic backdrop, and waterways flush with salmon, create a dynamic environment for wildlife photography, especially in the summer when there are often a lot of cute cubs around.
Antarctica
Trips aboard expedition vessels typically depart from Patagonia with some departures accompanied by TV cameramen or 'celebrity' photographers such as Chris Packham and Mark Carwardine. It's worth researching who will be joining your trip to make your decision. Zodiac boats take you on snowshoeing excursions, while evenings might see you attending fascinating onboard lectures. Every ship offers viewpoints on deck from where you might see whales, penguins and huge seal colonies.
Borneo
There are no roads in Borneo's Tanjung Puting National Park, so you'll be traveling by boat and on foot, staying in rainforest lodges and always with a close eye on the trees. Over 4,000 of the world's few remaining orangutans live in this biodiversity hotspot, along with many species of reptiles, birds and mammals. You'll often base yourselves around feeding stations, for the best chance of getting a memorable shot.
Finland
Wolverines have an almost mythical reputation, so rare is it to see them in the wild. But we have a tour operator with a secret, one that takes you to a remote woodland cabin where baiting, an admittedly controversial practise, has led to daily visits from wolverines and a very good chance of seeing them from nearby hides. Camera traps, thermal imaging and night vision may all be employed but much of the time you'll be either in a hide or a vehicle, with little walking involved.
India
The diverse habitats of Kanha National Park in Madhya Pradesh, composed of grasslands, forests and bamboo bush, are home to around 100 of India's tigers. You'll spend most of your time out on safari, so the vacations can be pretty full on. Naturalist guides here have led internationally renowned photographers, so you're in good company. Kanha can be easily combined with Keoladeo National Park for bird watching, too.
Madagascar
Madagascar's national parks are famed for their incredible biodiversity. There are over 33 species of lemur on the island, all of them sadly endangered, and while seeking them out you may also find colourful butterflies and a host of reptiles including toothy crocodiles. You'll practice twilight and nocturnal shooting, and there will also be the opportunity to take portraits and streetscapes in cities such as Antsirabe.
South Africa
Kruger National Park is a legend that needs no introduction, but we'll give it one anyway. One of the most beloved parks in all of Africa, and known around the world, Kruger is home to the Big Five: lion, elephant, black rhino, leopard and Cape buffalo. Will you catch sight of them all on a wildlife photography trip here? Who's to say, but your chances are greatly increased traveling with an experienced, expert guide.
Uganda
Did you know mountain gorillas sleep in nests? If you don't believe us, then join a wildlife photography vacation to Bwindi Impenetrable National Park and see for yourself. Porters carry your kit, but you need to be in decent physical shape as some trekking is necessary – man's closest cousin changes his sleeping location every night. A steady hand is useful – it's not unknown for gorillas to take an interest in their visitors and come up for a closer look.
Our top Wildlife photography Vacation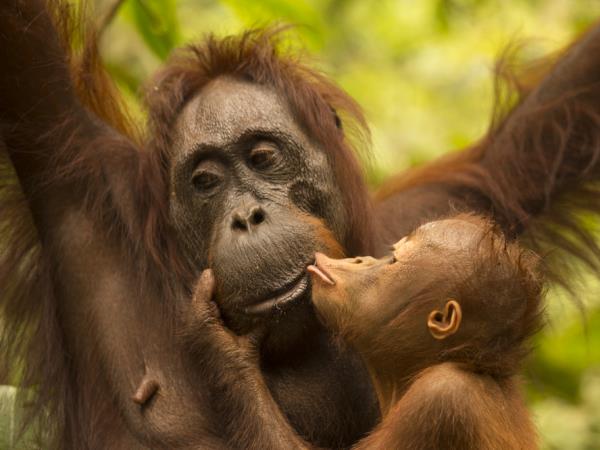 Develop your photography skills in Borneo
From
£

2375

to

£

2565
10 days
ex flights
Small group travel:
2023: 21 Oct, 6 Nov
If you'd like to chat about Wildlife photography or need help finding a vacation to suit you we're very happy to help.

Wildlife photography vacations advice
Ian Wood from our supplier, A Good Place:
Support
"People get as much photography support as they need to make sure everything is optimised to get the best photos. My Uganda trip covers so much other wildlife including chimpanzees, tree climbing lions and elephants… we visit the mountain gorillas towards the end of these trips so everyone is up to speed with their photography before the all important gorilla encounter. We get a general mix from total beginners to advanced photographers, and of course plenty of partners without cameras come and are made very welcome ... the eyes are one of the best lenses for wildlife!"
Gorilla photography
"A degree of fitness is needed as you will need to walk for up to about three hours to find them, but we have the whole day available so we go at a slow pace to enjoy this stunningly beautiful forest. They may be sitting there eating or sometimes slowly on the move so you follow them. If gorillas approach you it's important not to move and stay quiet and still. It's never nerve wracking… just a very humbling experience. Most people say that their mountain gorilla encounter is one of their best ever wildlife experiences. Porters are available for every mountain gorilla trek and I always encourage people to hire one for the day. These are all people who live in communities near to the forest and these jobs are a positive source of local income. Usually their job is to carry your camera bag but it is possible to arrange for them to help people who cannot walk so well."
Photographing orangutans
"The walking is not difficult at all. Lots of wildlife viewing is actually done from our boat on the river. I've even had one lady who was in her late eighties join me a few years ago. It's probably one of the most relaxed wildlife viewing opportunities. We spend hours with orangutans every day on this trip watching them at close quarters. During the week people can expect to see lots of behaviours including feeding, playing, breastfeeding and nest making… we always see lots of baby orangutans on this trip."
Marleen Lammers from our supplier, Penda Photo Tours:
Bear photography
"June to September is the best time for bear photography in Alaska. In June and July, the bears will be eating the sedge grasses and digging for clams when the tide goes out. Come September, they will be eating fish. In different parts of Alaska the salmon runs happen at different times, so bears in other areas will be eating salmon much earlier than September."
Tutoring
"Throughout the trip, travelers will be offered individual photography tutoring. This will happen both while at the accommodation, during group sessions, and while we're out photographing. The focus is to help each person improve their skills at their individual level, which is made possible by the small group size we'll be traveling in."
Game viewing
"At our lodges in South Africa and Botswana, we'll be right in the middle of a game reserve, surrounded by roaming animals. So while the game drives are obviously a highlight photographically, we'll expect to be treated to some game viewing from our own rooms or decks."
Walking safaris
"While game drives in Botswana and South Africa let you get much closer to the Big Five given the protection of the vehicle, walking safaris offer photographic opportunities you wouldn't get otherwise. You can, for instance, photograph some smaller animals like chameleons, snakes, or insects, and even get your macro lens out. Walking is a great way of capturing landscapes, too, as you can move to exactly the right spot for the best angle. And in Tuli Block in particular, there are also some specific opportunities that are only accessible on foot, like a hyena den that lets you get exceptionally close to these animals, and a black eagle nest on top of a rock. Moreover, there's something exciting and liberating about walking through the African bush; it lets you experience its smells and sounds in a fuller way. Without the noise and movement of a vehicle, you can truly disappear in the landscape"
Tips from our vacation reviews
At Responsible Travel, we think the best people to advise our travelers are often... other travelers. They always return from our tours with packing tips, weather reports, ideas about what to do – and opinions about what not to.

We have selected some of the most useful wildlife photography vacations travel tips that our guests have provided over the years to help you make the very most of your vacation – and the space inside your camera bag.

We had the privilege of seeing orang-utans, and a whole host of other wildlife, up close and personal on a daily basis. A wealth of magical moments that I shall treasure forever!

"We had the privilege of seeing orang-utans, and a whole host of other wildlife, up close and personal on a daily basis. A wealth of magical moments that I shall treasure forever! There were only 7 of us on the trip, so we got the chance to get to know each other really quickly, so it more like you were sharing the experience with friends after a few days together which added to the experience! Get the camera out and start practising for a few weeks before the trip so you're ready to go! Pack lots of long sleeved tops (the mosis are a little bothersome!) ... A full immersion into the Bornean wilderness, its wildlife, beautiful scenery and an introduction to a really incredible wildlife photographer!" – Nikki Biggs on an orangutan photography vacation in Borneo

"It is hot and humid so do bring tropical clothing. Use the laundry service at the lodge as it is relatively cheap and fast so you can pack light and only bring 2-3 days changes of clothes. The walking isn't that demanding but the forest paths can be uneven so bring good, supportive walking shoes. Food is really good both on the boat and at the lodge but if you do have any special requirements then say so before you go. Bring spare batteries for your camera as you will take a lot of pictures! Whether you are a first time photographer or experienced photographer you will love this vacation and will come back with great photos and memories, as well as having learned a lot. If you are not a photographer you would still love this trip." – Mark Edwards on an orangutan photography vacation in Borneo

(I saw) a total of 5 different wolverines up close in a few hours - amazing when there are only about 150 in the whole country.

"Please remember this is India and not Western Europe or North America... things can happen at a different speed to what you are used to!! Please be aware that it can be very cold during the early morning game drives so take warm clothes (December / January very cold, March just cold). The tipping of the national park guides and mahouts is customary especially if and when a tiger is sighted. Dust can be an issue for camera equipment especially digital SLR's so make sure you take something to cover your camera and cleaning materials" – Stewart Holt on a wildlife photography vacation in India

"Try to be familiar with the basics of your camera so you can really improve and move to the next level and make the most of the guidance given - don't worry whether you have basic point and shoot or huge DSLR - it doesn't matter - you will be still improve and feel you had an amazing time." – Suzanne Lamb on an orangutan photography vacation in Borneo

"(I saw) a total of 5 different wolverines up close in a few hours - amazing when there are only about 150 in the whole country. Take plenty of memory cards because you'll need them if you are as lucky as I was." – Christine Cheney on a wolverine photography vacation in Finland
More about Wildlife photography