Wildlife photography travel guide
Imagine how sharp your photography skills could become following a vacation where you receive expert tutorials or one-on-one sessions from a professional. You'd get advice on problem-solving and post production, or join group workshops covering everything from long exposures to composition and ethical conduct – in theory and in the field.

The art of capturing a spectacular image is often as much down to chance as it is to skill, but our wildlife photography vacations help you make your own luck.

While you may be in search of one particular animal you're bound to capture many others in the viewfinder beyond your main interest. Beavers, brown bears and flying squirrels turn up in Finland; gibbons, crocodiles and dozens of bird species can be seen in Borneo while you look for orangutans; and in India you may encounter swamp deer, monkeys, even the elusive leopard. Find out more in our wildlife photography vacations guide.
Our Wildlife photography Vacations
What do wildlife photography vacations involve?
Do I need to be an experienced photographer?
Not at all. The only qualification for this kind of trip is having a camera with at least some manual settings. Obviously it will be helpful if you already know your way around your camera before departure, but these trips are just as suitable for those new to wildlife photography as they are to practised old hands.

Non-photographers can get a lot from this trip too, so while solo travelers are common, many people choose to bring along a friend or partner who will simply enjoy the vacation without looking through a viewfinder once.
How do we find the wildlife?
This is where the magic comes in. Trips are led by accomplished photographers, but they are accompanied by professional, local guides that know the best places – and times – to get a great shot. In Finland, hides are used, whereas in Antarctica small RIB boats are launched from the main cruise vessel for shore excursions. Expert tuition + local knowledge = a winning combination. Depending on the destination, these tours might also be accompanied by behavioural experts, zoologists, naturalists or dedicated park rangers, all focused on helping you get the shot of a lifetime.

Some trips, such as in Madagascar, Uganda and Borneo, involve trekking which can be fairly laborious especially in hot or wet weather. You don't need to be super fit but a decent level of physical fitness will be to your advantage, and some trips will also feature early starts and late finishes, especially where game drives are involved.
Tailor made or small group tour?
While the majority of wildlife photography vacations are small group tours (a great way to compare notes, share tips with likeminded fellow travelers and keep costs down), some, such as photographing tigers in India or wolverines in Finland, lend themselves well to tailor made itineraries. If you are able to shoulder the extra cost you can even opt for a solo tour, allowing you to benefit hugely from one-on-one tuition throughout.

Antarctic expedition ships, on the other hand, can carry upwards of 100 passengers. Yet the wealth of different activities included, and the fact that experienced photographers make themselves available throughout the voyage to pass on their knowledge, means that you should still find such a cruise immensely satisfying.
Technical tips
Keep in mind that in some places, such as Borneo, Madagascar or Uganda, the electricity supply can be unreliable. Batteries can die quickly in cold environments such as Antarctica and Finland. Bringing along extra, charged, batteries, can help you cope with unexpected problems. Tripods aren't always practical, but a photographer's beanbag is a good way to stabilise cameras on tree branches or window ledges (particularly if shooting from a vehicle), and in cold weather a pair of photographers' gloves may come in handy.

If you have more than one camera body, consider bringing one with a standard telephoto lens and another with a wider or mid-range zoom, thereby reducing the need to swap lenses in humid or dusty environments. Bring your laptop too if you can, if you want to improve your post-production skills and back up files as you go.
Depending on the animal you're tracking you will probably want different lenses; a wider angle is good for the gorillas of Uganda as you'll be at close range, while you will probably want a zoom for seeing the Big Five in Botswana and South Africa, or orangutans high up in the trees. Our photography vacations guide has a
useful list of equipment
to pack. Another useful tip is, before you book, to research who will be leading the trip so that you can see some of their work and decide if they're the photographer for you.
As many of these trips take place in quite extreme environments it's vital to protect your equipment from the elements: heat, humidity, snow, dust – and of course you'll want to make sure it is fully insured. Ensure you carry as much as you can in your hand luggage to reduce the risk of it being damaged or going missing – charge your batteries as you may need to prove at security that equipment is working. Suppliers can provide priceless advice on secure packing if this is something you're not used to.
Ian Wood from our supplier, A Good Place, on what lenses to bring:
"The best lens for mountain gorilla photography is without doubt a 70-200mm F2.8 which gives the perfect focal range and is also great in lower light in the forest. Having said that a wider angle lens can also be suitable as some encounters will be very close. There's no problem with humidity for mountain gorillas as these forests are high. In Borneo for orangutans the humidity is nearly 100 percent and I recommend people leave their cameras in their bag each night with some silica gel."
Our top Wildlife photography Vacation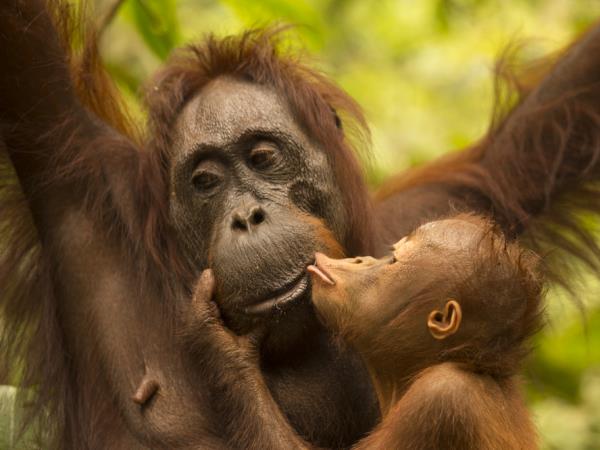 Develop your photography skills in Borneo
From
£

2375

to

£

2565
10 days
ex flights
Small group travel:
2024: 22 Oct, 7 Nov
If you'd like to chat about Wildlife photography or need help finding a vacation to suit you we're very happy to help.

Best time to go on a wildlife photography vacation

To date, efforts to persuade wildlife to congregate according to our vacations have proved stubbornly unsuccessful. For the time being then it's best to arrange your trip to coincide with their schedules.

With wildlife calling all the shots, it's vital to know when your best chances are of encountering different animals. Game drives in South Africa and Botswana for instance operate all year round, but during the wet season the vegetation becomes dense and finding the animals gets a little trickier. Wolverines in Finland can also be photographed at any time, but during the summer months sightings are more prolific, and you may also see young kits. Different seasons also pose different challenges for wildlife viewing – the long treks involved in seeing the mountain gorillas of Bwindi Impenetrable National Park become colder and more arduous during the rainy season.
Bears
June is a great time for viewing brown bears and their cubs in Alaska's Lake Clark National Park. As summer begins, the days lengthen, the weather warms up and the scenery is alive with vibrant colours making for highly picturesque backdrops. Spawning salmon in the rivers should lead to some dramatic action shots.
Big Five
You can take a safari in South Africa and Botswana at any time, but the dry season from May to July is the optimum time for wildlife viewing in Kruger National Park, as the vegetation is much thinner, and animals gather round waterholes leading to spectacular confrontations.
Mountain gorillas
Viewing the mountain gorillas of Bwindi Impenetrable National Park is a year-round activity, but we recommend January, the start of one of Uganda's two dry seasons. The ground is firmer in these months, allowing for much easier trekking.
Lemurs
Wildlife photography vacations in Madagascar are at their very best in October. Why? Because this is the best time to see baby lemurs catching their first glimpses of the world, clinging to their mothers' backs. There are also fewer other tourists around.
Orangutans
October and November are popular months for seeing orangutans in Borneo. It can be rainy, and trekking in the forests, though not especially strenuous, can still be hot, humid work. Gripes about the weather are quickly forgotten though once you see the old man of the jungle in the trees ahead.
Tigers
See tigers in India between October and June. From late May onwards the monsoon season begins to sweep across the country and heavy rains mean the following four summer months are not especially suitable for wildlife viewing in Madhya Pradesh.
Whales
Cruise the Antarctic in November and December when the ice is breaking up and you can make the most of long hours of daylight that enhance the region's frozen beauty. You'll enjoy superb opportunities to photograph wildlife such as penguins, seals and whales including humpbacks, minkes, and perhaps even a blue whale.
Wolverines
Wolverines don't hibernate so you can see them all year round in Finland, as long as you're traveling with a specialist guide who knows the best places to find these reclusive carnivores. June, July, August and September see wolverine kits being brought out of their dens by their mothers. Finland can be very chilly in winter, but it's a great time to visit if you want to capture an image of a wolverine against the snowy landscape. Winter photography is still possible in Finland from February through to late March and early April.
More about Wildlife photography