Responsible tourism in Andalucia
---
Travel right in Andalucia
Andalucia, like other parts of Spain, has coastal carbuncles inflicted in the name of early package tourism rolled out in the 1960s, which played a key part in rebuilding Spain's economy during the ravages of the Franco dictatorship. Today, responsible tourism in Andalucia recognises that mass-market tourism has to be understood as something that needs balancing with the needs of traditional communities, protecting biodiversity and precious resources like fresh water, and minimising pollution. Thankfully, Costa del Sol bunkers like Torremolinos and luxury ghettos like Puerto Banus are balanced by superlative historic sites and wonderful nature that complement glorious beaches.

Agriculture is another area where care has to be taken between cash and the land. Andalucia's intensive olive cultivation, for example, has been implicated in severe soil erosion problems. The most pressing issue today, however, is poverty. Part of Andalucia have suffered 30 percent-plus unemployment for several years, threatening the very fabric of its society. People are stoical – but they deserve far better. And responsible tourism can play its part in a brighter future.

People & culture
---
MASS TOURISM VS. UNEMPLOYMENT
Coastal carbuncles
---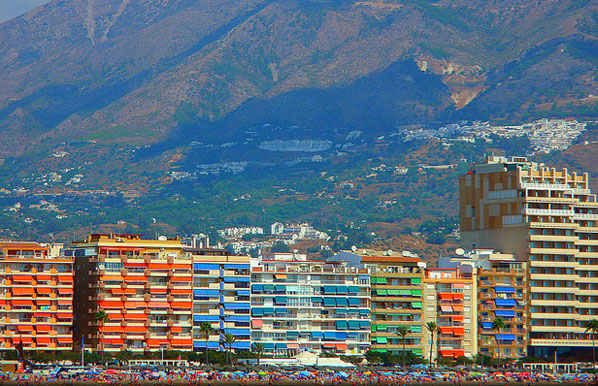 Without doubt, the biggest challenge for responsible tourism in Andalucia is coastal development. Over the past half century, the Costa del Sol has been trashed by giant resorts as well as some 120 golf courses; a 2005 report by the Spanish National Institute of Geography stated that 59 percent of Andalucia's coastline had been built upon – with a shocking 100 percent of the land in Fuengirola and Torremolinos now developed. The destruction of the coast has been so severe that sand now needs to be imported to the beaches. It's a tough situation; there is a desperate need for work here (see below), but the highly seasonal work in the resort areas does little to counter the soaring levels of unemployment – especially as many workers are temporary gap year students from overseas, whose earnings depart the local economy when they leave. And as package tourism has always been a race to the bottom – with a week in an all-inclusive resort coming in at under £300 including flights – there's not exactly much money to go round in the first place. Combine this with the fact these types of vacations have been falling out of favour for some years now, meaning the price wars get fiercer and the livelihood of entire towns is put at risk – and it's clear that cheap, package resorts are not going to be the answer to Andalucia's financial woes. The only people who have truly benefited have been the developers
Mass tourism also puts huge strain on water supplies in Europe's most parched province – not just to satisfy the thirst of the concrete forests of high-rise beach resorts and plains of golf courses (which can sap the same amount of water as a town of 15,000 people), but also with the mania for vacation villa swimming pools. The problem is exacerbated by climate change; 2014 saw the country's worst drought in over a century and a half, with soaring temperatures to match. Low rainfall has traditionally been one of southern Spain's biggest tourism draws – but there is a real danger that the line could be crossed, as demand for water outstrips supply, and the damage to the economy and environment becomes too great. The ensuing forest fires, failing agriculture, sandless beaches, loss of wildlife (Doñana National Park's bird population dropped by half as they took flight in search of water) and subsequent risk of flash floods when the rains finally do fall could prove to be a turn off for even Northern Europe's most hardened sun seekers.
Source:
The Olive Press
,
The Independent
,
The Guardian
What you can do
A lack of employment options has created a mass exodus from rural areas to the cities, and with the people go centuries of tradition and connection with the land. By rejecting the widespread package tourism model, and staying in rural guesthouses, fincas, farmstays and cabins, you will generate income and jobs in some of Spain's neediest communities. Traveling off season is not just more pleasant if you are planning an active vacation – but it also spreads the income across the year, preventing places from becoming cultural deserts outside of July and August. And of course, be hyper aware of your water use when in Andalucia – despite the sticky summer heat, short showers are a must.
Not so sunny for the people
---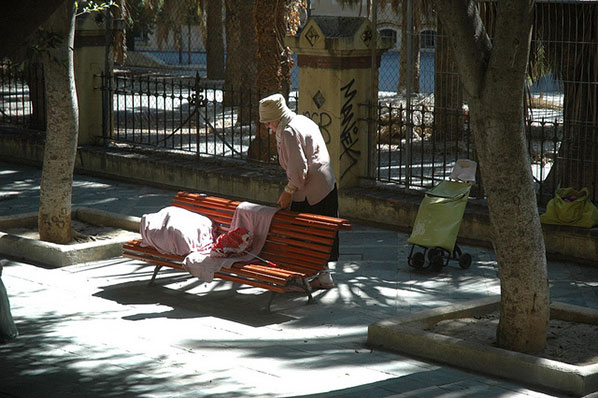 In 2014, the EU issued a report on Europe's five worst unemployment black spots. All were in Spain – and the worst of all was Andalucia, where unemployment is approaching 40 percent. Some people have been unemployed since 2007, with no prospect of that changing. The result, of course, is widespread poverty that is a dark stain on one of Spain's most beautiful regions.
As well as wider economic woes affecting Spain and the rest of Europe, the bursting of Andalucia's property bubble caused financial mayhem. During the property-fuelled boom, many young people left school to work in construction – now that work has disappeared they are left with no work and no education.

While property was a temporary major industry, agriculture has been a mainstay of Andalucia's economy for a long time, with olives to the fore. Jaén alone accounts for nearly 30 percent of the world's olive oil production, and olive oil production accounts for 90 percent of its jobs. But not only does such intensive olive production pose environmental issues (see Environment section) but it leaves the region vulnerable to dreaded events such as disastrous crop failures, which blighted production in recent years.

A more deep-seated problem is the ownership of land. SAT, the Andalucían workers' union, says that just 2 percent of the population own 55 percent of Andalucia's arable land, and that job creation is not a big priority for these huge landowners – only profits.
Andalucia's poverty crisis is far less visible than cities like Barcelona or Madrid, where the poor and homeless are far more visible on the street. But amid the gorgeous streets of Seville, Cordoba and Granada, and in the wonderful countryside, people are suffering en masse. In 2013, the charity Caritas spent €2.6m on food for vulnerable families in Málaga alone (a rise of nearly a quarter on the previous year), while the regional government distributed free breakfast and afternoon food to 50,000 schoolchildren last year.
Tourism provides some grounds for optimism, with tourist numbers rising – along with inward foreign investment. But it is merely a sticking plaster on a wound that needs intensive care.
SOURCE:
The Guardian

What you can do
Focus your spending on local enterprises – especially ones away from the main tourist centres – to help direct money where it can most benefit struggling communities. That doesn't mean don't spend in the cities; places like Cadiz and Cordoba have unemployment around 35 percent (reaching 50 percent amongst the youth), and spending generously in restaurants and small local shops helps there as it does in a rural hamlet.
Wildlife & environment
---
INTENSIVE AGRICULTURE
An unwelcome growth
---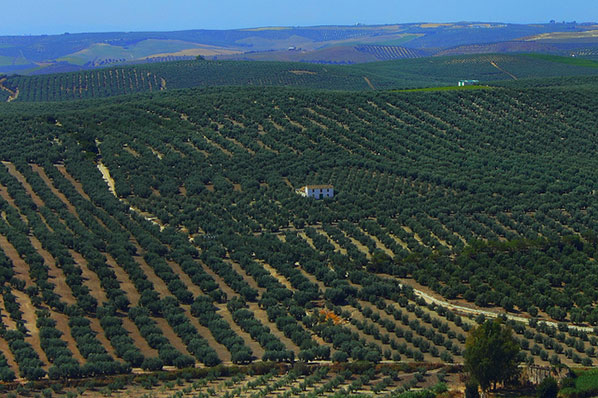 Agriculture is a major contributor of vital income to rural communities but in parts of Andalucia over-intensive production is threatening huge long-term harm to the environment. Two of the main culprits are olive production and greenhouse crops.
Almeria was once a typical rural agricultural area dominated by a scattering of smallholdings right until the 1970s. During the last few decades, however, a vast area – at least 20,000 hectares and expanding – has been turned into what seems like one vast greenhouse for producing "extra early market produce" - basically, fruit and vegetables that wouldn't otherwise be in season – for a booming food market in Spain and abroad. But while the crops account for an estimated £1bn in economic activity for Almeria – though much of that money is siphoned off by a few big landowners rather than providing any widespread boost to local communities. Even worse, this huge industry isn't even necessarily a vital source of local employment thanks to the frequent use of armies of illegal migrant workers – many not even from Spain – who are
treated so appallingly
in terms of wages and conditions that it amounts to a form of modern-day slavery.

Intensive greenhousing also places huge demands on Almeria's precious water supplies in an area that has to make do with barely 200mm of rain a year, topped up by small stream aquifers from the mountains to the north. So severe is the water drain that the government is being forced to look intently towards desalination plants to feed both plants and people.

Intensive olive farming – particularly around Cordoba and Huelva – has also caused severe soil erosion, especially on the slopes which make up over half the 1.5 million hectares of olive cultivation. Environmental measures introduced in the late 1990s – such as maintaining vegetation cover between trees and not using chemicals on pest plants – failed to have an impact due to very poor take-up by the farmers (less than 10 percent in some areas).

One reason for the lack of take-up was believed to be insufficient financial and technical support for farmers. Another factor was that farmers were expected to commit to the measures for at least five years, and many perhaps were not sure if they would still be in the business that long.

More recent environmental legislation introduced in the last couple of years looks to do better.
Specific measures
include significant cash incentives for olive growers located in Natura 2000 areas or river basins to practice integrated production that would improve soil quality, biodiversity and water use. There are now over 150,000 hectares of olive production taking part in this more sustainable integrated production – a solid start to a hopefully more sustainable way of growing this iconic Andalucian crop.
Source:
Iberian nature
,
Olive farming in Andalucia
,
Life amid the olives
(EU Commission),
The Guardian
What you can do
:
When possible, buy fruit and veg back home when it's in season to reduce demand for 'extra-early' produce. British sun-ripened strawberries and asparagus are delicious compared to their long-haul counterparts! And when in Andalucia, seek out local producers, markets, independent shops and ethical restaurants to eat and shop in. They are there in abundance – and the superior taste will make it all worth it.
Responsible tourism tips
---
Travel better in aNDALUCIA
Wild fires are a risk throughout the long, hot summer months. Be extremely careful when driving, do not discard cigarette butts and never leave glass bottles lying around, as they can spark a fire in dry vegetation. In some regions, starting a forest fire – even if it is an accident – is treated as a criminal offence.
Tap water is safe to drink in virtually all of Spain – if in doubt, ask your hosts. Bring refillable bottles and reduce your waste.
Eat local! Outside of the concentrated resort areas, this is surprisingly easy to do. Weekly markets are a great place for self-catering travelers to stock up on fresh fruit and vegetables, and coastal areas will benefit from daily fish. If you're not planning on cooking, you can still prepare your own picnics with bread, cheese, fruit, olives
Andalucia has some enormous agriculture projects – but many rural areas are still filled with small-scale producers, growing largely organic rice, olives, fruit, grapes and oranges, for example. Some of these make lovely gifts, including olive oil and wine – counted in food metres rather than miles
At Responsible Travel, we don't support the idea of killing or tormenting animals for sport. Bullfighting is, undeniably, a huge part of Andalucia's culture and identity – but if you want to know more, we'd recommend reading Ernest Hemingway's classic 1926 account of San Fermin, which takes place in Pamplona, Northern Spain, in The Sun Also Rises.
There is a dolphinarium at Benalmadena, where dolphins and sea lions perform in shows, and tourists can swim with the sea lions. We do not support the keeping of these intelligent mammals in captivity, so if you would like to see dolphins in their natural habitat – and swim with them in a responsible way – take a look at our Dolphin watching travel guide. You can read more about our campaign to end the orca circus and sign our petition here.
There are numerous rules regarding driving in Andalucia, be sure to check you have all necessary equipment before hiring a car. The FCO website is a good place to start. Note: it is illegal to use a mobile phone when driving here, even if you pull over. Completely hands-free units are permitted.
Beachwear should be restricted to the beach! Not only is it culturally inappropriate in many coastal towns for men to be topless or for women to wear bikinis, it is also illegal in some regions and fines can be imposed – even on the promenade.
Familiarise yourself with the rules for each park or protected area. You may be expected to stick to the main trails, wild camping may not be allowed at all or only following certain guidelines, and bathing in rivers or lakes is not always permitted. These rules are there to preserve the biodiversity and the natural beauty – please obey them.
Throughout the whole of the Mediterranean, an incredible 60 percent of sewage goes into the sea untreated – and tourism plays a large part in this, as large numbers of people flock to small areas for just a few weeks each year. Andalucia – along with the rest of Spain – is literally trying to clean up its act, and the region now has around 80 Blue Flag beaches promising clean waters for swimmers – and for marine life. The water is tested weekly during high season and monthly at other times. If you are staying in or visiting a coastal area, be sure to check that the beach has a Blue Flag. This not only ensures clean water for swimming, but also demonstrates your support for local efforts to treat sewage.