Walking in the Azores travel guide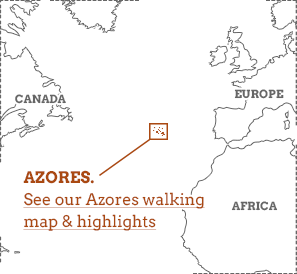 The Azores are often touted as ĎEuropeís best kept secretí, having burst onto the social media scene in 2015 following the new availability of low cost flights. There are even rumours of Atlantis, yet this remote Atlantic archipelago, which was settled almost 50 years before Columbus set foot in the Americas, isnít new at all. Located 1,500km southwest of Portugal, its parent country, the Azores were formed by volcanic activity eight million years ago. First discovered in the 13th century, they feature in the writing of Mark Twain, who visited in 1867, and have long been an enticing destination for in-the-know, adventure-seeking travelers.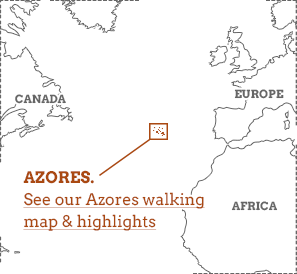 Walking in the Azores offers views with all the drama of Iceland, but in every shade of green imaginable.

Their isolated existence has, however, ensured the conservation of their endemic wildlife, as well as the ancient laurisilva forests that first took root when woolly mammoths roamed the earth. Itís this unique landscape that makes the Azores such an appealing place for a walking vacation, and their popularity is on the rise. Fortunately, the government has been preserving their paradise since the first arrival of tourists in the 1990s, and the region is now a trailblazer in sustainable tourism.
Our Azores walking Vacations
What do walking vacations in the Azores entail?
Island hopping
Island hopping in the Azores is as easy as skipping stones across a pond, each tiny Eden interconnected by an even tinier airport or ferry port. Flying and ferries are the quickest ways to get from A to B to C and, unlike large cruise ships where passengers donít stay long enough on land to get to know the place, overnight stops provide plenty of time to discover your destination. Walking vacations in the Azores usually last one to two weeks and visit four or five of the nine islands, with longer trips leaving you with more time on each. Connections are made with a mix of inter-island flights, on 40-80 seat propeller planes, and small ferries, with journey times lasting from just 30 minutes to two and a half hours.
Small group vacations
Walking vacations are typically small group trips, lead by local guides with expert knowledge of the islands, and groups consist of no more than 16 people. Limiting numbers helps conserve the wild and open feel of the landscapes, without the result of overcrowding on the trails, and walking is more sociable in small groups of like-minded people. A lower footfall also leaves a smaller footprint on both the natural environment and the communities you'll visit, many of which rely on tourism. You'll be able to stay in interesting, locally-run accommodation that just doesn't have the capacity to benefit from larger tours.
How tough are the walks?
Youíll explore the islands with a series of easy, medium-length walks and some harder but shorter walks, mostly lasting between two and four hours. The furthest you can expect to walk is around 12km. There is some walking on rougher or rocky terrain that will require a good pair of durable, ankle-supporting boots. Most tours are flexible, with four or five days of walking plus a free day included on a week-long vacation, and more walking on a two week trip, but with plenty of free days or half days and optional hikes, so you have a lot of say over how active you are. The maximum altitude of any walk will be 2,350m and only if you choose to climb Mount Pico, the highest mountain on the island and the most challenging hike, which requires a good level of fitness.
The best time to go walking in the Azores

Rainfall is reliably unpredictable, but the risk of getting caught in a shower is worth it for the views of misty mountain tops.

The best time to go walking in the Azores is between May and October, when temperatures range from 19įC to 25įC, and this is when walking vacations run. Rainfall is at its lowest between June and August, but trails may be quieter in spring and autumn. If youíre planning to spend your free days watching out for whales, make sure your visit coincides with the calmest conditions for boat tours, during the summer months. Whenever you go, pack as though youíre off walking in Britain in April. The subtropical climate of the Azores can mean sudden showers at any time of year, but the clouds only add to the atmosphere.
Our top Azores walking Vacation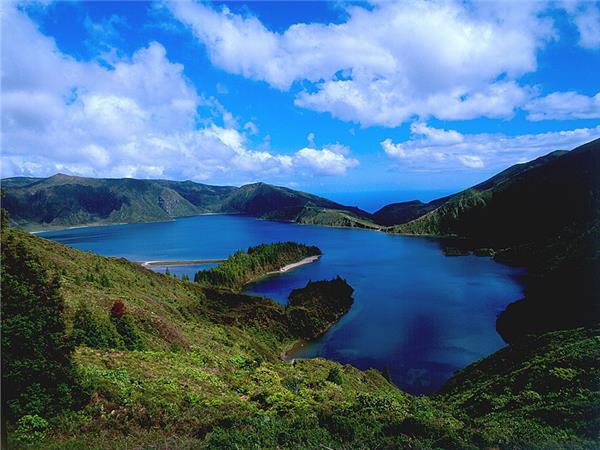 Walk to Cete Cidades and the Fire Lakes
From
US $

3049

to

US $

3249
8 days
ex flights
Small group travel:
2024: 11 May, 15 Jun, 20 Jul, 10 Aug, 7 Sep
If you'd like to chat about Azores walking or need help finding a vacation to suit you we're very happy to help.

Responsible tourism in the Azores
Historically
Portugalís poorest region
, the Azores have come to rely heavily on the income generated from tourism, alongside their traditional fishing and agricultural industries. Since 2015, the islands have been very much in the public eye, with travel magazines hailing them as the next big vacation destination and, in 2016, the Azores were Portugalís fastest growing region for tourism. The sudden influx of visitors could have spelled trouble for the isolated islands but, despite their new appearance on the mainstream travel radar, the Azores are already ahead of the curve when it comes to sustainable tourism.
The local government has taken a proactive stance towards the development of tourism, capping the number of beds available in official accommodation and investing in renewable energy. Currently, just five percent of the land is developed, while 29 percent is protected and three of the nine islands are designated UNESCO Biosphere Reserves. Unsurprisingly, the region has repeatedly been nominated for, and won,
awards for being one of the worldís top destinations
for sustainable tourism. But despite this, tourism still has its issues, particularly an increase in urban waste in larger towns like Ponta Delgada. Instagram geotagging has come under fire for causing overcrowding in the islandsí most photogenic spots, and there is a serious risk of erosion along trails, with more walkers attracted by the islandís promise as an outdoor adventure destination.
There arenít many vacations that have as little impact on the environment as a walking tour, but there are still a few things you can do to be a more responsible tourist. By choosing a small group walking tour that visits several different islands, you can help spread the economic benefit of tourism across the region and prevent overcrowding in the most popular areas, and of course you benefit from exploring the more remote areas and scenery free from the crowds. Tours lead by local guides will also ensure the group keeps to the official walking trails, helping to prevent soil erosion and stop walkers from wasting any time getting lost. Finally, if you do choose to go whale or dolphin watching, your tour operator will be able to advise you on the most responsible companies to use.
More about Azores walking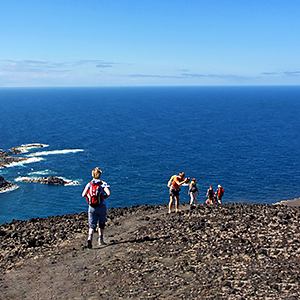 Europeís most westerly outpost is a cluster of nine volcanic nuggets of land, each with its own irresistible offering of trails and views, so we recommend incorporating a few islands into a single tour to make the most of your walking vacation in the Azores. Read on for our guide to the regionís highlights, as well as tips from our travelers and Azores vacation specialists.