Where to go walking in the Azores
Strikingly different to Portugal, the Azores' colour scheme is a vivid green. Rich in natural life and dramatic landscapes, it's a hiker's haven of criss-crossing trails that link up every corner of the islands, from Jurassic Park-like forests and gemstone coloured lakes to a whole subterranean world waiting to be explored on foot. Life, as described by Mark Twain on his visit here, is unhurried, and you can expect the same degree of exertion from most of your walks. The most challenging hike, to the peak of Mount Pico, requires some prior walking practice, but the majority of trails are an easy-going mix of circular and short point to point routes, interconnected by public transport.
1. Faial
Nick-named the 'blue island' for its beautiful mountainside blooms of hydrangeas, Faial was the last location of any volatile volcanic activity in the Azores, following a ferocious and year-long pyroclastic explosion of lava bombs and sulphur belching fumaroles from Capelinhos volcano. Walk around the cavernous, cloud-shrouded crater of Caldeira volcano or hike the lunar landscape of Capelinhos, before visiting Peter's Café Sport, the time-honoured watering hole for travel-weary sailors.
2. Pico
Pico's verdant vineyards are dominated by the magnificent Mount Pico, the highest point in the Azores (and Portugal). Like a child's drawing of a volcano, its perfectly triangular cone rises up 2,350m into the cotton clouds. This sleepy stratovolcano is the highlight of any serious hiker's stay on the island. For everyone else, there's the Grota do Torres, a vast lava tunnel strewn with stalactites and stalagmites.
3. Sao Jorge
Emerging from the water like the back of a surfacing cetacean, São Jorge is a 56km long, 8km wide slither of land that rises above the Atlantic Ocean. The flat mountain ridge that runs down the island's spine is lacerated by deep gorges and leafy ravines, and offers dramatic cliff-top hikes, while the lagoons of its lava-formed fajãs (coastal plains) are brilliant for bird watching.
4. Sao Miguel
The largest island is a fairytale landscape of azure lagoons. The legendary blue and green crater lakes at Sete Cidades are said to be formed by the tears of two star-crossed lovers, best admired from the king of viewpoints: the Vista do Rei. Highlights also include Europe's only tea plantation, Gorreana, and the local speciality, cozido das caldeiras, a stew cooked in the super-hot heat of the steaming fumeroles.
5. Terceira
Trekking through Terceira requires stepping back through time, as patchwork fields and cow-dotted pastures give way to primeval laurel forests. Like living fossils, these ancient trees have long disappeared from continental woodlands. Terceira's Algar do Carvão, a 90m chimney which descends into the bowels of the earth, its lava rock pools and the oldest city in the archipelago, Angra do Heroísmo, are also waiting to be explored.
6. Whales and dolphins
Sub-tropical temperatures and mineral-rich waters make the Azores a magnet for marine life. A third of all the world's cetacean species are found here, from the bottlenose dolphin to the mighty blue whale. The summer months, when the water visibility can reach up to 30m, are perfect for ocean wildlife watching and organised tours, accompanied by knowledgeable local guides, can be arranged during your free days.
If you'd like to chat about Azores walking or need help finding a vacation to suit you we're very happy to help.

Azores walking vacations advice
Marta Marinelli, from our supplier Exodus Travels, specialists in activity and adventure tours, has these tips for walking vacations in the Azores:
Why walk in the Azores
"The biodiversity and geology of the Azores is truly unique and walking the islands trails offers the opportunity to explore a variety of natural landscapes from crater lakes, to volcanoes, lava plateaux, mountains and vineyards."
Packing tips
"Warm clothes, wind and rainproof gear are essential, even in summer! Old or dark swimwear is recommended for bathing in the hot springs, the mineral-rich water will stain the fabric. Other essentials include a backpack, travel towel, hiking boots, water bottle (tap water is drinkable everywhere), binoculars and sea sickness tablets if you want to join a whale watching excursion."
Fitness requirements
"Most walks are either fairly easy, medium-duration walks or harder, shorter walks. Paths can be narrow, uneven or stony underfoot so hiking boots are essential. Previous walking experience and good fitness are recommended, but it depends on the trail as some are more technical than others. Very good fitness is required for the ascent of Pico, which involves a nine to 10 hour hike and is a challenging and steep ascent."
Other things to do
"Although walking is without doubt one of the best ways to explore the islands, there are many other activities to consider, such as relaxing in the wonderful botanical garden of Terra Nostra on São Miguel and its hot springs or perhaps enjoying a wine and produce tasting in Pico Island. Last but not least, a must-do for every Azores trip is a whale and dolphin excursion."
At Responsible Travel, we think the best people to advise our travelers are often... other travelers. They always return from our tours with packing tips, weather reports, ideas about what to do - and opinions about what not to.

We have selected some of the most useful Azores walking vacation tips that our guests have provided over the years to help you make the very most of your vacation - and the space inside your suitcase.

Remember the Azores is in the Atlantic not the med. No beaches, no 24/7 drinking or music, perfect for nature lovers.

"[The most memorable part of the vacation was] hiking Pico, some other excursions: whale watching, hiking other volcanoes, swimming with dolphins, tasting great wine, fishing and being able to have it cooked at a restaurant that served it to us." – Kat Muto

"The Azores is quite like the UK weather wise so make sure you take clothes for rain and sun." – Caroline Sandford

"Be responsible! The tourist industry is relatively new and growing fast. They are already having to cope with litter etc from careless tourists. They are very proud of their paradise." – Mary Hughes

"Remember the Azores is in the Atlantic not the med. No beaches, no 24/7 drinking or music, perfect for nature lovers. The weather is very changeable. Pack a waterproof fleece and warm layers. I wore my wellies (beginning of June) most days." – Julie Harris

"Relax and enjoy it. And take some wet shoes as you're in and out of hot springs and the sea and walking over volcanic rock. And take a healthy appetite, the food is amazing." – Roy White
More Azores walking articles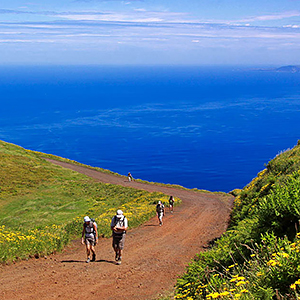 Walking offers an ever-changing landscape of emerald meadows, jewel-coloured lakes, wildflower blooms and volcanic peaks.