The Azores Map & highlights
Just a four-hour flight from the UK, every island is linked to its nearest neighbours by car ferries and passenger launches. Within each cluster, particularly the central group, island hopping by ferry is easy and quick. However, some services only operate from May to September and crossings may be cancelled in bad weather. SATA offers inter-island flights throughout the archipelago; Ponta Delgada, Horta, Terceira and Flores are the hubs. Flying is far faster than the ferry for longer journeys, especially any trip where traveling by ferry would require several stops or changes. Cars, bicycles, mopeds and taxis are available to hire on most islands. Island buses are cheap but slow and focus on getting Azoreans into town rather than tourists to places of interest.
1. Angra do Heroísmo
2. Corvo
3. Faial
4. Flores
5. Graciosa
6. Mount Pico
7. Pico
8. Ponta Delgada
9. Santa Maria
10. São Jorge
11. São Miguel
12. Terceira

1. Angra do Heroísmo
Once a pivotal stopover for ocean-going ships, the pretty port city of Angra is now a UNESCO World Heritage Site. Dozens of shipwrecks lie out in the bay, the oldest dating back to 1543. While you can't expect to find any long-lost doubloons among the sunken remains – the treasure was all recovered long ago – it's still a fascinating place to scuba dive.
2. Corvo
Only 430 people live in Corvo's single village, Vila do Corvo, so it feels as though everyone really does know everyone else. Their distinctive dialect is directly descended from medieval Portuguese. A UNESCO Biosphere Reserve with protected waters, Corvo is a remote, peaceful place to go birdwatching, hiking, or snorkelling.
3. Faial
Faial is a yachting, boating, whale watching and dolphin watching hub with a buzzing marina in its main town, Horta. Sailors consider it bad luck to leave without painting their insignia onto the breakwater, a huge, evolving mural that's like a seadog's visitors' book. Inland there are surreal volcanic landscapes to explore by 4x4 and tidal pools for a refreshing wild swim.
4. Flores
Flores is well off the beaten track, but intrepid canyoning fans seek out its waterfalls and crater lakes. The entire island is a UNESCO biosphere reserve where azaleas and hydrangeas grow wild and seabirds wheel overhead: around 40 percent of Europe's roseate terns nest here. Monchique, an islet offshore from the village of Fajã Grande, is the westernmost point in Europe.
5. Graciosa
Instead of jagged peaks, Graciosa has low, green hills scattered with villages where farmers still sometimes get around by donkey or pony and trap. It's an easy-going walking destination, with a 7km trail connecting the west and east coasts via gentle pastoral scenery. There's also an impressive cavern to visit, Furna do Enxofre. Graciosa is a UNESCO Biosphere Reserve.
6. Mount Pico
More than twice the height of any other Azorean summit, Pico (2,351m), a stratovolcano whose flanks last erupted in the 18th and 16th centuries, is the highest mountain on Portuguese territory. The hike to the top is demanding but exhilarating, with glorious views. It's crowned by a 500m-wide pit crater, snowy in winter, with a summit warmed by steam vents.
7. Pico
At 250,000 years old, Pico is a youngster. It's dominated by a single volcano whose frozen lava reaches right down to the sea. A third of Pico, including the mountain, is a nature reserve. But it's not all about that whopping volcano – Pico also has caves, heritage-listed vineyards and lanes lined with ancient heathers, ferns and hydrangeas. Whales cruise offshore; this was once the hub of the whaling industry, today replaced by whale watching.
8. Ponta Delgada
With cruise ships docking and yachts nipping in and out, Ponta Delgada is a busy maritime city with a historic center that's refreshingly walkable. The heart of the city was laid out in the 19th century and has a distinctively Portuguese feel, with red roofs, cobblestone mosaics and attractive, whitewashed buildings edged with dark lava stone.
9. Santa Maria
Emerging from the Atlantic around 10 million years ago, Santa Maria has the oldest volcanic rocks in the group. Slightly further south and east than the other islands, it's also the warmest, sunniest spot, with a few golden beaches – a rarity in this volcanic archipelago. The most picturesque coastal stretches are Praia Formosa and São Lourenço's sweeping bay.
10. São Jorge
Scenically diverse, São Jorge shakes up mountains, ravines, cliffs, lakes and fajãs (coastal plains formed by lava flows or landslides) into a cocktail that appeals to fans of hiking, mountain biking, canyoning, canoeing and caving. It's also home to peaceful pastures – dairy farming is a time-honoured tradition on São Jorge and the locals make delicious, strong unpasteurised cheese.
11. São Miguel
The largest island in the Azores has enough to keep you busy for an entire trip. Beyond the appealing city of Ponta Delgada, there's plenty to do and see inland, from exploring plantations of tea and pineapple to mountain biking past bubbling hot springs. Offshore, there are whale watching, dolphin watching, and glass-bottomed boat trips to enjoy.
12. Terceira
Terceira has the second largest population after São Miguel, but make your way inland and you'll find solitude in quiet meadows and ancient forests that hide caves, lava tubes, volcanic chimneys and fumaroles. The deep channel between Terceira and São Jorge lies on the migration routes of blue whales, making these waters exciting to explore in spring, summer and autumn.
Our top Azores Vacation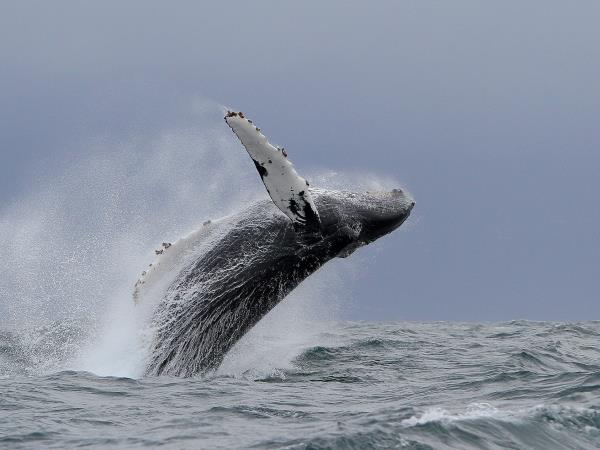 Sustainable whale watching in the beautiful Azorean archipelago
From
£

610

to

£

745
7 days
ex flights
Tailor made:
This trip can be tailor made to start on any day of the week from March to October
If you'd like to chat about Azores or need help finding a vacation to suit you we're very happy to help.
Travel times in the Azores
The following times give you a rough idea of the journey times between the main highlights in the Azores.

Ponta Delgada to Terceira: 40min by air Ponta Delgada to Flores: 1hr 20min by air Ponta Delgada to Horta: 55min by air Ponta Delgada to Santa Maria: 30min by air Horta to Flores: 45min by air Horta to Corvo: 45min by air Ponta Delgada to Vila do Porto: 2hr 15min by ferry Ponta Delgada to Praia da Vitória: 3hr 30min by ferry Horta to Madalena: 30min by ferry Horta to to Velas: 90min by ferry Santa Cruz das Flores to Vila do Corvo: 40min by ferry Pico to Faial: 30min by ferry

Convert currencies