Things to see & do on
Pico Island, the Azores
Pico, along with São Jorge and Faial, forms part of the central 'Triangle' in the Azores. Known as the Black Island - 'Ilha Preta' – thanks to its black, volcanic earth, the island doesn't have any beaches but has many lava pools that fill up with saltwater at high tide, some of them gently warmed by geothermal natural spring water as it gushes from shoreline vents. Some of these lava pools have steps to allow for easy bathing. Pico is studded with volcanic features such as lava cones and tubes, and wide craters, especially along its central plain. The stratovolcano Mount Pico is the highest point in Portugal, and over twice the height of any other mountain in the Azores. You can hike to the summit in a few hours, and see a quilt of cloud spread out before you.

All this volcanic activity of course makes for very fertile soil. Portugal has an excellent reputation for its wine: the port of the Douro Valley, the green wines of Minho. But the vineyards of Pico Island are particularly notable. The vines grow in and out of the black volcanic rock, protected from the elements by horseshoe-shaped enclosures. This triumph of small-scale farming in an inhospitable environment has led the landscape to be UNESCO-listed.

Whaling was a key industry on Pico, as it was in the rest of the Azores, from the 18th century to the 1980s. Indeed the island actually looks a little like a whale when seen from above. Luckily the whales do not seem to have borne a grudge, and many species can be found in these waters at different times of year, leading the Azores to become one of the foremost destinations in the world for whale and dolphin watching trips. The inky black waters off Pico are incredibly deep, ideal territory for whales that come tantalisingly close to the craggy coastline to feed on squid, krill and plankton.
Whale & dolphin watching on Pico Island
Pico is a fantastic base for whale and dolphin watching in the Azores. The island's volcanic scenery forms a fittingly dramatic backdrop for photography, and between spring and late summer you can frequently see whales close to land. There are a handful of licensed, responsible operators on Pico for boat trips, aided by land-based spotters in the vigia towers dotting the coast, a holdover from the island's whaling industry. A typical boat trip lasts around three hours, and if you're on a fast boat then within just 10-20 minutes you can be among blue, humpback and fin whales, plus immense 'superpods' of dolphins where you might see literally hundreds of them leaping playfully in the waves next to the boat.
Wine tasting on Pico
With several microclimates and volcanic soil rich in nutrients, Pico Island has a well deserved reputation for its dry whites and fortified wines. There are many small wineries where you can drop by for a tasting as part of an organised tour, and to admire the unique vineyards. Try them with a platter of Azorean pastries perhaps, or a one of the local fish specialities such as forkbeard (called Sweaty Betty in Ireland, and no one knows why).
Walking & mountain biking
On two feet or two wheels, explore Pico's volcanic vineyards, historic former whaling villages, and moody coastline. You can pop into a lookout tower such as the well known Queimada, perhaps borrowing the vigia's binoculars and picking up some tips on how to spot and identify whales from land. You can also discover the geological marvel of the Gruta das Torres lava tube or climb Mount Pico if you have the energy, perhaps even staying overnight close to the summit for a magnificent sunrise.
Our top Azores Vacation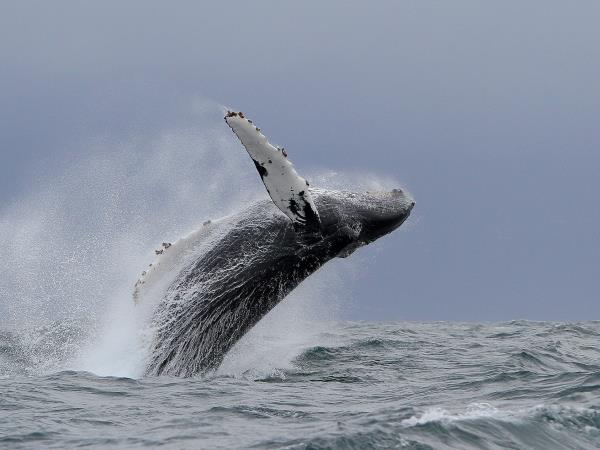 Sustainable whale watching in the beautiful Azorean archipelago
From
£

610

to

£

745
7 days
ex flights
Tailor made:
This trip can be tailor made to start on any day of the week from March to October
If you'd like to chat about Azores or need help finding a vacation to suit you we're very happy to help.
When to visit Pico Island
While you can visit the Azores all year round, most people choose to come between spring and autumn. July and August are peak season, the Whalers Week festival on Pico in late August a highlight of the cultural calendar. The optimum time for seeing whales is the spring, when blue whales and other baleen species arrive in large numbers.

Amanda Stafford, founder of our supplier Dolphin and Whale Connection:
"The best time to visit the Azores for watching whales and dolphins is definitely, definitely spring. That's when the plankton blooms and you get all the baleen whales, the fins, the humpbacks and of course the blue whales, coming to feed. By the end of June they're pretty much gone."
Back to the top
Convert currencies