Island hopping in the Azores
With nine islands spread across 650km of wild, whale-friendly Atlantic Ocean, island hopping vacations in the Azores are the only way to get a full understanding of this archipelago. Each hop reveals unique volcanic origin stories and tiny towns and industries, from tea plantations to whale watching, that have developed because of the fertile lands and ocean.

"All the islands are different," says Vicky Leach, who manages the walking and trekking vacations at our partner Explore. "Some of the craters are symmetrical and quite perfect, while others are falling away so you can still see a bit of the volcano. You've also got the greenery and the flora – there's so much variety on the islands because of where they're located and the weather conditions, and the lack of big cities and industry. You get a real mixture; you're not just exploring tracks with nothing to see."

There's one key to unlocking the best insights: local guides. "Our tour leader, Tanya, was born on the Azores. It's much, much more interesting walking with her," says Vicky. "If you're with a local guide then they can point things out and explain why the landscape looks how it does. They're really good at the flora in the Azores because it's so unique."

Leaving the navigation of ferry and plane schedules to the experts simply makes sense. Your tour guide will know from plenty of past experience whether a flight might be delayed because of the weather forecast or what time to leave for the once-daily ferry.
Best island hopping routes in the Azores
The best island hopping routes are designed in league with guides who know where to go for certain activities, because they live here. Of course, "best" is in the eye of the traveler. Families lean towards tours that spend more time on São Miguel, where there's a range of activities such as whale watching and kayaking. Hikers and adrenaline seekers, on the other hand, will want to check out the more challenging trails of Flores, Pico and Faial.

Our vacation partners are always evolving their itineraries depending on feedback and what's going on in the Azores in any given year. "We think about what's best at that time and change all the islands on the route," says Vicky. "For example, we might go to Flores instead of Pico because it's better for hiking in a particular season."
1. São Miguel > Flores > Corvo > Terceira > São Jorge > Faial (14 days)
Best for: a full overview of the Azores
This route is mapped out in
our most popular island hopping vacation in the Azores
. Take two weeks to enjoy this itinerary without rushing. It starts on the biggest island, São Miguel, before moving on to focus on lesser-visited islands like Flores and São Jorge.
"I really like
São Miguel
because it's the most diverse of the islands," says Vicky. "It's got massive volcanic landscapes that you can walk around, with craters and lakes and waterfalls. It's more immersive than the other islands."
"The São Miguel crater walk at Furnas is also fab," she adds. "It's a famous one – the pictures are used everywhere because it has really amazing colours, and you get views all across the island as you walk down past the water into the crater at the bottom."
After three days of exploring, take an 80-minute direct propellor plane flight to
Flores
– way over in the western island group of the Azores. Many of the visitors here are hikers and canyoning connoisseurs out to explore boulder-strewn forests and waterfalls. The island is known for its abundant flowers – hence the name. While on Flores, you might get the chance to take a boat over to neighbouring Corvo, the smallest and most northerly island in the Azores.
Terceira
– a one-hour flight away (sometimes via Horta on Faial) – is popular with cyclists and hikers. Coastal paths and quiet roads lead between harbour towns, volcanic rock pools, hilltop viewpoints and green patchwork fields. "The volcanoes are extinct so it's quite fertile," says Vicky. "They make the most out of the land."
São Jorge
is a long, lanky island created from an old volcano chain. You'll get there by a 6.5-hour ferry ride or 30-minute flight from Terceira. This strange, inhospitable landscape is home to tiny seaside towns and rural hamlets tucked between a craggy coastline, and the ridges and gorges of volcanic calderas and lakes like the Caldeira de Cima.
Faial
, just a two-hour ferry journey from São Jorge, is a livelier finale. This central island was at the center of the local whaling industry in the 19th and 20th centuries; these days, you'll see more yachts than blubber-laden tall ships. Faial is easy to travel around, so tours will use public buses or a minibus to explore the caldera walks, whaling museum and grey-gold beaches. Travel in midsummer (late July-early August) to catch the bright blue hydrangeas blooming all over the island.
2. São Miguel > Faial > Pico > São Jorge > São Miguel (8 days)
Best for: hikers with less time – or for more time in São Miguel
Spot the difference – this route is a shorter take on the first. It's a great approach for a
week-long walking vacation
that still manages to take in four islands. You'll also begin and end in São Miguel, with the option to spend more time here.
São Miguel was the first island to have a permanent population, thanks to its fertile soils and sheltered bays. The capital city of the Azores, Ponta Delgada, hunkers down on the south-west coast – a pretty, low-rise place with mansions and churches that display the wealth taken from the colonies of the Portuguese Empire during the 17th and 18th centuries.
There's loads to do in São Miguel. Wildlife watching trips set off daily to seek out sperm, blue and fin whales, as well as dolphins. The landscape is diverse, so there's a range of activity trails too, including hiking along the
levadas
of the mountainous center and family-friendly canyoning expeditions.
Island hopping tours spending time in São Miguel will also give you the chance to try
cozido das caldeiras.
Traditionally, islanders would steam-cook meat and vegetable stews in huge pots by lowering them into holes near volcanic vents in the early morning and going back for them in the afternoon.
If tea is more your thing, you can take a tour of the 19th-century plantation Gorreana, peering up at the huge machines used to sort and dry leaves, and rambling around the pin-striped tea hills.
3. Faial > São Jorge > Pico > Faial (11 days)
Best for: less-explored islands and flight free island hopping

This island hopping route in the Azores
is unusual because it misses out São Miguel entirely. Instead, it takes advantage of the international airport on Faial, using it as a launch pad to focus in on the "Triangle Group" of Faial, São Jorge and Pico. These islands form a close triangle – hence the name – so you can easily travel by ferry between islands. This circuit is particularly popular with hikers, who appreciate the wild landscapes and peaceful trails.
Start off on
Faial
. Here, you can climb up the volcanic caldera that overlooks neighbouring Pico and scale the bleak octagonal lighthouse at Ponta dos Capelinhos to admire the fresh (geologically speaking, anyway) lavascapes from the 1957 volcanic eruption.
The even wilder landscapes of
São Jorge
are a two-hour ferry ride away via Pico. You'll soon see why canyoners head here to rappel down waterfalls and splash through rocky rivers. Or you can get back out on the Atlantic Ocean, watching out for dolphins on their level by sea kayak. São Miguel might have the only commercial tea factory in Europe, but São Jorge lays down its own ace – Europe's only commercial coffee plantation at Faja de Vimes.
After about three days of exploring São Jorge, you'll take the ferry to
Pico
; it's about 80 minutes away. Relax with vineyard and wine tasting tours at Criação Velha, a region UNESCO awarded with World Heritage Site status. Climb cloud-wreathed Mount Pico, tour the ancient volcanic caves, or head out onto the ocean on a whale watching tour.
You'll take the 30-minute ferry journey back to
Faial
in time for your flight home. Thanks to the island views and chance of spying whales, you won't want to prise yourself from the deck.
4. São Miguel > Flores > Corvo > São Miguel (6 days)
Best for: adrenaline seekers
This is an
island hopping itinerary for canyoners
. You're only in São Miguel for a briefing and to get your bearings. Flores and Corvo are the real focus of this route – two small, little-visited islands known well by the canyoning community all over the world. They're in the far west of the Azores, so you'll start off with an 80-minute flight from São Miguel to Flores. Once on land, your expert guides will get you exploring the nooks and crannies of Flores.
"Flores is one of the top spots in the world for canyoning," says Paulo Medeiros, co-founder and guide at our partner Fun Activities Azores. "Imagine starting in the middle of the island, going through some amazing waterfalls, and then finishing by jumping in the ocean, where a boat is waiting to take you back to the harbour… Flores is my favourite place for canyoning, because I look for this adrenaline rush."
About halfway through the trip, there's a rare opportunity to see neighbouring Corvo, the smallest island in the Azores. You'll set out on a small Zodiac boat, dipping into some of the coastal caves of Flores before skimming across the ocean to Corvo. Most tourists don't get the chance to see this northerly island, where 430 people live in a single whitewashed, terracotta-roofed town. It's more well-known to bird watchers looking for terns and shearwaters. Hikers can head for the caldera trails that give views over this island that still looks like a slouching volcano.
Our top trip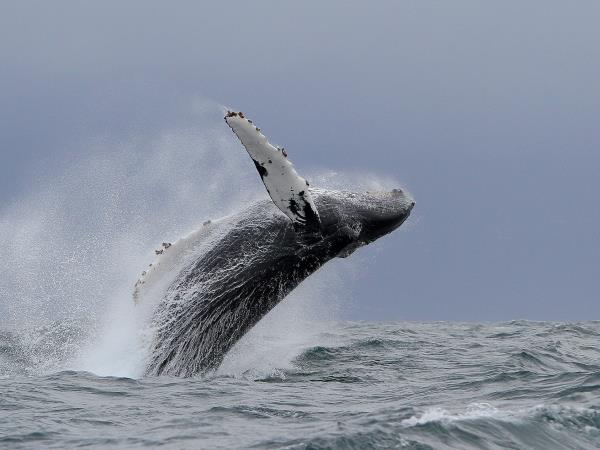 Classic whale watching trip in the Azores archipelago
From
£

830
7 days
ex flights
Tailor made:
This trip can be tailor made to start on any day of the week from March to October
If you'd like to chat about Azores or need help finding a vacation to suit you we're very happy to help.

Tips for island hopping in the Azores
Looking for an easy ride? Choose a small group tour that comes complete with a guide and great company. All accommodation and transport are included and booked in advance, with tour companies usually opting for small locally owned hotels near the transport terminals.
There aren't many tailor made island hopping tours, because it's best to go with a local guide who can manage any chopping and changing ferry and flight schedules for you. Your guide will always have a plan B (and C through to Z) in their back pocket.
With that in mind… go with the flow. There are sometimes changes to itineraries. Poor weather might mean a ferry is cancelled and you stay an extra day in São Miguel, or a flight delay could mean that you spend an extra hour over breakfast with your tour mates and guide.
Vacations often use a mix of planes and ferries to travel between islands. Planes have turboprop engines that are vital for connecting people in the Azores and less damaging than jet planes. (Read more about our commitments to cutting carbon.) However, if you'd prefer to stick to ferries, consider an itinerary that sticks to exploring a close group of islands such as the Triangle Group of Faial, São Jorge and Pico.
Treat the journey as an adventure. Azoreans also use the ferries and planes to nip between islands for work or to see family. You'll see a great slice of how life is lived on the islands.
Think about what activities you want to do and let that inform which itinerary you choose. Each island has a speciality, whether that's Flores' canyoning credentials or São Miguel's sheer choice of activities.
You'll be informed about luggage allowances on inter-island flights. It's usually one 20-23kg suitcase per passenger.
The ocean can be choppy at any time of year, but especially in spring and autumn, so pack seasickness medication or ginger supplements just in case. Waterproof and windproof layers are also a great idea while traveling by boat, so you can comfortably stay on deck to see if you can spot whales or dolphins.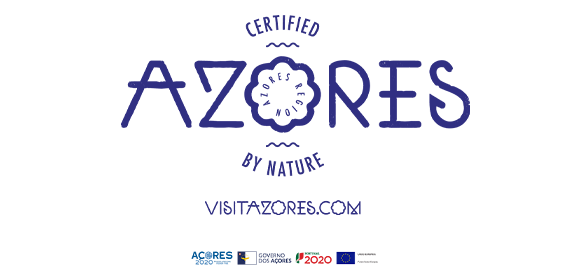 Responsible Travel would like to thank Azores Tourism for their sponsorship of this article.