The Amazon is mind-bogglingly biodiverse, a vast region with 390 billion trees, over 2,000 species of animals, over 1,300 species of bird and some 2.5 million species of insect, spread across countless fragile ecosystems. Sixty percent of the Amazon lies within the borders of Brazil, and anyone interested in wildlife Ė from monkeys to dolphins, birds to mini beasts Ė or simply in wildness, full stop, will be in heaven in this unique environment.

Itís often said that the Pantanal is the easiest place to see wildlife in Brazil, as the dense foliage of the Amazon can hide its many inhabitants, but traveling here is about more than just spotting monkeys; itís about immersing yourself in a huge, living, breathing, chirping, buzzing, splashing, evolving natural environment, and just soaking it all up.
Whether you stay in a lodge or take a river cruise, youíll spend plenty of time walking in the jungle or gliding down quiet channels in a launch, past giant trees draped with vines and orchids. The Amazon is quiet but never silent, with a soundtrack of insect hums, the rustle of leaves as squirrel monkeys feed high above, and the occasional shriek of a screaming piha bird.
In a landscape characterised by jungle and river, itís no surprise that the creatures that thrive here are adept at living in one or the other habitat. Numerous monkey species inhabit the trees, including red howler monkeys, common squirrel monkeys, black faced squirrel monkeys and brown capuchin monkeys. This is also the only place in the world where you can see the Uakari monkey, which lives in troops in the high canopy. It has a distinctive look Ė a fluffy sandy coat and a bright pink head, with just a few sparse whiskers, like a balding, sunburned man. Also sharing tree space are three-toed sloths and a dazzling array of birds, while the forest floor is home to wild pigs and the rivers are busy with fish, otters and pink Amazon River dolphins.
Our Brazil wildlife Vacations
How to see wildlife in the Amazon
The Amazon is crucial to the health of our planet and to the human race. Its water cycle plays a major role in maintaining the global and regional climate. Water released by the Amazonís plants into the atmosphere and into the ocean by its rivers influences world climate and the circulation of ocean currents. But the Amazon currently faces enormous threats, primarily deforestation and increased El Nino events, caused by human-induced climate change.

So, itís pretty obvious that joining a responsible organised tour is the only way to explore the Amazon, while also making a positive contribution to wildlife conservation, supporting traditional ways of life, and showing politicians and businesses that the Amazonís natural resources and communities, left intact and protected, can generate useful revenue.

There are two ways to explore the Amazon: a week long cruise, or a few days in a lodge, deep in the jungle, as part of a longer Brazil vacation. On a cruise, your base will be a traditional riverboat, dinky enough to explore small tributaries and hidden channels where wildlife can be found, but where larger vessels cannot go. The typical Amazon riverboats that feature in our tours are well equipped expedition vessels, comfortable but not luxurious, and often with custom built observation decks useful for spotting animals amid the tangled vegetation on the riverbanks
Wildlife watching isnít confined to the deck, although itís never a hardship to watch monkeys moving through the jungle canopy while you sit with a Caipirinha in hand. Every day youíll hop into launches to explore narrow channels, looking out for birds, monkeys, sloths and reptiles, and getting a new perspective on the epic scale of the rainforest, which can be hard to grasp from deck.
On a cruise, you can expect to be busy at all hours, with dawn launch trips revealing the wildlife at its most active, and night excursions giving an insight into the Amazonís nocturnal world. You can also go on guided kayaking trips, walk in the jungle, and visit villages. You will see pristine parts of the forest, untouched for millions of years, and natural spectacles including the Encontra das Aguas, or Meeting of Waters, where the black Rio Negro meets the sandy coloured Amazon without mixing, in a turbulent confluence several miles long. All the while, your expert guides will point out wildlife and birds, explain about the delicate network of ecosystems, and the challenges for those people living here.
Staying in a lodge, deep in the jungle, is another wonderful way to explore the Amazon. From this base you can ride launches and trek into the jungle, spotting monkeys and exotic birdlife. You can fish for piranha and meet local communities, and at night, go caiman spotting, looking out for their eyes shining red in the torchlight.
Seek out a responsible tour that employs local Brazilians as guides, selected for their forest knowledge and enthusiasm. These guides are skilled naturalists and dedicated conservationists, who have come from a forest background, but have also studied the more academic details of Amazon ecology. You benefit from a wealth of specialist knowledge, coming to understand the Amazon on a deep level even in just a few days, while your guide benefits from a sustainable income.
Our top Brazil wildlife Vacation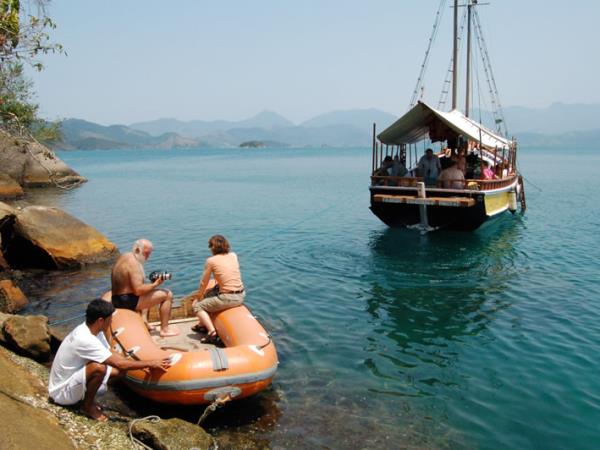 Wildlife & culture roundtrip through Brazil, all tailormade
From
Ä

4795
23 days
ex flights
Tailor made:
This trip can be tailor made throughout the year to suit your requirements
If you'd like to chat about Brazil wildlife or need help finding a vacation to suit you we're very happy to help.

Getting deep into the heart of the Amazon takes time and numerous forms of transport, so pack some patience with your mozzie spray. Manaus is the Amazonís gateway town, with an airport that connects it with Rio. On the banks of the Rio Negro, this city boomed during the 19th century thanks to the rubber trade, and is home to a magnificent opera house.

If youíre staying in a lodge, youíll likely continue by bus from Manaus, and then hop into a speedboat, traveling through channels and creeks to reach your base. You could even take another short flight from Manaus to Tefe, before transferring to a boat for the last push deep into the jungle. Amazon cruises usually depart from the port in Manaus.
Both tailor made and small group vacations run that include the Amazon and its wildlife, and the amount of time you spend in the rainforest depends on the style of tour you opt for. On a two-week vacation that includes Rio, the Iguazu Falls, the Pantanal and the Amazon, you might spend just two nights in the Amazon. Or opt for an 11-day tour that focuses purely on the Pantanal and Amazon Ė youíll then have longer to spot wildlife and enjoy the jungle; perhaps three full days. Cruises typically last a full week.
Responsible tour operators tend to use accommodation thatís further away from the usual tourist trail, thus spreading the money spent by tourists further into local communities. This in turn demonstrates the economic importance of the wildlife and natural assets of the area, which feeds back into helping the environment. Itís the virtuous circle of responsible tourism Ė great for you, great for local communities and great for the environment.
More about Brazil wildlife