Jaguar safaris in the Pantanal
It's a common misconception that the best place in Brazil for wildlife viewing is the Amazon Rainforest. In fact, the vegetation there tends to be so thick and tangled that it can be difficult to see much of anything, even if it's being clearly pointed out to you. No, if it's wildlife you want, then Brazil's
Pantanal
region, spanning the world's largest inland wetland area, is where you need to be. The landscape is far more open here, so the Pantanal's spectacular biodiversity is far easier to identify.
Here you can watch chubby capybaras, toothsome caimans (watch for the red pinpricks of their eyes in the dark) and playful river otters, but the principal attraction is the one that all of these creatures keep a watchful eye out for: the jaguar. Now, we can't promise you that you'll see jaguars during big cat safaris in the Pantanal. But we
can
assure you that that you stand a better chance of seeing them here than pretty much anywhere else.
The northern Pantanal has the highest concentration of jaguars in the world, and their natural terrain is the vegetation lining the Cuiabá riverbanks. Boat safaris cruise slowly down the river into jaguar country from Porto Jofre at the end of the Transpantaneira road, and there is prolific success in finding the cats watching warily from the trees, basking in the sunshine or even hunting. Jaguars are keen swimmers and will often make a leap for an incautious caiman.
Our Brazil wildlife Vacations
During the winter some 80 percent of the region floods, and wildlife takes to higher ground making them much more visible. However, the dry season between July and November is the best time of year to visit Pantanal and see jaguars, as the vegetation is thinner and you have more options for getting around. Knowledgeable naturalist guides lead you out by jeep, canoe, on foot and even on horseback, while you will stay in ecolodges, ranches or perhaps a 'floating hotel' on the river, from where you can sometimes see jaguars out of the windows. As with many other big cat safaris, night time exploration is popular, when the wildlife is most likely to be active.
Most jaguar viewing however is done by boat, traveling along the narrow channels and marshes of the northern Pantanal. Guides here are so practiced that they know the optimum speeds to use without missing those telltale rustles among the leaves. This type of safari is also fantastic for bird watching. Some 740 bird species can be found in these unique ecosystems, from giant jabiru storks to toucans and hyacinth macaws, the world's largest parrot.

Of course, jaguars are not the only wild cats that you can find in the Pantanal. There is a substantial population of ocelots here, a smaller cat than the jaguar but also easily recognisable because of the beautifully distinctive markings on its coat. There are special ocelot blinds, located in areas which the cats are known to frequent, that can be used.
Our top Brazil wildlife Vacation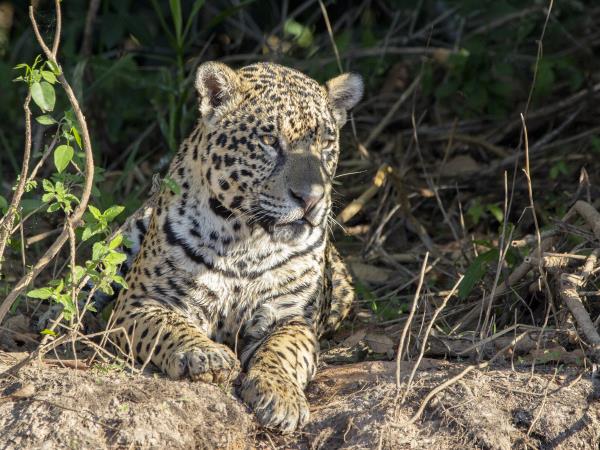 Wildlife safari in Brazil's stunning Northern Pantanal
From
£

3995
9 days
ex flights
Small group travel:
2023: 20 Jun
If you'd like to chat about Brazil wildlife or need help finding a vacation to suit you we're very happy to help.

Brazil wildlife & culture tours
While the Pantanal is the best place to see jaguars in the wild, they can also be observed in the Amazon, particularly around the Mamiraua Reserve. During periods of flooding jaguars will take to the treetops where they sleep and hunt among the branches. The Pantanal may be the sole focus of your trip, especially if you're a keen wildlife photographer, but is also often tied into wider itineraries that feature the Amazon, the Iguazu Falls and Rio de Janeiro.

"Go to the end of the Transpantaneira to Porte Jofre this seemed the best place for jaguar spotting and for giant otters. Although we saw a couple of jaguars at Rio Claro I think we were extremely lucky as sightings here are not as common even our guide was surprised & pleased." – Alan Holmwood in a review of his Brazil wildlife tour
More about Brazil wildlife