How to avoid resort accommodation in the Canary Islands
There's one big myth about the Canaries: vacation accommodation is all high-rise all-inclusive hotels plonked in rowdy resort towns. There are plenty of those, sure, but here's the thing: they tend to gather in just a few places, turning their back on the island beyond. That's good for you – you can spot them a mile off and avoid them.

Michelle Braddock moved to the Canaries in the 1980s, founding our vacation specialists Lanzarote Retreats after being frustrated by the lack of choice of accommodation on the island. She wanted to show visitors her experience of the Canaries, and why she fell in love with Lanzarote. We spoke to Michelle to gather tips on how – and why – you should avoid resort accommodation in the Canary Islands.
Our Canary islands Vacations
Go rural
Granted, purpose-built resort towns like Playa de las Americas and Maspalomas give you a few things: convenience, nightlife, bars, babysitters and home-from-home meals delivered to your door. They also offer all-inclusive hotels with a platter of restaurants, timetabled activities and private beaches that actively encourage guests to stay close.

Truly Canarian accommodation offers another view: the real-life Canaries. You might wind up in a stone cottage next to a surf beach, a village surrounded by church bells and chatter, or a B&B burrowed into the laurel forests of Garajonay National Park. You'll soon learn that the best views don't just stick to the coast – they hide from many tourists' view, in the volcanic backcountry beyond.

Michelle says, "You've got your resort people, and that's one thing. We've got the people who want something more traditional and relaxed – near the fishing villages, so you can go and eat proper local food that's reasonably priced. The people in Lanzarote are very special. They're very friendly, especially on Lanzarote because there are only about 140,000 people, so it's like being in a big village – it's lovely. Everyone knows everyone."

Michelle tries to extend the peaceful island ethos to the accommodation she offers. "It's such a safe place… if there's any crime, it'll be petty crime in a resort – pickpocketing or something. Whereas in Arrieta we never lock the houses. When our guests arrive at the eco village the keys are in the doors of their accommodation. We have an honesty shop. Women travelers on their own can come and walk back from the restaurants in the dark. You're going to be fine; all you need is a torch."
Go off grid (no sacrifice necessary)
Going off grid doesn't mean booting your luxuries to the kerb. The Canary Islands isn't Alaska; you don't need to don your backpack and strike off into the wilderness to get away.

Michelle started her business in the same vein as the way her family lived day to day – using renewable energy generated on this naturally sunny, windy archipelago. "We lived at the point with wind and solar ourselves," she says, "so really the business was just an add-on of how we were living as a family. We didn't start out to set up an eco village. We just set out to live in that way as a family, with our four children."

Instead of closeting you away in a walled hotel, the best Canaries accommodation lowers the drawbridge and reduces the barriers between you and the islands. That might be as simple as offering you the chance to wake up to a view over volcanic plains, or to the sound of waves – and nothing else.

"Our eco village guests love that they're back to nature," says Michelle. "They love the chance of getting to live off-grid, because not many people get to do that. People say, 'Do you have hairdryers?!' We don't normally put them in, but if you want one, we've got one. You don't have to suffer to stay off grid."
Follow in the footsteps of Cesar Manrique
Architect, activist, Canarian – Cesar Manrique is the father of responsible tourism in the Canaries. He recognised both the destructive and positive powers of tourism, and tirelessly campaigned to shape the industry into something that preserved and improved the Canary Islands.

"Cesar Manrique is like God on Lanzarote," says Michelle. "But he's not that well-known internationally. It's a shame, because his work is phenomenal and he saved the island from being ruined by high-rises. He could see what had happened in Tenerife and he was very much adamant that that wasn't going to happen to his island, so he fought for that."

If you're on Lanzarote, you can pilgrimage to the greatest hits of Cesar Manrique. He was a big believer in working in harmony with the landscape, so he turned an abandoned quarry into the Cactus Garden and carved a swimming pool, restaurant, museum and auditorium into retired lava tunnels at Jameos del Agua. He blended viewpoints into the landscape so completely that you'd need a local to point them out to you.

"Cesar Manrique's last real home is off in Haria, which is near the eco village," says Michelle. "That's now an amazing museum, but it's more like a tribute to him, really. You can go and walk around there, and there's some footage of him literally clinging onto the long arms of diggers, stopping them from digging. He was very much against what was happening, and very much against the politicians, and you can see that he was just doing what he had to do."
Our top Canary islands Vacation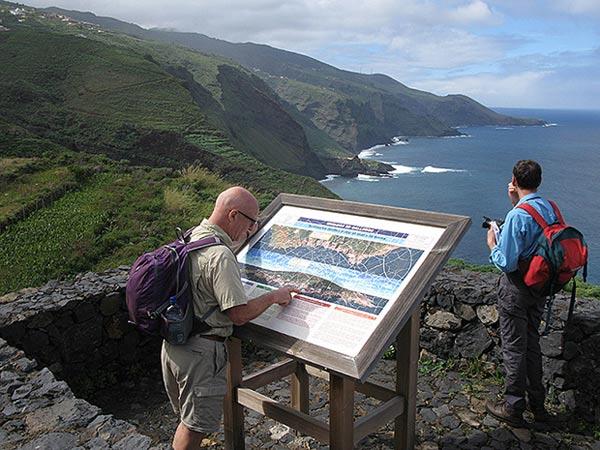 Walk a biosphere reserve that is home to over 900 endemic species
From
US $

1649

to

US $

1849
8 days
ex flights
Small group travel:
2023: 28 Sep, 12 Oct, 16 Nov, 7 Dec
2024: 4 Jan, 18 Jan, 22 Feb, 14 Mar, 26 Sep, 10 Oct, 17 Oct, 14 Nov, 5 Dec
If you'd like to chat about Canary islands or need help finding a vacation to suit you we're very happy to help.

Feast on Canarian cuisine
Eating out is a hard job, but someone's got to do it. Food miles are one of the hidden environmental and social costs of big hotels in the Canaries. Shipping in food from mainland Spain – or even further – creates a ton of greenhouse gases like carbon and gives zero benefit to local farms, fishermen and vineyards.

The answer is easy and delicious: eat locally. Canarian cuisine is Spanish cuisine – but with a twist. Try barbecued parrot fish, sea bass and swordfish. Papas arrugadas is like patatas bravas, but made with the diminutive Canarian potato and topped with spicy mojo picon sauce. There are gofio dumplings sunk in stew, herbed chicken (pollo al salmorejo), fried queso Palmero goat's cheese, and Shakespeare's "cup of Canary" (AKA wine – will it be the Malvasia or Muscat?). The best hotels in the Canaries will ditch all-inclusive dining and recommend the best seafood restaurant in town instead.
Explore, explore, explore
"A lot of people are guilty of coming here and not seeing it," says Michelle about Lanzarote. "They don't see that there are 300 volcanoes or Cesar Manrique's amazing caves that he designed. These things are absolutely outstanding and not expensive to visit – and so unique."

It's the same story on all the Canary Islands. But the Canary Islands are made for exploring. You can island-hop: see ancient laurel forest on La Gomera, the impossibly starry skies of Tenerife's Mount Teide; La Palma's village-to-village hiking paths. You can seek supersized pods of dolphins and pilot whales in the Atlantic with conservationists, or explore Cesar Manrique's Space Age house and cactus gardens on Lanzarote.

The best hoteliers don't want you to stick around the hotel all week – they want you to see the Canaries that they love. Driving is often easiest, but unfortunately electric cars are a slow-burning revolution. "The island's not big enough to need more power than they give," says Michelle, "so those are brilliant. But it's such a shame – the whole island should've gone electric. I think the problem is the expense of having an electric car. But ultimately, if the island only had electric cars it'd be perfect."
More about Canary islands