Things to see & do in Lanzarote
A video of a man clinging to the long arm of a digger plays in the Cesar Manrique House Museum. It is, in fact, Cesar himself. The Lanzarote-born architect spent much of his life campaigning to stop the island going the way of other overdeveloped Canary Islands. He was wise to the fact that hotel-owning politicians were part of the problem, tirelessly targeting building regulations and shaping them so that new hotels would be built in harmony with Lanzarote's volcanic landscape.

Cesar Manrique is like God on the island. He could see what had happened in Tenerife and was very much adamant that wasn't going to happen to his island.

– Michelle Braddock, from our partner Lanzarote Retreats
That rebellious spirit is still bubbling away in Lanzarote – although many of the vacationmakers who sun themselves in the island's beach resorts wouldn't know it. Lanzarote has been the traditional go-to island for (largely European) vacationmakers chasing cheap-as-chips sun, sea and sangria package vacations since the 1960s. As of 2018, that amounts to over 1.5 million people visiting the 148,000-person island a year.

Despite Cesar Manrique's pioneering work, he's largely unknown to tourists. Most guests still don't peer beyond boozy beach resorts like Playa Blanca and Puerto del Carmen. And of those that do, many don't clock that the subterranean salt lakes and amphitheatre of Jameos del Agua and cruise ship favourite Jardin de Cactus are his masterworks.
Our Canary islands Vacations

What we did was encourage a new kind of tourism, and what guests love is that it isn't what they think Lanzarote is known for, which is 'Lanzagrotty'. They're seeing something completely different.

The island of quiet revolutionaries
Michelle Braddock is one of the responsible travel pioneers who have pushed on with what Cesar Manrique began. She's the co-founder of Lanzarote Retreats, our island accommodation specialists. This family business (herself, husband and son work as a team) offers places to stay that range from yurts to Canarian cottages – just about as far removed from the all-inclusive Lanzarote hotels as you can get.

Michelle has lived on Lanzarote for around 30 years – and co-run the business since 2004 – so we asked her for some insight on tourism in Lanzarote. "The government was quite controlling for a long time," she says. "They wanted everyone to be kept in the resorts, because the politicians are hotel owners. That's why you'll find that there's not one campsite in Lanzarote. They decided that any tourist bed would be given to hotels."

That's when the ardiente Canarian spirit kicked in: "So everyone else on the island ended up going, 'Stuff you! We're going to do our own thing.' I think supply and demand has made that change, and [the government] just had to put up with it, really. It's not been easy."

By supply and demand, Michelle means that rural vacations are far more sought-after now than they've ever been. Many travelers want to see the islanders' Lanzarote. It's a far cry from when Michelle started their journey: "We've been doing this for nearly 15 years and it's changed dramatically. Back then, everybody just went from resort to resort. I wasn't sure that people wanted to come and stay where we lived – the traditional part. Rural tourism has grown hugely."

Rural tourism is never going to replace resort tourism in Lanzarote, but it does offer an alternative for travelers who don't fancy staying in an all-inclusive hotel.
Lanzarote life
Struggling to picture traditional Lanzarote? You won't find it in most Canary Island vacation brochures. Imagine small-town Spain…but with a twist. Bright pink trees bloom in monochrome villages. Fishermen pull up a wooden crate to their fishing boat, waiting for the right tide. Surfers wander down to white-tipped waves that curl over reefs, while swimmers bob on bathtub-warm water. Villages totally untouched by tourism huddle between the pockmarks of silent, ancient volcanoes.

"The people in the Canaries are very special," says Michelle. "They're very friendly, especially on Lanzarote because there are only about 140,000 people, so it's like being in a big village – it's lovely. Everyone knows everyone."

When Michelle says you don't need to lock your doors, she's not joking. "It's such a safe place, especially where we are [in Arrieta], because we're not in the resorts. So if there's any crime, it'll be petty crime in a resort – pickpocketing or something. Whereas where we are, we never lock the houses… We have an honesty shop. The whole ethos is refreshing for people coming from the rest of Europe."

Places like Michelle's are your chance to experience Lanzarote life. "I think what our guests love is that we are truly showing the beautiful part of the island," she adds, "and also doing it in a way that isn't impacting badly on the island, or isn't getting any kind of negative response. We like it that our guests go and eat locally and support the local village. That's valuable to us."
Our top Canary islands Vacation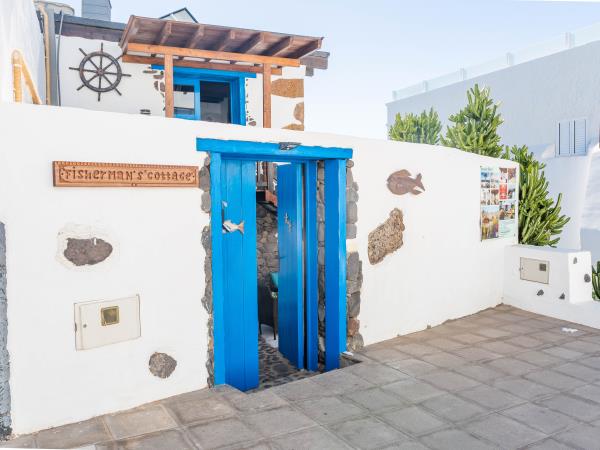 Off-grid seafront cottage in traditional village with coastal walks
From
€

120

to

€

350
per couple per night
Accommodation
If you'd like to chat about Canary islands or need help finding a vacation to suit you we're very happy to help.


They come here and then they don't see it. They don't see that there are 300 volcanoes, or Cesar's amazing caves... These things are absolutely outstanding and not expensive to visit – and so unique.

Explorations in electric
There's a surprise waiting outside your front door. It's a secret that vacationmakers don't tend to talk about: the Lanzarote landscape. It's about as close as you'll get to landing on Mars – hundreds of coppery mountains and dusty craters included. Most bus stops stick to the cities and towns, so the best (and often only) way to explore beyond is by car.

"I think it's a shame that people don't get around the island," says Michelle, "because it's very easy to drive, there aren't that many cars, and the quality of the roads are fantastic."

Michelle is passionate about using renewable energy. She and her husband didn't plan to run a tourism business. It grew organically from them wanting to share their experience of living off-grid on Lanzarote. She says: "We lived with wind and solar energy ourselves, so really the business was just an add-on of how we were living as a family. We didn't start out to set up an eco village. We just set out to live in that way as a family, with our four children."

As it turned out, guests loved getting the rare chance to live off-grid; it was getting back to nature without sacrificing your comforts. "It's very funny; people get very worried… 'Do you have plugs?!' 'Do you have hairdryers?!' We don't normally put them in the rooms, but if you want one, we've got one. People don't have to suffer to stay off grid."

To Michelle, the next logical step was including access to an electric car in the accommodation price. "We have Toyota hybrids and our staff use electric or hybrid cars to work, so we have a number of electric cars that we use. There are about five sockets around the island. There's one in Arrieta, which is hilarious because that's just a little village…"

But it goes to show – if there's demand for electric cars and green accommodation, then those travelers' demands will usually be met…eventually. In Michelle's mind, the government responds too slowly. "The island's not big enough to need more power than electric cars give… but it's such a shame – the whole island should've gone like that. It's mental that it doesn't; there's not a reason not to use them. I think the problem is the expense of having an electric car. But ultimately, if the island only had electric cars it'd be perfect."

"We've gone in and thrown out the gauntlet," she adds, "and we'll see who follows. But no one follows! No one has done what we've done. I can't understand why no one's copied us. It'll happen, hopefully… just very, very slowly."
More about Canary islands